Christmas Message from Principal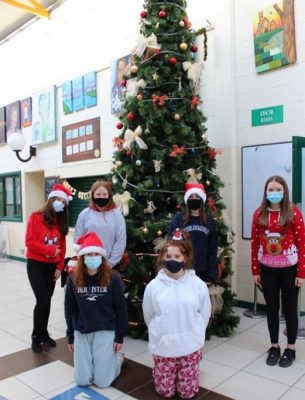 The Management and Staff of Coláiste na Toirbhirte would like to wish all parents and the school community a Happy and Peaceful Christmas and a joyous New Year.  
I would like to take this opportunity to thank Parents/Guardians for your support and commitment to the work of the school during this calendar year. Your support makes a significant contribution to the vibrant character and atmosphere of our school. Thank you!
I would also like to acknowledge the support and work of the school's Board of Management and the Parents' Association who give generously of their time and expertise to enhance the essential work of our school.
2020 has been a challenging year for everyone and enormous efforts were made to support students remotely during the initial lockdown period followed by an intense period of preparation to allow our school to reopen safely in late August.
I am so proud of our staff and our students who have accepted the challenges of living through this global pandemic and who have engaged with the many changes which have been necessary to keep our school community safe. I want to take this opportunity to thank you all personally and to acknowledge the support of parents and the wider community. You have all played a part in keeping our school community safe and well.
As I come to the end of my first term as Principal of Coláiste na Toirbhirte, it gives me great joy to acknowledge the warm welcome which I have received in Bandon. It has been a privilege to meet and work with the Staff and students and to have the opportunity to engage with parents during this term. While I regret the missed opportunities to meet you all due to Covid restrictions, I know that this time will pass and that 2021 will bring brighter days for our school community.
Wishing you all a Happy and Peaceful Christmas
Mary Galvin
Coláiste na Toirbhirte, Bandon Christmas Celebrations

Christmas Celebrations are in full swing at Coláiste na Toirbhirte, Bandon with all students getting involved at different levels. Transition Year students created Christmas Wreaths and also held a Colouring Competition to raise funds for the Team Hope Christmas Shoebox appeal. Leaving Cert Applied students put their culinary skills to the test and cooked a beautiful Christmas Dinner for the class and their teachers. Music students recorded for a Christmas Prayer Service. Home Economics students were busy making personalised Christmas stockings and 2nd Year's created Christmas Cards. The school also held a fundraiser in aid of St. Vincent de Paul, where all staff and students were encouraged to wear their Christmas jumpers for the day and donate €2 to SVP in Bandon. Please click through the pictures to view a flavour of events in our school in preparation for the holidays. We hope that you enjoy these pictures and that you have a very Happy Christmas.