While some of our traditional activities have had to take a back seat this term, life in Presentation Ballingarry is still far from dull.  As a school community we have been united in our battle against Covid 19 and as we approach the Christmas holidays, we are extremely grateful to each one for their tremendous engagement and cooperation in adapting to school life with new restrictions and challenges. We thank God that we have all remained well and are delighted to share some of the good news stories from Presentation Ballingarry.
In November we Remember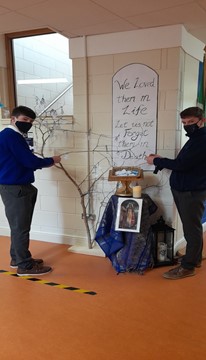 Every academic year brings its own share of grief for our school community so each year, the month of November begins with the blessing of our tree of remembrance. Throughout the month, prayers are said for those whose names hang on the tree as well as for those whose memory we carry in our hearts. We also remember with great fondness, former staff and former students who have gone to God while special remembrance is given to the deceased members of the Presentation community, whose remains lie close to the school in the former convent graveyard.
Presentation Day 2020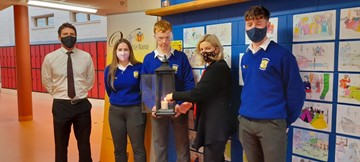 While we couldn't gather to celebrate Presentation Day as a school community, in the week leading up to the day, students from each year led the school in prayer. Each day highlighted a specific aspect of Nano's life and students were invited to consider how they could continue to let the light of the lantern shine within their homes, parishes and school community.  Given that Nano was very much a front-line worker in her day, we were confident that in spite of the risks, she would be still "going one pace beyond" and working with those who were ill with the Covid 19 virus as many of the sisters who follow in her footsteps are. Our junior students were delighted to colour some scenes from Nano's life and these formed a lovely backdrop to our Presentation Day display.
Mental Health Week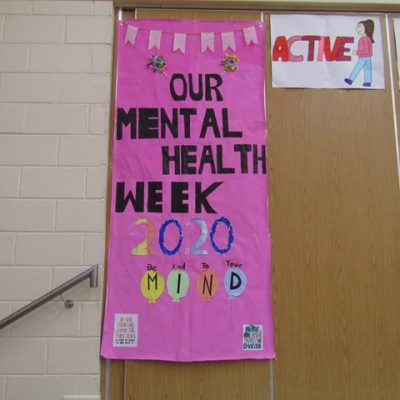 November 23rd – 27 was a very special week in the life of our school as Bean Ui Laocha and Mr Gleeson ran a variety of activities centred on the theme of "Mental Health." Each day had a different theme and the week began with the theme of being ACTIVE. We were all encouraged to look for ways to be active every day, it did not have to be a marathon, but something that suits our fitness and mobility. Some suggestions included, cycling, walking, running, sports training and dancing are all. Being active everyday causes changes in our brain which can positively affect our mood. Throughout the week each class group was encouraged to do laps of the school, just 3 laps of our school equal a little over 1 kilometre.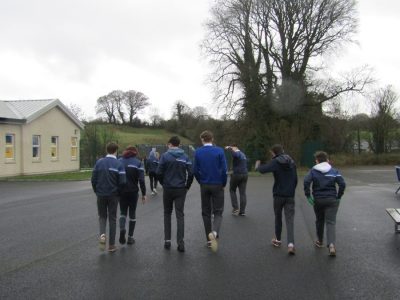 Let the laps begin…..
On Tuesday the focus of the week was "Giving." We were invited to focus on doing small acts of kindness for other people, for example making someone at home a cup of tea, offering to help a class mate or colleague with a project or task, asking a friend or workmate how they are and REALLY listening to the answer. We were reminded that giving back to others can create positive feelings and help us feel more satisfied with life. On Tuesday the school's annual SVDP food donation dive began. Needless to say, we expect our staff and students to be as generous this year as is the tradition in our school.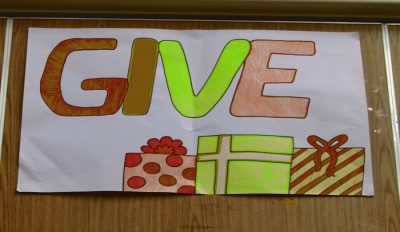 | | |
| --- | --- |
| | |
On Wednesday the theme of focus was "Connect."  Our morning reflection reminded us that connecting is about building and strengthening relationships with people around us by spending meaningful time with people each day. We were challenged to make an effort to chat with our friends or workmates at break and lunch, to check in with parents and guardians at home and to make a special effort to connect with someone we didn't know well.  Positive relationships, help us to feel happier and more secure while giving us a better sense of purpose and belonging.
As part of Mental Health week Garda Dan Brennan and Garda Maurice Dowling gave a very informative presentation to our 1st and 5th year students on connecting through social media. While they stressed the advantages of social media, they highlighted the many negatives that are associated with on line sharing and online communication not only on the individuals themselves but also on their families.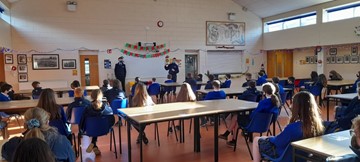 On Thursday our focus turned to "TAKING NOTICE." The morning reflection invited us to be present in the "here and now," to pay attention to the world around us. Our school has a most picturesque setting so we were invited to look around, to listen and to appreciate the beauty of nature. In becoming more aware of the present moment we can enjoy the world around us and understand ourselves better.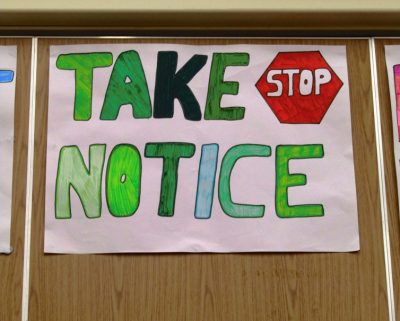 On Friday the theme was "KEEP LEARNING." This theme focused our attention of the importance of learning new skills and acquiring information on topics that interest us. We were reminded how continuing to learn can boost our  confidence and self-esteem and help build a sense of purpose whilst helping us to connect with others.
Advent
Advent, with its promise of hope began with the lighting of our Advent Wreath with the first candle being lit by TY students, Karol, Keelin and Jade. Our Jesse Tree tells the story of the genealogy of Jesus and both Advent symbols are in our scared space in the entrance hall of our school alongside our crib.
Hope Foundation Workshop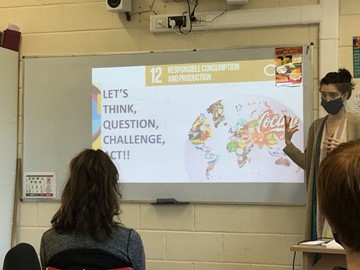 Laura from the Hope Foundation delivered a very informative workshop to our Transition Years based on 'Ethical Production and Consumption." 'Ethical Production and Consumption." is one of seventeen Global Goals and  Laura challenged the group to become aware of their consumption habits particularly in the area of  fashion which has a direct negative impact on people and the planet. Students were shocked to hear that after oil, fashion is the most polluting industry in the world.
She encouraged the students to become 'Active Citizens' where mindless consumption is discouraged and to partake in sustainable practices for the betterment of all life in the human and natural world.
Craft Week
Our TY class brought the festive cheer to our school during the first week of December and while the rest of the school was engaged in House Exams, our Transition Year students enjoyed a craft week.  Their activities included wreath making, reindeer carving, door decorating and they also enjoyed a very creative pallet making workshop. The highlight of this week was the Christmas dinner which was prepared by their coordinator Ms. Bourke together with the Home Economics Department. Huge thanks must go to Mr. Egan, Mr. Ryan, Mr. Purcell, Ms. Sheehan, Ms O' Dwyer and TY Coordinator Ms. Bourke.
'Tis the season to be jolly….