Opening School Mass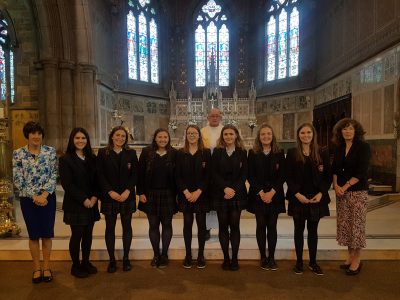 Pictured at the opening school mass on Wednesday 18th September are the Leadership team with Principal Ms. O' Donovan, Fr. John O' Donovan and Deputy Principal Ms. O' Flaherty. The team was formally introduced to the school community at the mass. Head Girl, Emily Walsh delivered her first speech of the year and one of her key messages was the importance of respect for oneself and those around her. Her inspirational speech, offering advice to the new First Year students and welcoming all back was a reminder of just how important the 'student voice' is in school life.
School Chaplain Fr. John O' Donovan wore a stole which was presented to the school from the World Meeting of Families. The ciborium used at the mass was also presented to the school from the World Meeting of Families. These gifts were given to our school because students from Coláiste na Toirbhirte volunteered at the Papal mass in the Phoenix Park last August.
Global Climate Action Day 2019
The first major task of the Leadership Team was to organise a group photograph of the entire school community to raise awareness about Climate Action Day on Friday 20th September. They are hoping that this action will inspire greater awareness in the school about the need for change and this is one of their key objectives for the year. Fr. Tom Hayes very kindly volunteered his drone to photograph the students.
Caoimhe Hurley, 2019 2019 National Junior Foróige Baking Competition Winner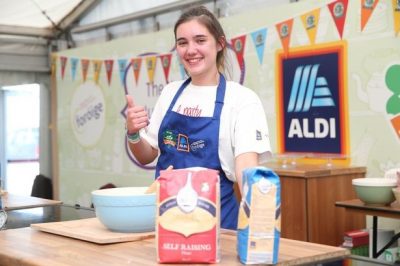 We are so proud of one of our third year students Caoimhe Hurley who won the 2019 Junior Foroige Baking competition sponsored by Aldi.  Caoimhe won the competition at the 2019 Ploughing Championships with her chocolate fudge cake which will be stocked in all 139 Aldi stores nationwide.
Enterprise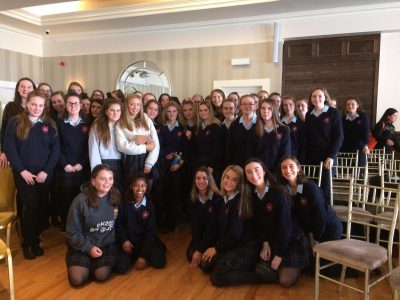 On the 11th of October, 70 of our T.Y students attended an Enterprise Conference organised by West Cork Local Enterprise Office in the Celtic Ross Hotel, Rosscarbery. They got a valuable insight into starting your own business and we wish our budding entrepreneurs luck as they start on their TY Mini-company journey.
Media Team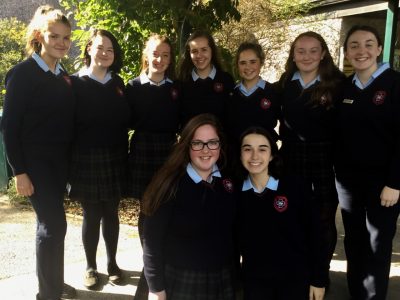 For the first year ever Coláiste na Toirbhirte have set up a Transition Year media team. Throughout the year they will promote the school through their various Social Media platforms. They have met with the Leadership Team and presented to all year groups. They are hoping to share the achievements of all students both inside and outside the school, with the wider community.
Musical sneak peek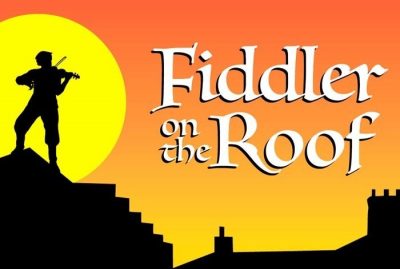 The 2019 musical of Coláiste na Toirbhirte is Fiddler on the Roof. T.Y.'s have been very busy to date with auditions but Cast, Crew and Committee have all now been finalised. The show will run from Wednesday 27th November to Saturday 30th November with a morning show on Tuesday 26th November for all sixth class girls from local feeder Primary Schools.