Barrow Boat Trip
Josh Brealy and Ms Flanagan
Our Green Schools Committee continue their quest for a water flag this year. The year started out well for members of the committee who decided to go on a trip on the Barrow to explore the beautiful river. The committee split into two groups, with two teachers and about eight students in each group. They met the guide and boat driver, Cliff, and were kitted out with lifejackets. The group got into the boat one by one and tried not to rock the boat too much!
The first group travelled in the direction of Maganey. Cliff pointed out many interesting facts on the journey, for example that this part of the river has never been dredged and that it is rich in history. The river was the site of many ancient battles, in fact many treasures are to be found under the riverbed as it was never excavated. The group were also lucky enough to spot a Kingfisher a majestic bird that shines a beautiful blue and is resident to Irelands' waterways. The Barrow is a very clean river and many improvements have been made in the past years with many clean ups and much planting. It is home to a wide variety of animals and proves a great source of enjoyment for the residents of Carlow.
Cliff also highlighted the small canal at the former sugar factory and the many apple trees that have been planted along the river edge to increase biodiversity. The lock was also of interest and it was the first time many had gone through a lock. Both groups were fascinated at how quickly the lock filled and emptied. We were also interested to discover that the lock has a lock keeper, but he is responsible for many locks up and down the river and spends a lot of time driving to manage each one.
The second group travelled in a southerly direction, passing behind Carlow IT and the Woodford Dolmen hotel. This group were lucky to see a lot of wildlife, including the kingfisher, a heron and some fish jumping. Cliff also alerted us to the various bird calls and songs that we could hear. We also observed a lot of greenery and Cliff told us that one type of plant in particular was taking over and smothering other species. He also gave each member of the group an opportunity to steer the boat up the river. This was an activity that everyone enjoyed.
Neither group saw much pollution and littering on the river, which was very encouraging. Everyone enjoyed their two-hour boat trip enormously and would recommend it as a relaxing but educational day out.
Geography Field Trip
Leaving Cert. Geography students enjoyed a day of actively exploring fluvial processes outside of the classroom on Monday 9 September. Students went on a field trip to the River Liffey where they conducted several experiments to investigate, measure and analyse (to name but a few) the river's processes of transportation and deposition. All students showed off their great geographical skills on the day. Students are now back in the classroom writing up their reports, which will be submitted as part of their Leaving Cert. Geography exam next June. Well done to everyone involved on such an enjoyable day.
Spanish Students
Fifteen students came from Spain to attend school in Presentation College, Carlow. In an interview with a number of them we asked about their reasons for coming to Ireland, their experiences of life and school in Ireland and also about school and life in Spain.
Yolanda and Nichel came to Ireland because they want to improve their English because in Spain English is essential if one wants to study at university. They are staying with different families in Carlow and find this an excellent way of improving their English. Both Yolanda and Nichel enjoyed their visit to the National Ploughing Championship with their families. They see many differences between school in Spain and Ireland. According to Nichel "Life in Spain is great, because we have fantastic food like paella, spanish omelette, potatoes and gofio. In soccer we have a good team and very good players like Iniesta, Villa, Torres, Puyol, Ramos and more players. Our breakfast is lighter than in Ireland and our lunch is heavier than in Ireland. We have got a unique sport called pétanque. The people are friendly and very nice. I live in a house near the beach and I go to the beach every afternoon in the summer."
Yolanda explains that "In Spain the school is very difficult but the teachers are very nice. There are two types of school. Private: You wear a uniform, you need to pay and the level is very difficult. Public: You don't need to wear a uniform, it's free and the level isn't very difficult. In Spain school begins at 8am and finishes at 2pm. The spanish weather is good It is often sunny. It is not always sunny particularly in the north of Spain.
According to Ubay "Spain is very beautiful, there are old monuments to visit. There are many beaches and very beautiful places to bathe. The weather is good, because it is often sunny and hot''
Gaisce Trip for Transition Years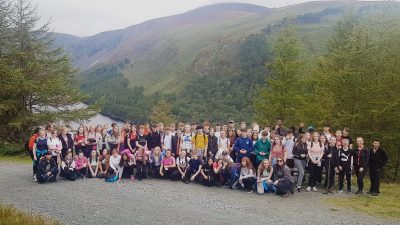 The Transition Years were blessed with the weather on their recent Gaisce trip to Glendalough. 
Sixth Year Retreat
On Tuesday 23 September our Sixth Years went on retreat. It was an amazing day in Glendalough with plenty of opportunity for self-reflection, self-care, friendships, memories, laughter and fun. Everyone enjoyed the stunning views and picturesque landscape. Both staff and students left the retreat feeling lucky to be alive and very grateful.
Meitheal Team organise fun activities for First Years
Well done to our fantastic Meitheal Team who organised some fun activities on a Friday in September for our First Years. They finished off the day with some impressive moves during Wii Dance!! They have been working really hard, ensuring all our First Year students are settling into Secondary School life that little bit easier and supporting them all the way.
Camogie Player of the Year
Huge Congratulations to Emer O'Hanlon who won Camogie Player of the year, 2018/2019. Well Done Emer. The very best of luck to both our Junior and Senior Camogie teams this year in the league 2019/2020.
Presentation College Awards Academic Excellence
On Friday, 18th October a distinguished gathering from the world of academia converged on the Seven Oaks Hotel in Carlow for the thirteenth annual Presentation College Academic Awards ceremony.
Shortly after his appointment as Principal of Presentation College, Mr Ray Murray requested the Board of Management to implement a system of Academic Awards for the top achieving students in the Junior and Leaving Certificate examinations. The Board readily agreed to this request and since then the top achieving students in the Junior and Leaving Certificate Examinations have been honoured. This time it was the turn of the Presentation College high achievers in the 2019 summer state examinations. The Academic Awards, implemented by the Board of Management, are designed to recognise and reward academic achievement among the students in Presentation College and to publicly celebrate their success.
The Academic Awards are just one of a series of initiatives introduced in the college to acknowledge, support and sustain the high level of performance and success by the students in that centre of excellence. The high achieving students in the non-state exam classes, based on last summer's in-house exams, will shortly be presented with their Subject Certificates at ceremonies to be held in the school. Third and Sixth Year students have recently completed Study Skills seminars and numerous students also avail of after school Supervised Study from Monday to Thursday evening and on Friday afternoon. Testament to the academic ability of the students is the collection of numerous national titles the school has collected in the areas of business, enterprise, ICT, technology and public speaking. Most notably, Presentation College has secured awards at three World Finals, in Kuala Lumpur and Abu Dhabi, of the very prestigious F1 in Schools Technology Challenge.
Academic achievement among the students is a top priority in Presentation College and they perform consistently at a very high level in terms of results in the Junior and Leaving Certificate examinations each summer. This is due in no small manner to the hard work ethos of the students and their teachers coupled with the support and encouragement of their parents.
The Awards Ceremony on Friday night consisted of a sit-down meal for all recipients and their parents, along with the Principal, Deputy Principals, Year Heads, Deans of Discipline and Board of Management members followed by the presentation of awards. The Principal, Mr Murray, presented awards to the Junior and Leaving Certificate high-achievers. He wished the senior students every success in their future studies and encouraged the junior students to return for further awards based on a successful Leaving Cert.
The Junior Certificate recipients were– Doireann Broderick, Karina Dzierba, Liam Egan, Vlad-Flavius Florea, Emer Flynn, Pádraic Kelly, Aibha Kiernan, Katie Moore and Aaron Smith.
The Leaving Certificate recipients and their current course of studies were Ella Burke (Commerce and French, National University of Ireland Galway), Conor Byrne (Accounting and Finance, Maynooth University), Matthew Cullen (Engineering, University College Dublin), Tadhg Downey (Economics and Finance, University College Dublin), Oliwier Dulawa (Pharmaceutical and Biomedical Chemistry, Maynooth University), Meadhbh O'Sullivan (Dance Studies, Inchicore College of Further Education) and Seán Tracey (Commerce, University College Dublin).
Appreciating Difference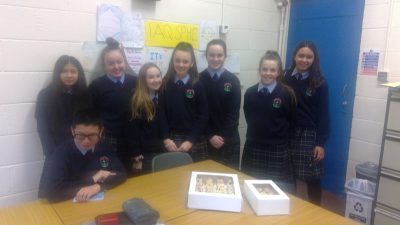 Ms Vanessa Byrne's First Year SPHE students while studying the topic of 'Appreciating Difference' took part in a 'show and tell' class where all students actively participated using props from home (jerseys, trophies, sports equipment, costumes) to showcase their talents to help with the transition of primary to secondary school. This activity allowed students to get to know each other better. Among the many talents showcased included student Aoife Moody who provided cupcakes she had baked herself for her entire class to demonstrate her love of baking. Aoife is a Business and Home Economics student and attended the recent Food Festival in Kilkenny to sell her own produce.
Maeve Dempsey Selected for the Youth Assembly for Climate Change
Congratulations to Maeve Dempsey who has been selected as a delegate for Ireland's first 'Youth Assembly for Climate Change'. Over one thousand young people between the ages of ten and seventeen applied. Maeve was one of the 157 selected. There was a very detailed application process including a video pitch and an interview. The 157 young delegates will be sitting in the Dáil in place of the usual 157 TDs to discuss and debate Climate Change. They will put forward proposals from their discussions on how Climate Change can be tackled in Ireland. Here will be a training day this month to prepare for the event in November. RTÉ have been part of the organisation of this event and will broadcast from the Youth Assembly on November 15.
We are delighted that Maeve is one of our new members on our Green Schools Committee. Last week was Climate Change week and many teachers and students are continuing to reduce plastic use in the school. Ms Kelly with her Transition Year class is working towards 'Plastic Free by twenty-three' and Mr O'Neill is spearheading a campaign to eliminate single use plastic bottles from the school by Christmas. The Green Schools Committee are always looking at ways to raise awareness and reduce waste.
German Ambassador Visits Presentation College
The Inaugural German Public Speaking competition took place on Monday 30 September in Presentation College. This competition was sponsored by the German Teachers Association and supported by the Goethe Institut in Dublin and Wexford Education Centre. The brainchild of Una Byrne – German teacher at Presentation College, the competition is designed to develop confidence in speaking in public, encourage collaboration between local schools and to bring students of German together to speak on topics that interest them and to have the opportunity to listen to listen to others.
Four Carlow schools participated in this pilot project, which was of such significance that the German flag was raised at the entrance to the College in advance of the arrival of the German Ambassador HE Deike Potzel, who came to Carlow for this prestigious event. Michael Hauke from the Goethe Institut and Louise Reeves the President of the German Teachers Association were among our honoured guests. Transition Year students began decorating, arranging the pretzels and organising the venue from 8:50. From 10:10 students and teachers from the CBS, St. Leo's College and our close neighbours in the Gaelcholaiste began to arrive at the school. In total we had thirty-seven speakers and over 140 in the audience.
Students were posted at the two entrances to usher the visitors into our library. There was a great buzz as both students and teachers greeted each other and when the Finalists had taken their seats the event began. All present enjoyed meeting friends from other schools and listening to the speeches. Everyone present was able to understand the speeches which is remarkable since all were in German. The Ambassador spoke about her life, gave tips as to how she became fluent in English and encouraged all present to ensure they listen to the language they are trying to learn – whether on the news, watching films, listening to music or whatever. Winners were announced by Louise Reeves and the Ambassador presented the winners in each category with a trophy for the school to keep for the year, a medal and a €25 book voucher (sponsored by Wexford Education Centre). Second and third got beautiful engraved medals. Congratulations to Meadhbh who came second in the Senior Category and Doireann who came third in the TY Category. Congratulations also to Niamh and Tommaso who won medals for best school speakers.
As the International Day of Languages was the Thursday before and the German Day of Unity the Friday after the timing was perfect. Students can now focus on their upcoming CBS's, exam preparation and continue to listen to and speak German. All schools went home not only with medals (sponsored by the GDI), but also spot prizes for many students courtesy of the Goethe Institut. We are looking forward to developing our links with the other schools and trying to get our hands on at least one of the Trophies next year.
Thanks to Management and staff of Presentation College in particular Elaine Malone – German teacher for their support of the project. Thanks also the colleagues in the neighbouring schools and those recently retired who made this collaboration possible.
Emma Hogan – Carlow SHINE Hero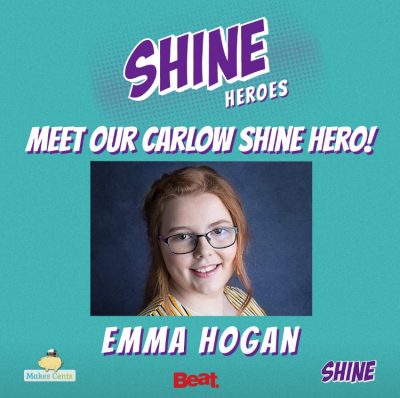 Congratulations to Emma Hogan from First Year who was nominated Carlow's SHINE Hero. The competition which was organised by Beat and the Shona Foundation involved looking for inspirational girls from around the county. Shona received several nominations and was selected in particular for having TWICE donated her hair to the Rapunzel Foundation. This foundation specialises in making wigs for girls who have lost their hair due to illness.
Career Paths Seminar
Last Thursday evening The 'Career Paths' Careers Seminar took place at Presentation College Askea Carlow. There were 30 Career Areas for the senior cycle students from all the Secondary Schools in the County to choose from. Each student attended three half-hour talks from a selection of thirty.
The career areas were Acting, Apprenticeships, Accounting, Beauty therapy, Childcare, Computers/IT, Science, Management, Marketing/PR,  Media, Medicine, Physiotherapy, Nursing, Architecture, Hairdressing, Veterinary, Law, Teaching, Psychology, Sports, PE Teaching, Horticulture/Agriculture, Art, Management, Entrepreneur.
Over 350 students from various Carlow schools attended and a great night was had by all.  Guest Speakers were delighted at the questions asked and to be involved with Careers Education of our young people.  Feedback from students is very positive they all benefitted from the experience. Thanks to Ms Looney and Ms Cumiskey who organised the event.
'Get Going, Get Rowing'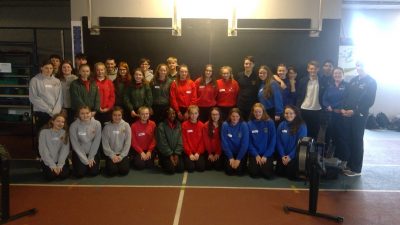 Some of our Transitiion Years were involved in the second day of the 'Get going, get rowing' coaching session in St. Laurence O'Tooles club house on Monday October 14. TY students from schools around Carlow are being upskilled and trained as indoor rowing coaches so that they can bring what they have learned back to their schools to coach First Year students. This is being done in conjunction with Carlow Regional Youth Services and students were lucky enough to have the guidance of Mary Moloney from Rowing Ireland today.
Our Transition Years will now prepare to spend a block of lessons coaching some First Year PE classes in school. These coaching sessions will culminate in a fun day where First years from schools around Carlow, along with their TY coaches, will meet and compete against each other in some fun and enjoyable indoor rowing activities. Our students and school are very lucky to have this opportunity.
Blood Brothers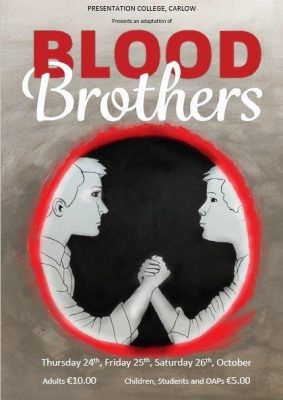 Students from Second, Transition and Fifth Year have been very busy over the last number of weeks preparing for the recent production of Blood Brothers. The production was a staff and student collaboration and we were delighted that all the expertise was to be found from within our school community. Countless hours of hard work, encouragement, rehearsals went into the creation of this year's School Musical from all of the people involved in the production.
This is a fantastic opportunity for the students involved to display their theatrical talents, to experience a different facet of school life and education and, very importantly, to bond as a group of young people. The experience they have had of being part of the Presentation College School Musical will remain with them for years to come and will form part of the happy memories of their time in Presentation College.
The Show Director was Mr David Doyle, the Musical Director: Ms Maeve Lyons, the Producer: Ms Fiona Watchorn, and the Choreographer was Mr David Doyle assisted by Abbie Nolan. The Production Team were: Ms Ann Coburn, Ms Edel Murphy, Ms Jacqui Quinn, Ms Gillian Moore, Ms Fiona Watchorn, Mr John Smyth, Ms Claire McHugh and Ms Orla O'Driscoll. The fabulous orchestra consisted of Ms Maeve Lyons, Aoife Kavanagh, Dara Abdurahman, Timmy Mohammed and Rebecca Mitchell. Mr John Smyth and Mr Noel O'Neill were the Technical Managers for the show. Sound was provided by Stephen Corry and Mr John Smyth was the Lighting Operator. He was assisted by the Lighting Crew consisting of Nikola Glowinska, Aoife Mulhall, Darragh Kelly and Joseph Gordon.
The fabulous stage, artwork and costumes were also the result of much talent and collaboration. Responsible for Stage Construction were: Mr Mike Ryan, Mr Dathaí Kelly, Mr Seán Murphy and students Patrick Rogers, Pádraig Thompson, Cormac McElligott and Giano Iulian Corea. Ms Ann Coburn and Ms Edel Murphy looked after Props and Stage Management. The Stage Crew were students: Pádraic Kelly, Cian Kelly, Jack Curran, Wicktor Pinski, Brian Foley and Clinton Ogbuka.
Costumes were organised by Ms Claire McHugh and Ms Orla O'Driscoll and they were assisted by their Costume Committee of Doireann Broderick, Emer Flynn, Darragh Reynolds, Ailís Coyne-Chapman, Meghan Jennings and Kaitlyn Colton.
Abigail Wilkinson designed the Poster and Set Design was looked after by the Art teachers Ms Jacqui Quinn and Ms Gillian Moore. The Set Painting was the work of Abagail Wilkinson, Cheuk Hin Yu, Robin Doyle, Talia Sheeran, Nessa Whelan, Zoe Garrigan, Katie Bannon, Shauna Murphy-Woods, Holly Charlwood, Emma Duffy, Eva McDonald, Franklyn Ailison and Emma Dowling. Ms Cumiskey was responsible for Photography.
And then we come to the talented actors who made up the Cast: Brian O'Sullivan played the role of Edward and Mikey was played by Aaron Smith. Eva Kavanagh was Mrs Johnstone and Aoife Lanigan Mrs Lyons. Sammy was played by Seán O'Driscoll and Abbie Nolan played the part of Linda. The four narrators were: Caithlin O'Neill, Erika Lyons, Karl McCluskey and Bobby Ho. Mr Lyons was played by Diego Lopez Clarke and Conor Whelan played both the Milkman and the Doctor. Edward Hutton and Alexander O'Brien were the Teachers and Radoslaw Latra was the Student. The two Policemen were Conor Duffy and Conor Murphy Ffrench and Katie Williams played the role of a Woman.  In addition to these main characters were many students from Second, Transition and Fifth Year.
Over the course of one week, members of the public got to experience 'Blood Brothers' come to life during two matinee performances to primary school pupils and teachers as well as three night time viewings which were enjoyed by everyone lucky enough to have been able to get a ticket. We are already looking forward to next year's performance!
Maths Week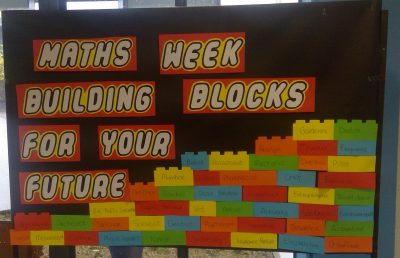 Maths was the focus of teaching and learning recently in Presentation College. There were puzzles, special maths based activities and lots of discussion regarding the importance of maths in relation to the student's lives and future careers There was lots of fun and excitement with the daily puzzles being read out during announcements and also shown on the display screen each day. For those readers who might like to try their hand at the puzzles – here they are: What is the smallest multiple of 9 with no odd digits? What is the next number in the sequence: 1, 3, 4, 6, 7, 9, …. In Dublin zoo there are ostriches, antelope, giraffes and zebra. There are 38 heads and 128 legs. How many ostriches are there? What is the last digit in 22999 ? and 2002 was a palindromic year. When is the next palindromic year?  Congratulations to Jake Baker from Third Year who won the competition.
No Uniform Day Raises Valuable Funds for the Hope Foundation
Students recently held a no uniform day to raise funds for the Hope Foundation. Thousands of children in Kolkata are born and brought up on the streets. Most of them lack the basic necessities of nutrition, shelter, education and medical care. Their fate is already determined at birth. They are born into poverty, grow up abandoned in filth and ignorance and die alone, unless they are offered a chance.
Dolores O'Neill and Specsavers Carlow are planning to give many the gift of sight. They are embarking on an 'eye opening' trip to Kolkata in India this November. Dolores will visit the destitute city of Kolkata where she will volunteer at the Hope Foundation Eye Clinic, for which Specsavers has committed to funding for three years, in a bid to provide basic eye health care to the impoverished community. Dolores will be tending to patients, while visiting local slum communities and will tour the city at night with the mobile health bus treating those living on the poverty-stricken streets of Kolkata who are deemed too poorly to make the trip to the eye clinic.
With the help of the donation from staff and students from Presentation College improved eye care will be made available to the children living in slums and hospitals in Kolkata.