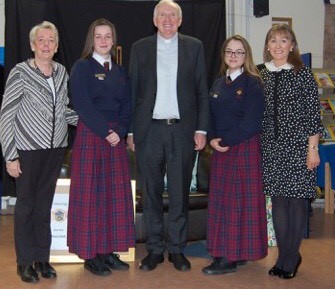 Nano Nagle was born in 1718 in Ballygriffin Co. Cork during a difficult period in Irish history.  The penal laws were in full force denying Catholics access to full participation to the social life of the country.
Historians refer to Nano Nagle as the "Greatest Irish woman of all Time" she had a vision for Ireland that would change society totally and inspired many others to move in the same direction.  This vision was education which is the right of everybody.
In Limerick, Maria King was inspired by Nano Nagle.  She set up a school at no 7 Sexton street, wanting this to continue and with Fr. Hogan's (Parish priest, St. Michael's Parish) help in 1837, three Presentation Sisters came from Cork and set up the Convent and Primary school.  The Presentation "Nunnery" as it was called was the oldest of the present convents in Limerick City. Sisters from this "Nunnery" at Sexton Street began missions in Castleisland, India, Australia, California, Ecuador, Zimbabwe and Pakistan.
Colaiste Nano Nagle formerly began in 1928 as Presentation Secondary School and later renamed as Colaiste Nano Nagle.
21st November 2018, Colaiste Nano Nagle invited Bishop of Limerick, Brendan Leahy to celebrate the 300th Birthday of Nano Nagle.  Also present were Fr. Frank O Connor, Mrs. Carmel Plant Diocesan Advisor, Sr. Colette Hourigan, Sr. Angela Leahy and Sr. Ann Hurley (Presentation Sisters, presently associated with our secondary school) management, staff and present students of the school.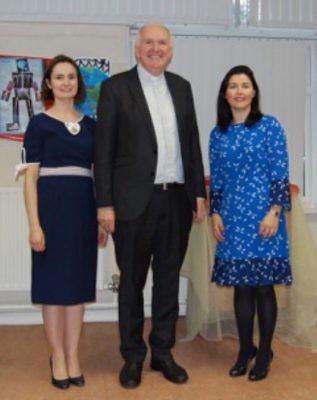 Ms. Cornelia O'Brien, (Religious Education Department), in collaboration with all Religious Education Classes in the school studied the life and works of Nano Nagle and prepared a very elaborative Liturgy.   Every class was given a role and responsibility to ensure that our celebration was a day to remember. Our students embodied the life and spirit of Nano Nagle and decorated the whole school with words, images and creativity in Nano Nagle's memory.
The readings recalled Nano's life and works.  Symbols that were used to illustrate the life of Nano Nagle included: The Icon of Nano Nagle by Desmond Kyne, A Bible to remind us of her great devotion and prayer life each night, A Lantern which was the light that guided her though the streets of Cork visiting the sick, poor and lonely each night and A Relic of Nano Nagle. Bishop Brendan in his homily reminded us that Nano Nagle's conversion from life of luxury in Paris to when she was led by the Holy Spirit to the poor of Cork City.
TY Students performed a Liturgical movement to the beautiful St. Teresa's Prayer reminding us that Christ has no body on earth but ours.  This prayer had a profound effect on all of us present as we meditated, while the girls moved in graceful and reverent motions.
Since 2007, all Presentations Schools in collaboration with four other religious orders formed a trust to ensure the continuation of values in our school.
Catholic Education Irish School Trust (CEIST) promotes the values of Spiritual and Human development, achieving quality in teaching and learning, showing respect for each person, creating community in our schools and being just and responsible people.  Symbols to represent our trust included CEIST Flag, CEIST Candle and CEIST Charter were presented.
The Handing on the Flame of Nano Nagle was a pivotal part of our celebration.  Sr. Colette Hourigan P.B.V.M spoke about highly educated lay men and women continue this wonderful work which began in South Presentation Convent in Cork City and that flame spread not only around Ireland but also to the Five continents around the world. Sr. Colette spoke about the wonderful contribution that was made by Presentation Sisters in Limerick City since 1837.  Appreciating everyone's role in the school community, the role of the Spiritual Lay Leaders is the future of Spiritual and Human Growth for our youth.  Sr. Colette called on Ms. O'Brien who has wide Spiritual Experiences of leading our students in moments of quiet prayer but also praying as a whole school community to opening their eyes to wider world and developing them to be Just and Responsible people. Being the last Presentation Sister at this moment in our school, Sr. Colette holding the Lantern of Nano Nagle in her hand, she asked a very important question: "Ms. O 'Brien will you carry the flame of Nano Nagle both now and into the future? "To which she replied "it is my honour to carry the flame of Nano Nagle both now and into the future".
Our Liturgy was enriched by our School Choir, Cor Nano Nagle with their rendering of specially chosen pieces of music: Veni, Come Holy Spirit, One Step Beyond, I will Be the Vine and Christ Be our Light.
Principal Ms. Sinead Moloney congratulated all who had contributed to the wonderful celebration.  Thanked Bishop Brendan Leahy and Fr. Frank O'Connor for their presence on this very special day.  Ms. Moloney acknowledged the wonderful contribution of Presentation Sisters both past and present.
Refreshment were enjoyed at the conclusion of our liturgy.
"We are standing on the shoulders of the ones who came before us".
Below are some photos taken on the day.