Mercy Leaders:  
Our Catholic vision and ethos are very much at the center of who we are as a school community. With this in mind we decided to give our students the opportunity to take on a Leadership role as a means of having a more tangible input into what it means to be a young Catholic in Ireland today. The role and title of Mercy Leaders was decided upon and the chosen students were commissioned in a beautiful ceremony in our Padre Pio Prayer Room by our Chaplain Fr. Liam Morgan.  Our Ethos Leaders will now encourage, promote and exemplify our Catholic ethos within the school and in so doing allow others to take pride in their faith and weave it into the very fabric of their own lives.
John Paul 11 Awards:  
This November we were privileged to witness 35 of our 5th Year students receive their John Paul 11 Awards which were presented in a beautiful ceremony presided over by Bishop Denis, who congratulated the girls on their commitment and involvement in their parish and school communities over the past year. We are again in the unique position of having a huge uptake regarding students willing to take part in the programme during the coming year and look forward to having the pleasure of seeing our students recognized for their efforts to live out the Gospel values in a very real and tangible way within their various communities. We wish them courage and wisdom going forward as they continue to promote Christ's message of peace, unity and forgiveness.
Padre Pio Prayer Group: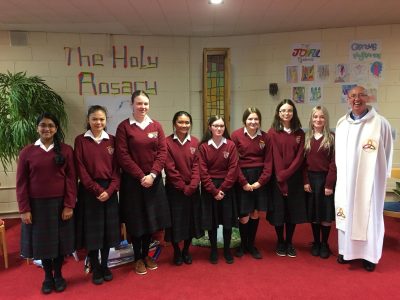 In St. Mary's College we have been running a weekly Prayer Group for the past two years. This involves reciting the Rosary and various prayers for the intentions of our students, their families and staff alike during the week. All are welcome to drop in or to just sit quietly, reflect and partake of the calming and tranquil atmosphere. Further to this and as part of the prayer life of the school we decided to ensure that the month of November be held in special regard as a time to pray for deceased loved ones and for the Holy Souls. As part of this the reception area and Prayer Room of the school were decorated with posters and stained-glass effects. A tree of remembrance, acknowledging the names of deceased loved ones was adorned with names on multi-coloured heart-shapes, celebrating the lives of those gone before us.
Fifth Year Retreat:  
The fifth years enjoyed a full-day retreat given by 'An Tobar Nua', a dynamic and compelling retreat-team, on Thursday, November 8. Evaluations afterwards testified to a day that 'really opened my mind on the meaning of life and God', to a team who 'really support each other', 'who are open about their faith', and 'who were really interesting and respectful while being funny and entertaining'. In a nutshell, for many students it was the 'best retreat ever' to date in St. Mary's!
Inclusivity Week:
Our Lighthouse leaders who take a leading role in the promotion of Wellbeing in our school organized and promoted our 'Inclusivity Week' which was held between Monday and Friday, Nov 12-16. This is in keeping with the message of Christ that everyone is equal and loved in the eyes of God, especially those who may feel marginalized or isolated within our communities. Jesus Himself ensured that He made those on the margins of society feel loved and accepted and it is this message which we hope to embed within our school community if we are to be a truly inclusive society. Events, such as face-painting and giving lollipops, were held throughout the week, which were enjoyed by all.