St. Vincent de Paul
Well done to all involved with the Christmas Jumper Fundraiser Day. We presented a cheque for €940 to Val Mulvaney of St. Vincent de Paul on behalf of the school community at the Advent Service in the Church.
TY Connecting Our Community Project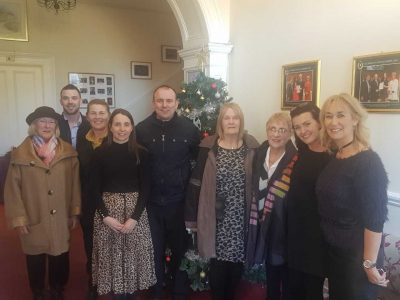 Thanks to Catherine McGuigan of Age-Friendly Alliance, Áine Bird of Meath CoCo, Shane Carolan of Prosper Meath, members of the Meath Older Persons Council, local Kells Councillor, Sarah Reilly & Garda Dean Kerins for launching our TY Connecting Our Community Project today with students. Anna Louise McManus, Bronagh Donaghey, Lucy Carpenter, Louise Cullen and Jane Carpenter (5th yr) are working alongside Prosper Meath, Meath County Council officials and local elected representatives, Age-Friendly Alliance, Laterlife Network, Kells Local Heroes, Kells Youthreach and an Garda Síochána to highlight the accessibility issues that currently exist in our town for the disabled. The girls are now part of the campaign to raise awareness and to help bring about change to improve the quality of life for all in our town. Teacher: Mr. McKee
Campaign for Kells Youth Café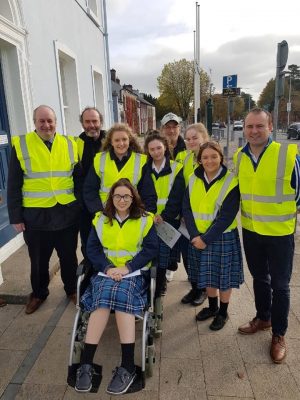 Eureka students Shauna Young and Louise Cullen addressed Meath County Council officials on the need for a Youth Café in Kells as part of the ongoing local campaign. Local Kells Cllr Sarah Reilly is involved in the
campaign and has been of great support to the students. Teacher: Mr. McKee.
Capuchin Homeless Shelter
Kathy Calnan, Eva Geraghty and Cara Rountree accompanied Ms. Townshend to the Capuchin Homeless Shelter in Dublin as part of their Social Education course.
Novelty Cakes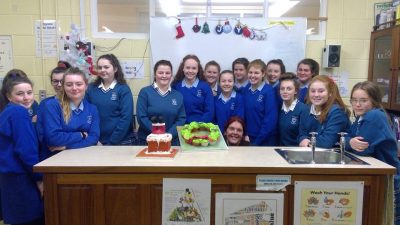 Massive thank you to the very talented Tanya Ross from Novel-T Cakes who spent an afternoon with our Transition Year students making Christmas Cakes just in time for the Festive Season. Teachers: Ms. Malynn & Ms. Conaty
Agricultural Science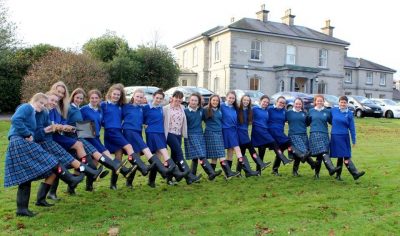 As part of Science Week 5th and 6th year Ag science students attended an Open Day in Teagasc at Grange, where they were made aware of the fantastic research being carried out by Teagasc in the Irish agricultural sector. Teacher: Ms Shalvey.
Concern Debate Victory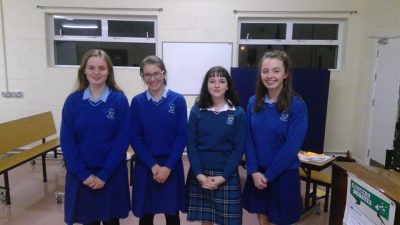 The Eureka Debating Team were victorious against Ashbourne Community School. Congratulations to the team: Louise Cullen, Áine Corcoran, Lily Conaty and Alex Martin. Teachers: Ms. Doherty & Ms. Shelley.
Music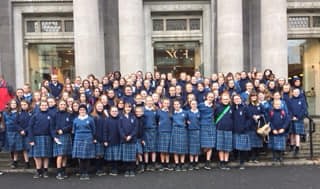 Our 1st years attended the National Concert Hall for the National Symphony Orchestra's Christmas concert. Teacher: Ms Lyne.
The Kitten Cottage
Rang Áine invited in The Kitten Cottage from Virginia, Co. Cavan as part of their Junior Cert CSPE Action Project. The kitten cottage is one of the first ever purpose-built shelters for cats in Ireland. They also take in wild animals such as hedgehogs, birds, bats etc and see that they are brought to an approved wildlife sanctuary. Keep an eye out for Rang Áine's upcoming fundraising event for the Kitten Cottage. Teacher: Ms. McCormack.
TY Musical – Sister Act
Below are some pictures taken from our recent school musical Sister Act.
Eureka Young Entrepreneurs
Above are some photos take from "Eureka Young Entrepreneurs Day".
More photos on our Facebook page.
Rugby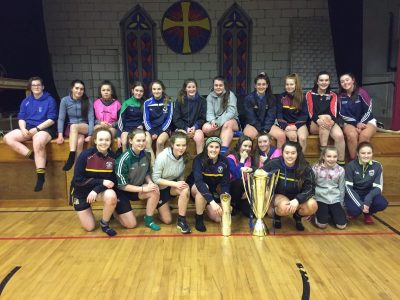 The girls after a rugby training with Ben Traynor & the European Champions Cup & the Pro 14 Cup. Teacher: Ms. Glennon.