Lourdes Trip
Eleven students (Orla Casserly, Aoife Coonan, Áine Corcoran, Lauren Doherty, Susie Dolan, Katie Mai Farrell, Emma Henry, Eva McCullen, Aoife Murphy, Áine O'Reilly and Áine Thorpe) volunteered as part of a Youth Ministry Initiative in their school, to assist hospital pilgrims over their five-day visit. The girls were accompanied by their teachers Ms. Gabrielle Harte, Mr. Martin Devine and by the school secretary Ms. Jennifer Reilly who is long associated with the Diocesan Pilgrimage.
The students immersed themselves in the Lourdes experience, giving selflessly and generously by assisting the hospital pilgrims, attending the various ceremonies and masses including International Mass, visiting the grotto where our Lady appeared to St. Bernadette and the baths where pilgrims can bathe in the healing spring water. This was a particularly difficult year for the girls after the recent tragedy in the school and they very much appreciate the support and encouragement shown by Pilgrimage organisers and helpers and extend their thanks to all involved.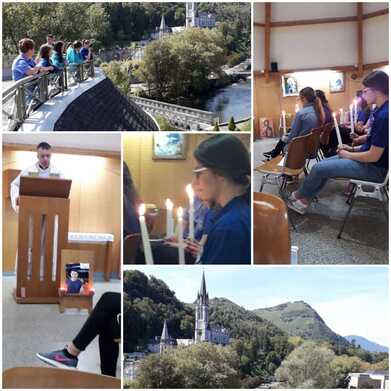 Eureka Talks
Broadcaster, Journalist & Communications expert, Sarah Carey, visited our school to discuss all things politics with our 5th Year Politics & Society students. Sarah explained how she became a journalist and discussed a wide range of issues such as the role of social media and issues affecting Irish politics. Teachers: Ms Sarah Cunningham & Mr Stephen McKee.
Craig Lynch R.I.P.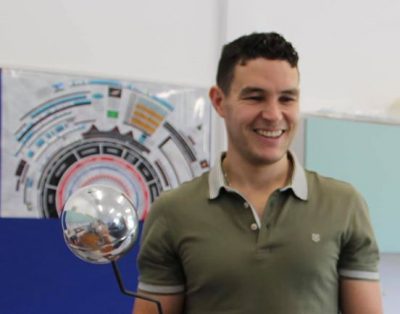 On 8th September, it was with huge sadness that that we woke up to the news of the untimely death of one of our colleagues in a tragic car accident. Craig Lynch joined the Eureka staff in January 2014, fresh out of DCU, as a Physics and Science teacher. He was an inspirational and dynamic young teacher who allowed his students to flourish. He was central to driving the Junior Cycle science curriculum and always had wellbeing as a focus. He enriched school life for students and participated in many extracurricular activities such as Erasmus.
Outside school he was a well-known athlete and represented his country at International level. He was part of the Ireland team that ran in the 2015 World Relay Championships alongside Thomas Barr, Dara Kervick, Brian Murphy, Brian Gregan and Richard Morrissey. In 2016 he won the 400m in the European Championships and was acclaimed as the fastest man in Ireland. In 2017 he was named The Anglo-Celt Cavan Sportsperson of the Year for his achievements in 2016. After a period of injury he was back training with his teammates for the next Olympics in Tokyo in 2020. Originally from Shercock in Co. Cavan, the young father of one is sorely missed by everyone.
Ar dheis Dé go raibh a anam dílis. Ní bheidh a leithéid ann arís