Mercy Day 2020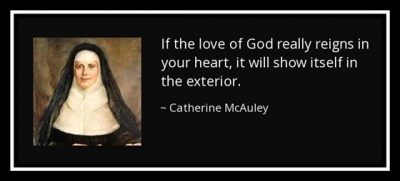 This year Eureka celebrated a Prayer Service via Zoom for the school community.
Craig Lynch R.I.P. – For Life Challenge Memorial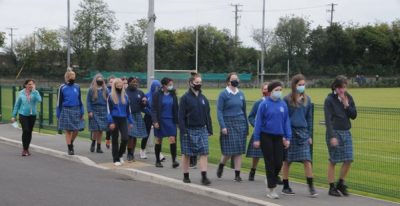 Eureka Secondary School students along with Craig's colleagues found their "30" on Tuesday 22nd September when the whole school participated in a "walkathon" around the walking track. The students all walked 30 minutes around the track in memory of Craig. Thanks to all students and teachers who participated and kindly donated money to Shercock Athletics Society. More photos on Facebook.
SciFest@College Specsavers – Making a Difference Award Winners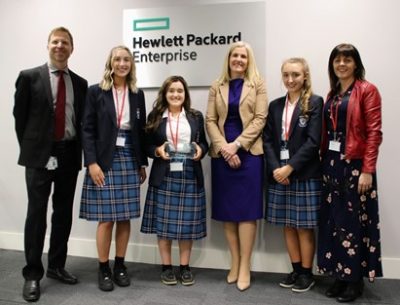 Congratulations to Áine Rooney, Gráinne Nevine and Katie Sheridan have won a Specsavers Making a Difference Award at the SciFest@College 2020 Online regional STEM Fair. With over 430 project entries this is a great achievement. The prize consists of a Dublin Crystal trophy. In addition to the trophy the students will receive a €20 One4All gift token and a SciFest@College 2020 Online Finalist certificate. www.scifest.ie Winning this award qualifies the students to have their project considered for participation in the SciFest 2020 National Final and to compete for the SciFest 2020 Specsavers Making a Difference Grand Award. This award includes a prize to the value of €500. The qualifying projects will be selected from the 16 regional Specsavers Making a Difference Award winners by a special judging panel representing SciFest and Specsavers.
On Thursday 30th January, the three Transition year students won the Hewlett Packard Innovation 4 good award at the BT Young Scientist Awards in early January, were invited to present their project  "Food for Thought" to over 100 employees of Hewlett Packard, including their Global Chief Sustainability Officer from California Mr Christopher Wellise and the managing director of Hewlett Packard Ireland, Ms Maeve Culleton. The girls presented their project confidently and received fantastic feedback from members of the audience who were very impressed with the girl's project idea. The 3 girls received great encouragement to progress their labelling system of the carbon rating of fruit and vegetables further and Hewlett Packard would like to keep in touch with the girls to offer their support and expertise.
TY Artwork from last year 2019-20 now displayed in the school
The first piece is an interpretation of Van Gogh's Starry Night. Each TY student was assigned a section of the painting to replicate using oil pastels. This artwork is displayed on the 1st floor of the school.
The second artwork is an interpretation of The Four Evangelist Symbols from The Book of Kells. TY students were split into groups to recreate a quarter of the page each. This piece was made using magazines for collage and paint. Last year's 2nd years and 5th years helped in the completion of this piece. This piece is displayed in the GP area. Teacher: Ms. Glennon.