Friday 5th February 2016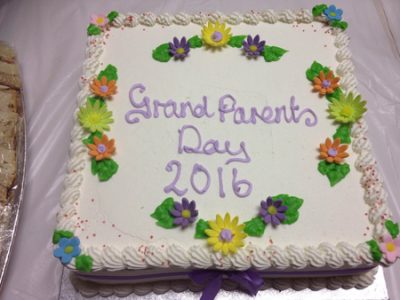 In January, very special visitors arrived at our school. These were invited guests the grandparents of our 1st and 2nd years.
It was a delightful afternoon having these wonderful people back in school again and this time accompanied and taken care of by their grandchildren.
The afternoon began with a welcome from Triona Murray (HSCL) followed with a special prayer service.
The Sacred Space reminded us of Pope Francis's call to make this year a year of Mercy.
Mary Ryan, our Deputy Principal, read the gospel from Matthew 23 v31-40 on how the good people will be received by God when we pass away. During the homily Sr. Colette looked at Mercy.
She told us that Mercy is forgiveness, compassion, understanding, support, a listening ear, non-judgement, love and gentleness.
Mrs. Jenkins, our special guest Grandmother, gave us deep insights of being a mother and grandmother and how grandparents provide maturity, knowledge and unconditional love and those grandchildren keep their grandparents young.
The students presented their grandparents with cards that they had made and a candle.
Then to our celebration, Ms. Murray provided us with delicious sandwiches and of course a special cake for Grandparents.