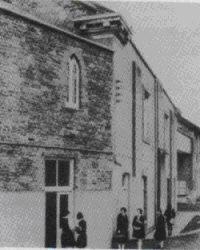 St Mary's College in Naas is celebrating its 75th Anniversary this year. Celebrations occurred during the week of the 19th -23rd September.
St Mary's college in Naas celebrated its 75th anniversary on that week with a number of events to mark the occasion.
On the evening of Wednesday, 21st, there was the launch of a special commemorative book compiled by Arthur Burke.
The book is a history of the college in Naas, not only of interest to anyone associated with the school but also appealing to anyone interested in the social history of Naas.
Present at the launch were the Board of Management, members of the Parents Council, members of the past pupils association, teachers and pupils both past and present and other invited guests.
The school were particularly delighted that two of the original class of '36, Frances Casey and Mabel Lyons attended the launch and the celebrations.
Also present were some teachers and pupils from a Mercy school in Little Rock Arkansas which was founded by 4 Mercy Sisters who left Naas 160 years ago to set up a school there.
One of the visiting nuns, Sr. Deborah Troillept spoke of the vocation and commitment of the founders and said their spirit of service lives on today in Mercy schools.
It was a night of history and song. The president of the past pupils association presented the school with an exhibition of the uniforms of St. Mary's down through the years.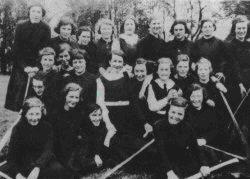 The school launched two of its own initiatives, an emblematic rug created by the whole school community and 'The road I'm Travelling' a collection of stories and anecdotes, compiled by Máire Mannion, from 75 past pupils recounting the various road each has travelled since leaving St Marys.
The following day Thursday 22nd each year group of students attended celebratory assemblies which included a prayer service, an introduction to the various displays and a tree planting ceremony, one tree for each year.
On Friday the 23rd there were more events to mark the anniversary. Mass was celebrated by Fr Paul Dempsey in the Sports hall for the entire school community and invited guests. Peggy Collins, Provincial Mercy Sisters gave an addressed after the Mass.
This was followed by the unveiling of two commemorative art works commissioned for the 75th and crafted by two past pupils Bríd Óg Norrby and Susan Connolly.