Friday 7th October 2016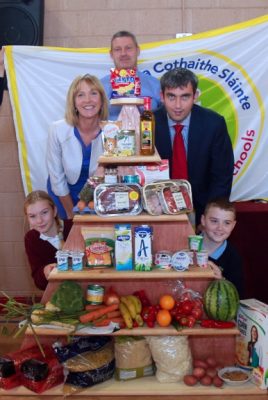 Presentation College Athenry has become one of a few schools in Co. Galway to be presented with the Healthy Ireland 'Health Promoting Schools' Flag'.
The Healthy Ireland Health Promoting Schools (HPS) Flag was presented by the HSE to the school as an acknowledgement of all their work in improving the health of their school community.
To achieve this accolade, schools follow a process whereby the whole school community (parents, staff and students) are consulted to identify priority health areas. Schools are guided to address their priority area under the following evidence based categories: environment (social and physical) curriculum, policies and partnerships.
European research has shown many benefits of the HPS whole school approach to health. Chief among these benefits are increased self-esteem, safer and cleaner school environments, lowered incidences of bullying, a positive approach to health issues, increased parent involvement and better student/teacher relationships to name a few.
Over a period of 2 years, the school developed an action plan to address the health areas identified. The Deputy Principal and school HPS Coordinator, Evelyn Concannon along with the School Principal, Cathal Moore, led the HPS team of teachers (Linda Carey, Anna Maria Newell, Padraig Breheny, David Neylon) and Deputy Principal Anne Monaghan, to plan, co-ordinate and deliver the work. Some of the their themes included the topics of Healthy Eating and Mental/Emotional Health.
"The health and well-being of our schools is of key significance at this time more than ever" said Evelyn Concannon while the principal, Cathal Moore, noted that "The health of our children is a priority and a health promoting school promotes the health of all those linked with the school including school staff, parents and the wider school community.
Paul Gillen, Health Promotion Officer added that Presentation College Athenry, "has been working on the Health Promoting Schools programme in conjunction with the HSE Health Promotion & Improvement Department for the past 2 years.
We are delighted that they have become one of the first schools in county Galway to receive their flag and the Health Promoting Schools Celebration Day is a fitting recognition of these achievements."