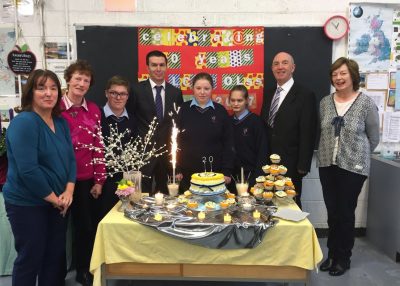 LCA students in Our Lady's, together with their teacher, Ms Helena Fox, took time out of their busy schedule to mark 20 years of Leaving Cert Applied in the school. Ms Fox has been teaching LCA at Our Lady's since the course was introduced in 1997. The celebration highlighted the unique approach of LCA which allows its students to gain credits and marks throughout the year. It is practical, student focused and innovative.
The celebration was attended by the Principal Mr Kelly, Deputy Principal Mr Brohan, many subject teachers and all LCA students. The current LCA class made hot food, scones and cakes for the celebration as part of their Hotel, Catering and Tourism Module ably directed by their teacher Mrs Mc Geeney.
Mr Kelly spoke of the teachers and students involved in LCA throughout the 2O years and remarked on the many LCA students who had gone on to achieve great success and accomplishments.
It was a true celebratory occasion where all present had a great sense of appreciation and fulfilment in being part of a truly great Leaving Certificate Applied Course.