Documentary Group
Past pupil Eleanor Cunney visited the school on December 13 for most of the day to run a workshop for our Transition Year film studies group and fledgling documentary group. Eleanor has generously agreed to return on the January 24th to review the progress of the documentary group. We are delighted to have Eleanor and really appreciate her generosity to the school.
Our documentary group is currently finalising arrangements to conduct a series of interviews with members of the Mercy Congregation Carlow. They are planning to profile the personal and professional lives of a number of sisters in the convent. The project has been warmly received by the congregation. This is a rare and wonderful opportunity to capture a sense of a very special legacy.
Eleanor currently works as a series Producer for Fair City as well as lecturing at Maynooth University. Previously she has directed Ros Na Run at TG4 and has produced over 60 documentaries.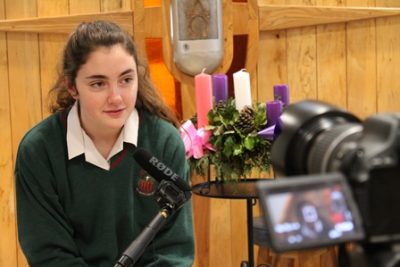 John Paul II Awards
Students who earned a John Paul II award were presented by Bishop Denis Nulty in Portlaoise on Wednesday 6th December. A wonderful achievement for all involved.