Our Lady's Castleblayney start the New Year with a Sustainable Energy Initiative
Thursday 11th Jan 2018 saw members of Our Lady's Eco-club host a visit from Caroline Murphy of Sustainable Energy Ireland to speak about sustainable energy options for their homes. After an excellent and informative presentation about the work of SEAI and the various ways we can conserve energy, students were given an energy kit to bring to their homes for a week. Each kit contains instruments, for example a plug-in energy monitor, a thermal leak detector, temperature and humidity monitors etc. The students were given guidelines about how to use the instruments and record the results.
This initiative was organised by Castleblayney Sustainable Energy Group in conjunction with School Principal, Mr. Eddie Kelly and Ms Helena Fox. Castleblayney Sustainable Energy Group (SEC) is a voluntary group formed in late 2016. The aim of SEC is to work together with the local people of Castleblayney to raise awareness of the benefits of energy efficiency and renewables. They also hope to administer SEAI BEC projects in the coming years. This will involve specific energy efficiency and renewable energy projects being undertaken in Castleblayney which will be economically and socially beneficial to the town. It will also mean a significant reduction in the use of fossil fuel based energy in our town and support the drive nationally and globally to reduce CO2 emissions in efforts to address climate change. SEC Castleblayney's application to SEAI for funding was successful and this is for Year 1 of a three year programme. The funding is for a programme that includes energy auditing, energy awareness and the development of an Energy Management Plan for Castleblayney.
The Eco-club in Our Lady's were delighted with the visit and have enthusiastically embraced the use of the energy kit and the recording of the results. This is a wonderful opportunity for them to inform themselves about energy efficiency/conservation and to include family and friends in this worthwhile project. Learning for life at its best!
Members of the Eco club in Our Lady are seen here accepting energy kits which will be used by the group to observe and record specific energy values in their homes. This is part of an energy awareness programme being encouraged and supported by Castleblayney Sustainable Energy Group in conjunction with Sustainable Energy Authority of Ireland. Also pictured is Ms Helena Fox, Our Lady's and Ms Caroline Murphy of SEAI who delivered the workshop.
Glencarn sponsors Girls U16 Basketball in Our Lady's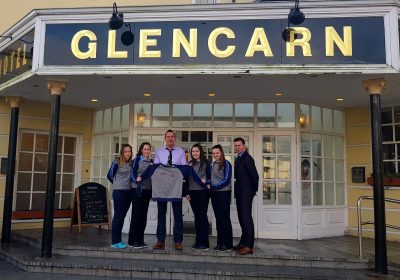 Pictured are representatives of the U-16 Girls Basketball team in Our Lady's accepting jerseys from Mr Damien Borden of the Glencarn Hotel. The girls have been very successful in their appearances on the court, being North East 'A' Regional champions and they also represented Our Lady's and the region in the All Ireland Qualifiers. They are seen here with their coach with Ms Laura McQuillan and school Principal, Mr Eddie Kelly.
National Success in Credit Union Art Competition for Our Lady's
There were scenes of delight and excitement last week when Our Lady's Secondary School was informed that 1st Year Art student, Keisha McCann had been awarded 1st place in the Credit Union Art Competition at National Level. This is an outstanding achievement given the large level of entries countrywide in this competition and its merit will be recognised in the €500 prize that Keisha will receive at the National presentation of prizes in Croke Park on Sunday 11th February.
Keisha has been awarded 1st at local and chapter level also. Ms Lynch, Art teacher in Our Lady's made reference to the "exemplary talent and creativity shown by Keisha in her design. It is rare for an art student to show such exceptional skills in design and appreciation of aesthetics in 1st Year. This is an area that has been nurtured throughout her Primary schooling so credit must also go to those teachers as well." Principal, Mr Kelly also congratulated Keisha on her outstanding achievement commenting "Keisha is such a talented & unassuming student and we are delighted that her exceptional talent and hard work has been recognised and rewarded at local and national level. To win an award at national level as a First Year student is a fantastic achievement and we look forward to more successes from this very talented student during the rest of her time at Our Lady's". Mr. Kelly also paid tribute to Keisha's Art Teacher Ms Lynch for all her hard work, support & guidance for Keisha and indeed all the other students from the school who achieved success at local and chapter level.
Keisha, daughter of Eilish McCann, Bree, Castleblayney is to be congratulated and no doubt this is not the last we will hear from this talented and gifted student.
Our Lady's Join 7,000 Students at 2018 Student Leaders' Congress
Over 100 students from Our Lady's Secondary school Castleblayney joined 7,000 other teenagers from around Ireland at the 3Arena last week for the 2018 Cycle Against Suicide Student Leaders' Congress.
The event, which started as a gathering of 40 students in 2012, is now the largest young people's mental health conference in Europe. Students from Our Lady's had spent several weeks in advance of the Congress preparing various projects that were focused on the event's two central objectives of promoting positive mental health and help-seeking behaviour in young people.
Speaking after their return from the event, Principal Eddie Kelly said the event had a huge impact on the students that travelled to the 3Arena.
Our Lady's choir performed on stage and received a standing ovation. 6th Year student, Kaylum Conlon was interviewed on stage by our own student leader, Neasa Boyle about the debate held in the School 'Empower your Voice'', an event organised by our Amber committee . Neasa Boyle said "the memory of the Student Leaders' Congress will live long in her memory", while Kaylum said the experience of speaking on stage to 7000 students will be a life-long memory. "I also felt inspired by the speakers on the day especially Dr Sinead Kane's story which left me with the thought 'no excuses'."
The Student Leaders' Congress is organised and run by Cycle Against Suicide, the charity organisation that aims to foster an environment of positive mental health through the promotion of its core message that 'It's OK not to feel OK; and it's absolutely OK to ask for help'. For details on this year's cycle or information on how to volunteer, log on to www.cycleagainstsuicide.com.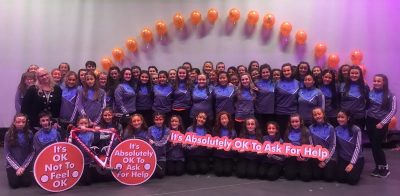 Pictured at the Cycle Against Suicide Student Leaders' Congress held in 3Arena last week are members of Our Lady's Secondary School choir who performed on stage in front of 7000 young people attending the Congress. The students are pictured here with Music teacher, Ms Cara Murray and they were also accompanied by Chaplain, Ms Grace Duffy.
The core message being promoted is 'It's OK not to feel OK; and it's absolutely OK to ask for help'