Christmas Jumper Fundraiser for SVP
Thursday 14th December was Christmas Jumper Day in the school and all funds raised benefit the Society of St Vincent de Paul. Thank you to all who donated and to our Student Council for organising.
Festive Hampers for SVP
Students from Mr McCoy's TY Religion class have been busy preparing our food hampers for SVP, filled with donations from our school community brought to the school over the past two weeks.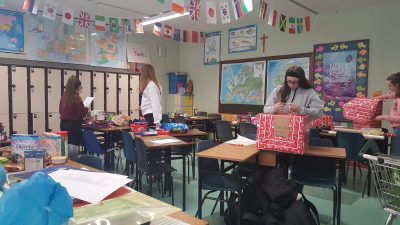 Bursary Success for Catherine
Well done to 2016 Head Girl Catherine Smyth, who was recently awarded a bursary for €1,000 by the Irish Hereford Breed Society, for her assignment entitled: Ireland's Green Grass – Our Pot of Gold at the end of the Rainbow. It is wonderful to hear about the successes and achievements of our Mercy girls!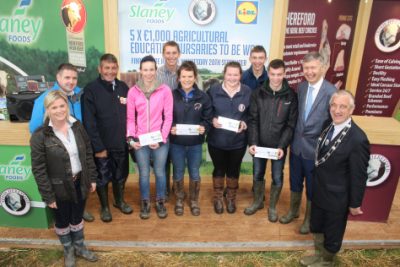 Christmas Carol Service: Passing of the Light
'Passing on the Light' was the theme of this year's Carol Service, which took place in St Mary's Church on Tuesday December 12th. Our two readers, Cecelia and Ranjana, explored how the light of God has been passed on, from the creation of the world, to Adam and Eve, through Abraham and the prophets, to the Light blazing into the world in the person of Jesus, and passed on in the Church through the ages. Students from all year groups received lit candles, and these were passed on to others, representing the light passed on through the generations.
Fr Declan encouraged us all consider and reflect upon the true meaning of Christmas to remember those in need at this time of year. Carols for the occasion were sung by the congregation, the All-School Choir, the Schola and the Staff Choir. A hamper, one of many students are currently preparing for the Society of Saint Vincent de Paul was also brought to the altar, our own offering mirroring those of the Magi to the Infant Christ.
The service began with the Schola singing Take Comfort, My People by our friend Steven Warner, which led directly into everyone singing On Come Emmanuel. Highlights? The chance to perform A Mother's Child by Fergus Hall, a new setting of Under the Stars, One Holy Night, with Anastasia Koukouzeli on violin, and an intricate arrangement of The Huron Carol; Fern Kelly deftly taking the solo role in O Holy Night; the Staff Choir singing Suantrai na Maighdine and the All School Choir singing Season of Wonder; a chance to sing Unto Us is Born a Son; a church bathed in candlelight while we sang Night of Silence / Silent Night.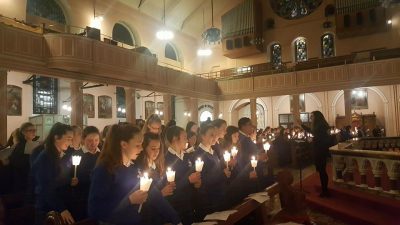 Patrycja at Dáil na nÓg
Second year student Patrycja represented her school and community at Dáil na nÓg, read her blog entry below:
On Tuesday 5th December, I had the opportunity to travel to Dublin and represent the young people in Navan and of course to represent our school at Dáil na nÓg as part of Comhairle na nÓg. I met Dr Fergal Lynch (Secretary General, Dept of Children and Youth Affairs), David Stanton, T.D (Minister of State for Equality, Immigration and Integration), Carol Baxter (Assistant Secretary, Head of Asylum Services, Integration and Equality, Dept of Justice and Equality, Tanya Ward (CEO, Children's rights alliance) and Dr Niall Muldoon (Ombudsman for Children).
We got to ask them questions on gender issues linked to education such as why girls can't do Woodwork or Metalwork and why can't boys do Home Economics in their single-sex schools. It was a great opportunity to meet other Comhairles from all of the counties in Ireland and to pick the topic that Dail na nÓg will be working on for the next two years.