Prepaid financial services Junior Fintech Innovation Award
2nd Year Students, Leah Keogh, Eva Barnet and Luisa Woods, under the guidance of their Business teacher, Ms Horan, presented their business idea to entrepreneurs Noel and Valerie Moran in a Dragon's Den style forum at the Prepaid financial services company in Navan.
The presentation was part of their entry into the Prepaid Financial Services Junior Fintech Innovation Award where there is a €10000 school prize and iPhone8 each for the winning team.
Seisiún Ceoil i Scoil an Chroí Naofa
As part of the Drogheda Traditional Music Weekend, Sacred Heart Secondary School was delighted to welcome Zoe Conway and John McIntyre to our school library on Friday 24th November. Many of our students participated in this outreach performance. Zoe and John are internationally renowned musicians hailing from Carlingford, County Louth. As well as playing violin and guitar students joined them in the singing of the Omeath song 'Dúlamán'.
The Trad Group meet every Monday at lunchtime in the Music Room-all are welcome to join in.
Thank you to Mr Branigan for organizing this event and to Ms Collins and Ms Fanning for all their help.
'High School Musical'
We are so proud of this year's amazing group of talented 5th years. Another fantastic production this year. 'High School Musical' was on stage in the TLT, Drogheda with two sold-out shows on Wedneday 23rd and Thursday 24th November. Thank you to our Producer-Tracey Martin, our Choreographer- Gillian Donaghy-Harte and our Musical Director-Linda Collins.
Gaeilge 24
This year all Transition Year students took part in Gaeilge 24. The girls received t- shirts, wrist bands and will be presented with certificates for taking part in this event. The girls raised €562.50 for Conradh Na Gaeilge. The girls put a lot of effort into the day organizing various activities and preparing leaflets with key phrases for the day for both teachers and students. Ms. Lynch also showed her support by taking assembly as Gaeilge that morning. The Morning Offering was said as Gaeilge by Sadbh Kindlon 6th Year. Teachers also incorporated Irish into their lessons. Thank you to the girls, teachers and parents for all of their support on the day.
Míle buíochas.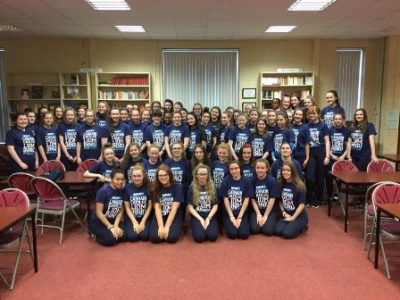 Sacred Heart Breakfast Club
Before the Halloween Break the SLC (Student Leadership Council) organised a fundraiser to raise money to set up the Sacred Heart Breakfast Club. This involved a game of Rounders 'with a twist'-A students vs teachers game. The students managed to win by a thread. In the process and with the support of the student body €417 was raised.
A survey was sent out to the student body with questions relating to the types of foods they would like for breakfast. The money from the fundraiser went towards buying cutlery, delph and food for our first ever Breakfast Club.
On Wednesday 8th November 2017, 30 students had breakfast together from 8.15-8.35am. This comprises of a voluntary contribution of 50c and the choice of cereal, orange juice and tea. There was a great atmosphere in Ms. Teeling's kitchen where students right across the years mingled together having their breakfast.
Students from the SLC organise the opening of the kitchen every morning, collection of the contribution and the clean up process. Gaisce students participate as part of their Community Work. We would like to take this opportunity to thank the teachers involved; Ms Dempsey, Ms Teeling and Ms Devaney for helping set up and supervise, our Head Girl-Carenza Rock and the students from the SLC committee.