Certified Irish Angus Beef School Competition
Each year the Irish Angus Producer group run a school's competition for Transition Year students who plan to do agricultural science in their Leaving Cert. In the competition students have the opportunity to win 5 Angus cross calves and raise them through to slaughter.
A group of up to 5 students may enter the competition. They do this by producing a 5-minute video outlining their project using Aberdeen Angus cattle. This year Mary Immaculate Secondary School, Lisdoonvarna entered the competition for the first time. The 5 students involved are Killian Blood, Dara Kenneally, Niall Sweeney, Thomas Griffey and Thomas Hartigan.
The students have made it through to the second round of the competition and were interviewed by a panel of experts in Limerick on 11th January 2017. If they are successful in this round they will be invited to showcase their project in Croke Park in March. From this shortlist of entrants, five schools will be chosen to receive the 5 Angus cross calves. They are being mentored by their agricultural science teacher, John Sims. We wish them the best of luck.
Great success at BT Young Scientist and Technology competition
There were joyous scenes on the Friday night of this year's BT Young Scientist and Technology exhibition when Mary Immaculate Lisdoonvarna students scooped 5 awards in the competition. Dylan Egan from Doolin won two awards.
He won first prize in the junior individual Chemical, Physical and Mathematical sciences for his project that looked at the feasibility of using rushes as a fuel. As well as this award he was judged to be the best communicator of all participants in the competition this year. For this he was awarded the Fr. Tom Burke Bursary.
This brings with a trophy and an educational bursary of €1000. Jessica Kelly from Fanore was awarded third prize in the intermediate individual technology category, for her smart phone app called Saoránach. This app will enable people to report road problems to their county council.
In the Biological and Ecological sciences, Róisín McNamara and Sharon Daly from Carron were highly commended for their project on the advance of vegetation in the Burren. Calum MacNamara also got a highly commended for his project on the composition of the gases in in the bladders of Ascophyllum nodosum and Fucus vesiculosus.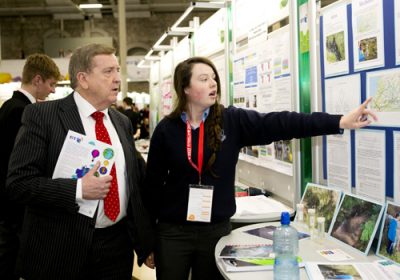 Pictured above Amy Woods explaining her project to Pat Breen TD.
The other projects taking part in the exhibition from the school were: Amy Woods; Examining total metal content in river water in a Burren catchment area, Róisín O'Donoghue; Did gender quotas change voting patterns, Niamh O'Growney; Do Irish beaches contain microplastics? And Harry wainwright; Does damage affect the strength of Laminaria digitata.
Well done to all the students and their teacher Mr. Sims for all their hard work and commitment.
Success in North Clare Mental Health essay competition
There was success in the North Clare Mental Health essay writing competition for three students from Mary Immaculate Secondary School.
The school is delighted with the prize winning achievements of our students who had the opportunity of showcasing their literary talents as well as highlighting mental health awareness in young people.
Congratulations to fifth year student, Róisín O'Donoghue, who received second prize for her essay. Third prize went to Conor Clancy from transition year. Another transition year student, Jane O'Loughlin received a runner-up award.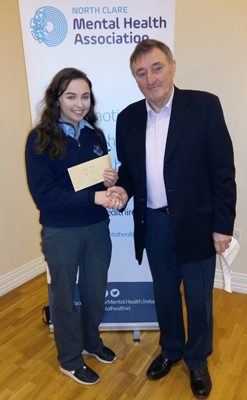 Pictured above Róisín O'Donoghue, who received 2nd prize for her essay.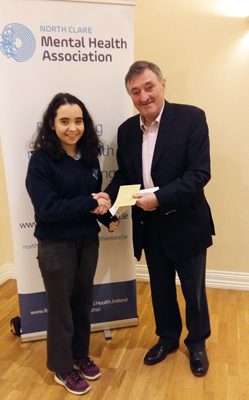 Jane O'Loughlin receiving her runner-up award.
Transition year students Ciara Costello, Jessica Kelly and Michael Garrihy also took part in the competition. Well done to all the students who took part and their teacher, Ms. Gallery.
Second Years Getting Graphically Organised!
The school is taking part in an Action Learning Project. This project involves the school deciding on an area that would make a positive contribution to the learning experience of the students and thus ensure that the school continues to constantly improve.
The focus of this project is on the use of Graphic Organisers to enhance student learning. A Graphic Organiser is a simple tool that provides a visual method of developing, organising and summarising information. There is a lot of research that indicates that the use of graphic organisers is associated with increased knowledge retention.
Our aim at the end of this project is that each student will be equipped with an effective learning and study technique that can be applied to any subject going forward. This will help our students to become better learners, providing them with a way to tackle their study for exams more effectively and confidently thus reducing any stress they may experience in the future.
First Year Art Success in the Community Games
The following first year students were successful in the recent North Clare heats for the Community Games Art competition:
Emma Garrihy, came first in the under 16 Girls picture competition category.
In the same grouping also Joanna Koziol, First Year, came second and Ella Mullins, another First Year student came third. They all produced paintings and drawings of a community games competition activity of their choice.
All candidates displayed great creativity and flare in their pieces. Success also went to Christopher Kelly for his painting composition entry. Christopher came first in the under 14 category. The successful students are all going forward to the county final on the 4th of February in the CBS Ennis. Congratulations and best of luck to all concerned.