Irish Angus group visit to Dublin and Holland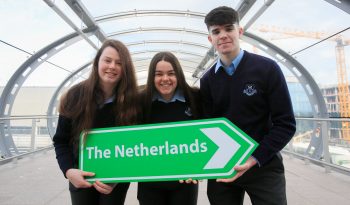 A group of Agricultural Science students from Mary Immaculate Secondary School, Lisdoonvarna visited leading retailers in Ireland and Holland to learn about the marketing and export of Certified Irish Angus beef.
Amy Woods, Katie Thomas and Séamus MacNamara, who are participating in the Certified Irish Angus Beef Schools Competition, first visited the headquarters of leading retailers Tesco Ireland to get some valuable tips of the trade before heading to Albert Heijn in Holland. They made a presentation on their project to head office staff of Tesco in Dunlaoighre Dublin and Albert Heijn in Amsterdam. Their presentation included the tradition of cattle farming in the Burren region, the tradition of winterage and the sustainability of Irish Angus cattle in this unique part of Clare and Ireland.
The study trip, organised by Irish Angus Producer Group, ABP and Kepak began with the visit to Tesco Ireland in Dublin. The group then boarded a flight to The Netherlands where they visited Albert Heijn, the Dutch supermarket chain who is a leading importer of Irish beef.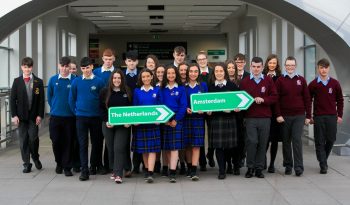 The Lisdoonvarna triumvirate were selected by a panel of industry judges to rear six Irish Angus Cross calves up until their slaughter in 2020. The calves are presently thriving on the winterage lands of the Rodger and Lorraine Woods Ballyvaughan. The students were tutored by their Agricultural Science teacher John Sims.
Charles Smith, General Manager, Irish Angus Producer Group said "this study trip provides Amy (Amy Woods), Katie ( Katie Thomas) and Séamus (Seamus MacNamara) with the opportunity to meet some of the top retailers in Europe and to gain insights into the selection process of high-quality beef for their consumers."
"At Tesco Ireland they learned about what it takes for a product to become one of the exclusive Tesco Finest brands."
Principal John O'Loughlin, thanked teacher John Sims for mentoring the students, congratulated the students on being finalists in the Certified Irish Angus Beef Schools Competition and wished them well in the rearing of the calves and in the remainder of the competition. If this trio are successful in winning the competition outright, they will received €2,000 towards their further education. Well done guys. You did yourselves, your parents, your school and teachers proud.
Transition year production of "Grease"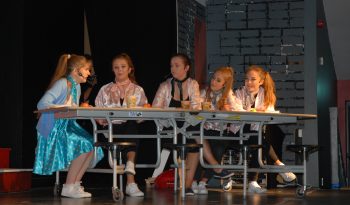 The transition year students from Mary Immaculate Secondary School held their production of Grease in the Pavilion Theatre in Lisdoonvarna just before mid-term. It was a great success despite one of the evening performances having been postponed due to a power cut in North Clare. Mr. O'Loughlin, school principal addressed the final performance and had the following to say.
"Weren't the Transition Year Class of 2018-2019  just brilliant with their production of Grease? So much raw talent.  So much enjoyment. So much energy, so much singing and so much perfect dance moves.  A most enjoyable performance!!!
From Jan, to Marty, to Betty Rizzo, to Doody, to Rodger, to Kenickie, to Sonny, to Miss Lynch, to Frenchy, to Sandy, to Danny Zuko, to Patty, to Vince Fontaine, to Eugene, to Cha-Cha, to Johnny Casino, to the Teen Angels, to all the dancers, and to Sharon and Matilde for props.  They were absolutely amazing.
They will remember this production when you will have long forgotten a lot of other things you learnt here in Mary Immaculate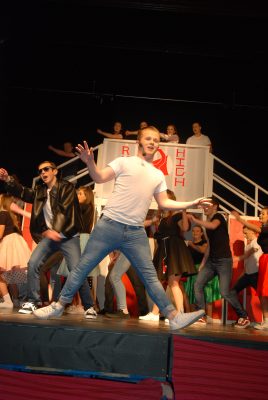 You might ask yourself 'why do we do it each year?'
A quote from our recently published Whole School Evaluation report contains a clue:
It states 'The 'breadth of student awards valuing students of different talents and those making contributions to school life is to be commended'.
For the past 21 years, Mark Mulqueeney and his team have been choosing shows which best suit the students of Transition Year.  They chose well this year.
It is important to us that we provide an opportunity for each member of transition year to take part in a Transition Year show, to go on stage, to shine, to stretch themselves, to feel vulnerable, sometimes maybe be embarrassed, to depend on others, to trust others, to learn life skills, to learn some new dance moves 'in a safe, secure environment' as commented on by the DES inspectors.
So, in the context of your development it is immeasurable what participation in this musical can and will do for you in terms of boosting your confidence, working as a team and supporting one another and the outcomes that are possible when you all work together and take pride in doing as good a job as possible.,
I am so proud of each of you, well done.
Any production is not possible without the good will and support of many people and resources.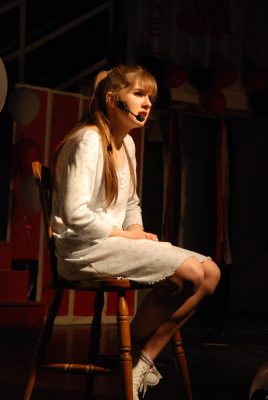 First and foremost is the staff of Mary Immaculate.  They are second to none.
In another quote from our WSE:
The school operates as an orderly, secure and healthy learning environment through the combined efforts of senior management, the ancillary staff, teachers and the student body.
Students spoke very positively of the time outside of school hours that teachers give very generously to support extra-curricular projects and co-curricular learning.
It is a whole school effort – including the parents.
A big thank you to the Board of Management of Lisdoonvarna Fáilte and Seamus Hynes.  They couldn't be more helpful.
Helping out with production was:
John Anthony Geraghty, Cian Burke and Niall Sweeney and student teacher Tony Malone.
On lights past pupil Aiden Connolly, assisted by two Fifth year students: Emma Kelly and Aoife Dowling.
This leaves us with the fantastic quartet of Lauren, Finola, Mark and Conor
They complimented each other and between the four of them drew out the often hidden talents of this fantastic group of Transition Year students, the cast of "Grease".
We are indeed indebted to you all."