Success for Mary Immaculate Students and Teacher at BT Young Scientist and Technology Exhibition
Two transition year students from Mary Immaculate Secondary School in Lisdoonvarna won awards at this year's BT Young Scientist and Technology exhibition, which was held in the RDS Dublin last week. Sarah McNamara took first prize in the Intermediate Individual Biological and Ecological sciences category. Her project was entitled "A tale of two soils – a comparative study of upland and lowland soils in the Burren". Sarah comes from a farming background and has a great interest in farming. As a result of her love of farming she did a project on the chemical and physical properties as well as macrofauna of soil in the Burren winterage and lowland Burren.
Her classmate, Róisín McNamara was awarded highly commended in the same category. Her project was entitled "An examination of ash die back in the ash trees in an area of the Burren".  She is very familiar with the rocky landscape of the Burren County Clare. She looked at the profile of ash trees with ash die back in the Burren and compared them with uninfected trees.
Róisín's sister Leah also took part in the competition with a group project "Snail communities in three habitat types in the Burren". Her partner was Jessica O'Donohue from Fanore. Also taking part were Dylan Egan with a project entitled "LifeSaver – A New Automatic Lifejacket Inflation System" and Maeve McMahon who was researching how a trainable Weka could be used in seashore research. Her project title was an "Evaluation of the use of software as a tool to count populations of different shellfish on seashores".
As well as the success of the students, their teacher John Sims won the Perrigo Educator of Excellence in the Biological and Ecological Sciences award for his work in mentoring students in the biological and ecological sciences. This was his 30th year mentoring students in the competition.
First year students from the school travelled to the RDS on the Thursday to visit the event.
They were accompanied by John O'Loughlin (principal) and Mona Hynes (deputy principal). Many of these students have already contacted Mr. Sims about taking part in the competition next year. Another busy year ahead for the science students at Mary Immaculate.

Certified Irish Angus Beef School Competition
The three students who are finalists in the 2018 Certified Irish Angus Beef School Competition will be travelling to Holland for the 13th and 14th February. Before leaving for Holland, they will be giving a presentation on their project at the headquarters of Tesco in Dublin. They will be then visiting Bord Bia before flying out to Holland. In Holland they will again give a presentation on their project to a major supermarket chain there before visiting a number of farms.
You can keep up to date on how the calves are progressing by visiting their website – www.burrenwinteragefarmers.eu
Catholic Schools week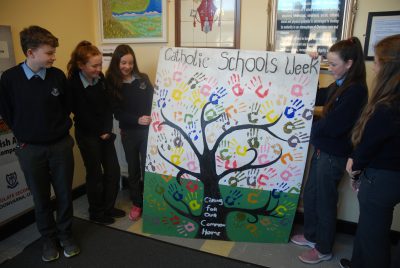 This week, 27th of January to 1st of February, students are actively celebrating Catholic Schools Week in Mary Immaculate. This year's theme is "Celebrating the work of our School". Second year students were visited by Mia Joyce Walsh of the Diocesan Youth Ministry to promote involvement in a pilot program aimed at highlighting Catholic Social Teaching. Arts and crafts are to the fore during the week as is the tradition of making St Brigid's Crosses. Students are also busy preparing for a coffee morning in celebration of the cultural diversity that enriches our school community.
Stories of Success
Have you ever wondered what goes on in the mind of a successful person? Well, three transition year students from Lisdoonvarna have got the answer. Emma Vaughan, Bláthnaid Marsh and Matthew Sheedy have written a book called Stories of Success as part of the Student Enterprise Programme. The competition gives students a chance to experience life as a real entrepreneur from coming up with a business idea to marketing, sales and preparing a business plan.
Their book is a collection of interviews from some of Ireland's most influential people, including Doireann Garrihy, Domhnall Slattery, Sharon Shannon, Ivana Bacik, Richard Bruton and many more. They asked everyone a series of questions, some general and some tailored to each person's specific field of success. All the answers they received were unique, but each one also very interesting and educational. The book is an absolute must-read. It truly does aid you on your own path to success, whatever field that may be in. Whether it be in business, music, politics, or just life in general, there is a section for everyone.
The students have been busy at work promoting their book on social media, and on local news outlets, The Clare People and Clare FM. They are doing very well with sales, currently on their second batch of books. The book will be available in Ennis Bookshop, Quay Books in Limerick, Charlie Byrne's Bookshop and Kenny's Bookshop in Galway.  You can also get a copy of Stories of Success off the students directly by contacting them at storiesofsuccess1@gmail.com, @storiesofsuccess1 (Instagram) or @storiessuccess1 (Twitter)