Naughton Scholarship for Mercy Secondary School Ballymahon Student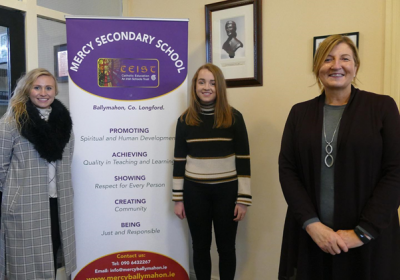 Congratulations to Zoe Guinane from the Leaving Certificate class of 2020 in Mercy Secondary School, Ballymahon, Co. Longford.
Zoe has been awarded a third level Naughton Scholarship 2020. That makes Zoe the 6th Mercy Ballymahon student in the last 7 years to be awarded this prestigious Scholarship. There is only one Scholarship for all of Longford. We are all very proud of Zoe's achievement and wish her well in her studies at UCD.
Angus Beef Competition finalists in Mercy Secondary

Four students from Mercy Secondary School Ballymahon, Rachel Maguire, Aileen Briody, Ciara Gavigan and Kate Mulvey were one of the five groups selected as finalists for the Certified Irish Angus Beef Schools Competition. This competition is run by the Irish Angus Producers Group and sponsored by ABP and Kepak. It's a two year competition, beginning when students are in Transition year and the overall final is held during Spring of their Leaving Cert year. The students were successful in getting through many rounds including a video entry, interviews and an exhibition for the semi-final which took place in Croke Park earlier this year.
The five finalist schools each receive five Irish Angus calves which they have to rear over 18 months. The four girls were delighted to welcome their five Angus calves to Mercy Ballymahon on Tuesday 20th October. There was great excitement in the school community as the calves were offloaded into a pen at the front of the school where they stayed for the afternoon until they were transported to Rachel Magurie's family farm in Emper, Ballynacargy, Co. Westmeath where they will be reared for the remainder of the competition. The students will be focusing on the theme of "how certified Irish Angus Beef improves the sustainability on Beef Farms" while rearing the calves.
Their teacher Ms. Avril Murphy, who comes from a pedigree Irish Angus farm, is delighted to have such an enthusiastic group of girls involved in this competition and interested in pursuing a future in the Agricultural sector.
Rachel, Aileen, Ciara and Kate are thrilled to have reached the final and are looking forward to rearing the calves and tracking their progress for the duration of the competition.
Christmas Fair

Our wonderful Transition Year students hosted a very special Christmas Fair as part of the TY Enterprise project. We are very proud of our TY students for bringing some festive cheer to our school.