European Parliament Model Council
The students of Mercy College Students represented the Netherlands at the European Parliament Model Council at Dublin Castle and had a chance to meet the Dutch Ambassador.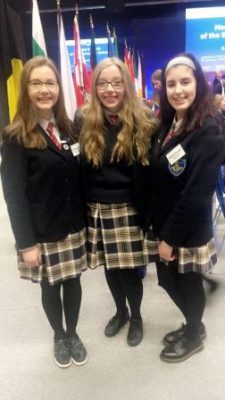 Aideen Kinsella, Rosaleen Keenan O Hara and Chloe Ginty at the Model European Council in Dublin Castle last weekend where they represented The Netherlands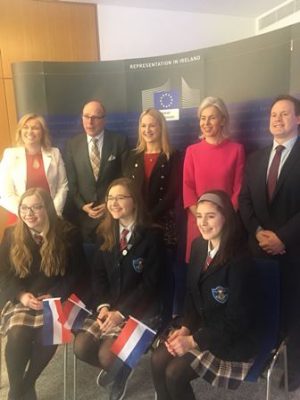 Chloe Ginty, Amy Keenan O Hara and Aideen Kinsella. photographed with the Dutch Ambassador to Ireland and European Parliament Staff
Mercy College students at Brexit talk in Sligo Glasshouse hotel organised by Europe Direct Office Sligo
Sign Out for Trocaire
Over 100 Mercy College Sligo students took part in the Trócaire Lenten Campaign 'Sign Up, Sign Out' challenge to raise much needed funds for Trocaire and to support the amazing work they do all over the world. First year to sixth year students took on the challenge and gave up social media for 24 hours on the 7th of March 2018. Some students handed in their phones to the school to avoid the distraction of Snapchat, Instagram or Facebook at home. On the day, activities were organised at lunch time in the music and art rooms. Students took part in a sing along with special guest Dave Flynn from Music Generation who played the guitar and sang. Students also had the option to go to the art room and design, colour, paint their views on social media on a clear canvas, organised by Ms. Coll.
The fundraiser was a huge success Mercy College raised over €1650 and are still receiving donations from proud family members and friends. The religion teachers Ms McIntyre and Ms Kelly assisted in the organisation as well as Cliona Jordan, fifth year student . who offered endless enthusiasm and encouragement to the student body.
Ms Janine Heavy, a representative from Trocaire visited Mercy College on Wednesday the 14th of March to speak to students about the agency's work in overseas development and how the money raised by students will be used to help families all around the world. Ms Heavey received a cheque for €1612 on the day.
Photo includes students who participated in Sign Up Sign, Sign Out Trocaire Challenge 2018.
Regional Quiz Winners
Winners at Regional Quiz competition for Sligo Leitrim Roscommon