This term (January- March ) has very busy for our school. We are delighted to share some of our news from this term with CEIST.
Easter Prayer Service
At the end of the term, our students with assistance from teachers in the RE department designed a beautiful reflective prayer service on a modern interpretation of the stations of the cross and how that journey continues in their lives today.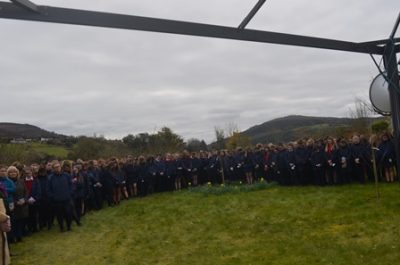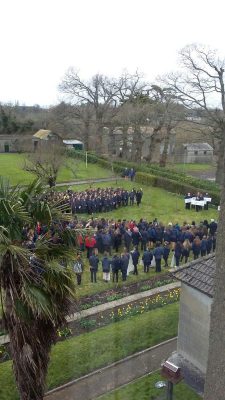 Spikeball First Year All Ireland Champions
There were euphoric celebrations in U.C.D on Thursday 17th January 2018 when the Presentation Secondary School Clonmel were crowned V.A.I. All Ireland Schools, First Year Spikeball Champions. This was a first win for the school in this competition having previously reached the National semi-finals.
The competition is ferociously competitive and garners great interest in schools as it is a very inclusive game. This was none more evident at the start of the year when near 50 teams competed in their regional pools nationwide.
The Presentation Clonmel graced through their preliminary regional rounds, topping the table in three rounds and not losing a single match. Hopes were high as they went through to the National semi-finals in Kilkenny. This was to be the only time that the Presentation lost a game in their whole campaign , finishing in second place on the table but enough to see them through to the National Finals in UCD.
The Pool stage of the National finals saw them beat off opposition from Mount St Michael, Mayo, Mercy Mounthawk, Kerry, St. Mary's Naas. The Pres girls never dropped a set all through and set down a marker for their semi-final place against Mayo. Great performances by Mya Clancy, Laura Cooney, Lucia Cusnaider and Ciara Long were instrumental in these wins. The semi-final was a great match. Brilliant defensive digs from Lily O Mahoney was the hallmark of this game .She was ably assisted by Ava Cooney while at the net Lucia Cusnaider and Ciara Long were formidable with their attacking and clever play. Victory was achieved and the girls faced Charlestown, Mayo in the final. The first set went to the Presentation comfortably. A little bit of complacency set in the second set and Charlestown made a statement of intent with a comprehensive second set win. With one set each , it all came down to the final set. This was a fantastic team effort, with every player contributing to this historic victory. With six match points and requiring one more point for victory Charlestown launched a late come back to come within four points but the elusive winning point came and with that ,amazing scenes of jubilation and joy ensued. The title was coming home to Clonmel for the first time .Geraldine Long(new Ryan)mother of Ciara Long was there to shout her daughter on. Geraldine, a past pupil of the Presentation Clonmel won a volleyball All Ireland in the mid 90's with the school which was also incidentally the last time an All Ireland title came to the school.
The girls proudly brought home the cup to a jubilant reception from their class mates and teachers. They are brilliant ambassadors for themselves, their families and their school. Well done to all and we are all so proud of you.
Team: Mya Clancy, Laura Cooney, Ava Cooney, Lily O Mahoney, Lucia Cusnaider, Ciara Long, Keelan Hanrahan.
Basketball All Ireland Playoffs
Presentation Secondary School Clonmel completed in the u.16 All-Ireland Schools Basketball Playoffs in January in Ennis. We had three games in our group. We had a great start with a win in our first game. Our final game was the deciding game. We lost a thrilling game by 5 points. Well done to the panel of players and their coaches, Ms. Bulfin & Ms. Tobin.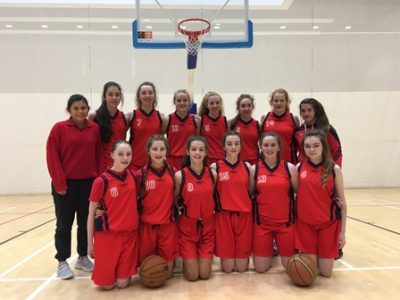 County Gymnastics Championships
Presentation Secondary School win County Championships in Gymnastics.
A group of talented gymnasts took part in the inter-schools County gymnastics competition, held in the Loreto School Clonmel on Tuesday 6th March.
This was the first competition of it's kind in the county since the 1990's.
Three schools took part, Loreto Clonmel, Pres Clonmel and the Pres Thurles with a total of 35 gymnasts. The two judges were experienced gymnasts, winning world championships in Acrobatics and tumbling. This brought a very professional element to the competition.
Overall the standard was very high, but the Pres Clonmel dominated winning 1st and 2nd in the team event, 1st individual (Grace McSweeney), 2nd Individual (Aisling Cronin), as well as special awards for specific gymnastic moves – Caolfhinn Conway, Aurora Moore, Sophie Corcoran and Grace McSweeney.
1st place team event – Grace Mc Sweeney, Aisling Cronin, Kacie O Shea and Aleksandra Kowalik
2nd place team event – Beibhin Butler, Clara Weight and Caolfhinn Conway
The girls worked extremely hard composing their routines, choreographing to music and timing the moves with their team, practicing every Tuesday at lunch time.
Well done to all the girls and their coach Ms. Tobin on their excellent performances and their great win
Computer Science
Our school has been selected by the Department of Education to introduce the new Leaving Certificate Computer Science next September 18 for 5th year students. We are the only school selected in Tipperary.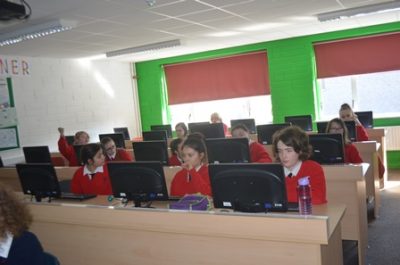 Junk Kouture
Four outfits from Pres Clonmel reach the All Ireland Junk Kouture Final 2018.
Six creative outfits represented the Presentation Secondary school Clonmel students at the Southern Regional Final of Junk Kouture in the University Concert Hall in Limerick in March. Junk Kouture encourages second level students across the country to create eccentric outfits using only recycled material.
Amazingly four of our outfits qualified for the All Ireland final takes place at the 3Arena in Dublin on Thursday 27th April. Congratulations to the girls on their achievements and their teachers Ms. Murphy & Ms. Mairead Fennell
'Bright and Bootiful' is designed by Cailin Napier, Ella Traas, Caelainn McGrath and modelled by Caelainn McGrath. It's concept is based on World Cup 2018 in Russia. Materials such as football boots, insoles, laces, football gloves, astro turf grass were used to manufacture the costume. The various colours represent the different nations coming together to celebrate their love of sport.
'Expressivo' is designed by Sarah Ni Cheallaigh and Allana Gilbert and modelled by Allanna Gilbert.It's concept is about expressing yourself. Inspired by suicide awareness, the inside parts of a piano were used to relay the message that it is what is inside that counts, not the outside. The girls used the musical term 'Expressivo' for the name of their costume.
'Bellatrix' is designed by Saoirse Ryan, Claire Nagle, Lauren Cooney and modelled by Lauren Cooney.Their concept is based on Gender Equality. Washing Clothes lines and Dolly pegs were used in creating the outfit. They used pink and blue clothes line colours to show that both colours should be equal.
Final costume is 'Dea Di Allumino',designed by Lauren Moriarty, Rachel Dorney and modelled by Aoife Walsh. Their concept is about giving women strength and courage to face a bright future by staying together in unity. The costume is made from 10,000 ring tabs from Coke cans.
Voting for the costumes starts online from Monday 2nd April to Friday 6th.You can vote for all four costumes.
Best of luck to the group in the All Ireland final in April.
CSPE Project
Well done to our Third year class (3.28) who organised Teachers v Students Soccer match in aid of Clonmel Soup Kitchen. Over 250 euro was raised by the students. Of course, the Teachers team had a great 2-0 win .A big thank you to all the students who attended the match which was played in miserable conditions and to Class 3.28 for organising the event.
Positivity Week 2018
Students at the Presentation Secondary School Clonmel enjoyed an action packed week of activities during Positivity Week in March 2018.The week focused on the physical and mental health well-being of all members of our school community. Events such as Zumba, Yoga class, Open Mic in the canteen, inter year dodge ball competition, Computer Competitions, and Teachers v Students soccer Match. Also, the school community enjoyed uplifting stories on the intercom through our daily morning prayer. On Friday, we held an 'Open Mike' session in the Assembly Hall which entertained the audience. The week ended with a visit from Shauna O'Keeffe, International Boxer, past student who spoke to each year group regarding her career and being resilience in the pursuit of one owns career. There was a great response to the talk which the students found really interesting and worthwhile. Our thanks to the members of the Student Council and Ms. Kathriona Murphy who organised the week.