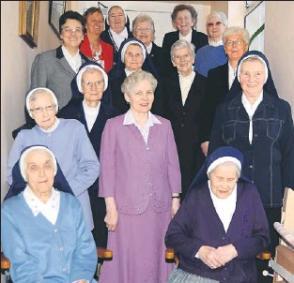 The community of Mercy Sisters in Charleville, Co. Cork are celebrating 175 years in Charleville this year.
There was a capacity congregation at Holy Cross Church for the special Mass on the last Friday in October to celebrate the coming of the the Mercy Order to Charleville 175 years ago.
The commemorative Mass was celebrated by Very Rev. Sean Canon Cotter, P.P. assisted by Fr. Brian Boyle, C. C., Very Rev. Michael Canon Harrington and Fr. Phil Corcoran.
The homily was delivered by Sr. Liz Murphy, Provincial Head of the Order, who traced the progress of the Sisters since they first arrived in Charleville in 1836.
There was also a capacity attendance at the reception held afterwards at the Charleville Park Hotel to mark the occasion.
Local lady, Mary Clanchy was instrumental along with the then Parish Priest Rev. Fr. Thomas Croke in influencing the decision of Catherine McAuley, the foundress of the Order to open the third house of the Order in Charleville.
Ms Clanchy provided a house in Clanchy Terrace and a sum of money for the nuns when they came to the town on the 29th October 1836.
Since their arrival the Mercy Sisters have had a profound effect on generations of young girls of the town and parish and indeed further afield in their education and welfare in their schools for girls.
They have also played a vital role in the health of the people of the community, caring for the elderly by providing a nursing care and sheltered homes and putting in place a crèche and operating a Meals on Wheels service from the day McAuley Day Centre.