Mercy Sligo receive Ambassador School Award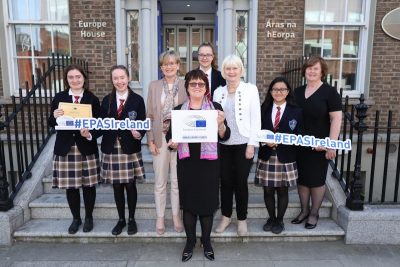 Mercy College Sligo received an Ambassador School Award at the European Parliament Ambassador School Awards Ceremony at Europe House Dublin. Included in photo Catherine Flanagan, Ciara Rooney , Amelia Majchrowska, and Cyrelle Torreflores Junior Ambassadors, Imelda Harte Senior Ambassador EPAS programme, Mairead McGuinness Vice President European Parliament , Marian Harkin M.E.P. , Colette O Hagan , Principal Mercy College Sligo.
Europe Day Debate
Mercy College Sligo winners of the Europe Day Debate at Sligo County Council Chambers Junior and Senior Section.