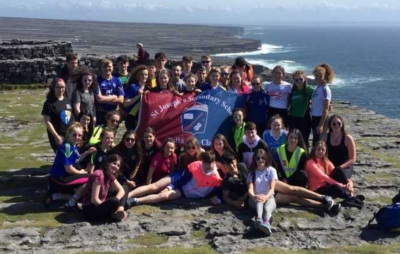 Our Newsletter is filled with a taste of the experiences and enjoyable moments of the second half of TY 2017/2018. I hope it gives you an insight into what TY students got up to in the last few months. 'You get out of TY what you put into TY' is a phrase we use frequently and it remains true of this year's groups. Many students have dipped their fingers into new pursuits. Some students seem to have involved themselves in every possible  opportunity.
While we celebrate successes, I am exceedingly proud of the efforts of all students as they have matured and learned so much though out the year. We have had new and exciting additions to the programme. Students enjoyed a fantastic sunny day cycling across Inis Mór and another (less sunny) day on a Seaweed Safari. The Jaguar company paid us a visit as did members of the Royal Society of Chemistry. The experiences of a number of students who were accepted on TY taster or internship programmes are shared inside our newsletter. We are delighted for and proud of TY 2 for securing a place in the National Final of the YSI competition and TY 1 for securing a place in The National Film competition. It has been a great year of learning, fun and opportunity.
Just as we go to print with this newsletter, the fantastic news has arrived that our students, under the guidance of Ms. Hogan, won their category at the YSI final ( a first success at this level for St. Joseph's). This group presented a thought provoking project on domestic abuse.
Many other articles could have been included in this newsletter as it has been a highly successful year, thanks to the efforts of students and parents, but I hope the pages ahead give you a sense of the fun, enjoyment and learning that went on in TY this year. As always I must acknowledge the huge amount of voluntary work, by staff, that goes into making TY in St. Joseph's a success.
Geraldine Sullivan, TY Co-ordinator
Read full newsletter below: