Thursday 17th April 2014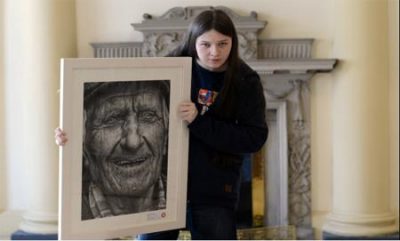 Shania McDonagh (16) became one of the most successful artists in the 60-year history of the Texaco Children's Art Competition when she was chosen as this year's overall winner.
Known for her extremely detailed portraits, she won first prize in her age category for the past four years, but it was her portrait entitled "Coleman" that finally won her the top prize.
She saw a photograph of the man in the Vanishing Ireland book and drew a close-up facial study in pencil with such detail that it is hard to believe it's not a photograph.
Judging panel chairman Prof Declan McGonagle, director of the National College of Art & Design, said her work has established her "as one of the most talented artists of her generation, and one whose skill could see her become one of Ireland's foremost portrait artists of the future".
Ms McDonagh, who attends Mount St Michael Secondary School in Claremorris, Co Mayo, said it took her about one month to finish the work. She will be presented with her €1,500 first-prize at the prize giving ceremony in the Royal Hospital Kilmainham next month along with the 125 other winners.
She also won the 16-18 year old category.
Irish Times Video
Click here to view Irish Times video of the event.