Reunion
U16 boys basketball
Live debate
Mount Saint Michael Transition Year student Micheal Twomey on his 2nd visit to Leinster House in preparation for live debate in the Seanad. Micheal won this experience based on a national competition.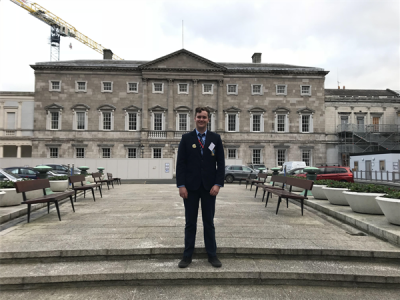 Irish drama
Bhí maidin iontach greannmhar ag lucht na hardteiste an tseachtain seo caite, agus ag a múinteoirí, nuair a tháinig na leaids ó Chaith Amach É ar chuairt chugainn! Déanann na leaids cur i láthair ar na sraith pictiúir atá ar shiollabas na hardteiste i mbealach spraoiúil, fuinniúl agus oideachasúil. Bhain gach éinne taitneamh agus tairbhe as an maidin. Guimid gach ráth ar Chaith Amach É agus beidh fáilte rompu i gcónaí anseo in Ardscoil Mhicíl Naofa!
A fantastic morning was had by our leaving cert students and their teachers last week when Irish language company Caith Amach É came to visit. Caith Amach É present the 20 Sraith Pictiúir that are on the Leaving cert course to students in a light hearted, educational way. Everyone thoroughly enjoyed their visit. They even managed to drag a few familiar faces up on stage! We wish the lads from Caith Amach É every success in the future!