Senior 'B' County Champions
Mount St Michael Rosscarbery 1-20 Mitchelstown CBS 2-7: The result of the Cork Post Primary Schools Senior B football final Cork IT recently was never in doubt as Mount St Michael's dominant display was too much for Mitchelstown.
Mt. St. Michael had clocked up 1-8 before the north Cork side opened their scoring and continued with three strong scores. Mt. St. Michael lead at the break 1-9 to 2-1 – with Mitchelstown goals from Cathal O'Mahony (rebound from his penalty save by Aaron O'Brien) and Mark Keane giving Mitchelstown hope that they could catch up.
However, with Mt. St. Michael's Darragh Hayes accounting for 1-8 overall and Patrick Hurley on five points, the victory was sealed. It was a great team performance by the Rosscarbery school. Defensively strong, there were telling contributions too from captain Ellis Wilson, Ian Jennings and Mark Hodnett as the west Cork outfit ran out deserving 10-point winners. But it was an overall team performance that secured the win – the culmination of a great journey to the final with many difficult matches fought and won – the most notable being their one point defeat of Coachford after extra time in the semi-final. After a five year wait, the County Cup returns to Mount Saint Michael.
Scorers for Mount St Michael: CBS: D Hayes (1-8, 0-1 free), P Hurley (0-5), E Wilson (0-3), P Hodnett, J O'Brien, M Hodnett and I Jennings (0-1 each).
Scorers for Mitchelstown: C O'Mahony (1-6, 0-1 free), M Keane (1-0), C Dollion (0-1).
Mount St Michael: (Carbery Rangers unless stated) A O'Brien; D Kerr, P Óg Hill, M O'Sullivan; K Scannell, C Hennessy, D Tobin (Kilmacabea); M Hodnett, I Jennings (Kilmacabea); J O'Brien, E Wilson (Kilmacabea), B Kingston; D Hayes, P Hodnett, P Hurley.
Subs: E Hayes (Carbery Rangers) for B Kingston (47 inj), A O'Rourke (Carbery Rangers) for D Hayes (60).
Mitchelstown CBS: T Watson (Kildorrery); C Whelton (Glanworth), T Vaughan (Ballyporeen), D Keane (Mitchelstown); D Connolly (Glanworth), D Hyland (Fr Sheehy's), J Hunter (Kildorrery); M Keane (Mitchelstown), S Murphy (Mitchelstown); J White (Mitchelstown), C Harrington (Kildorrery), C Dollion (Kildorrery); M Caplice (Kildorrery), C O'Mahony (Mitchelstown), R Hennessy (Ballyporeen).
Subs: T O'Sullivan (Kildorrery) for M Caplice (32), M Walsh O'Grady (Kildorrery) for J Hunter (40).
Senate Live Debate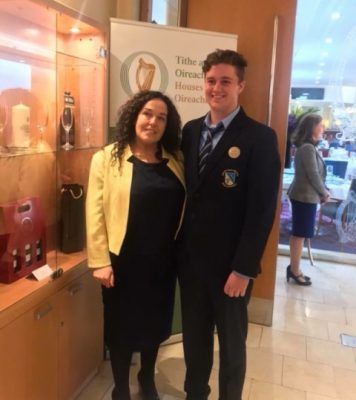 TY student Micheal Twomey who was selected to be part of the Senate's televised live debate pictured with West Cork TD Margaret Murphy O'Mahony at the Senate Live Debate. .
2nd Year Basketball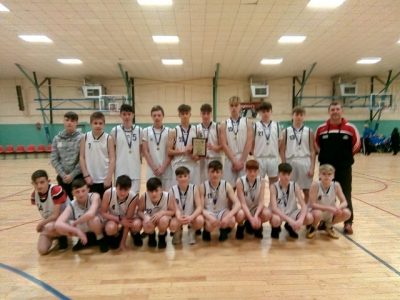 Mount Saint Michael 2nd year boys basketball squad who contest the All-Ireland quarter finals in Kilkenny this week.
Take A Chance on Me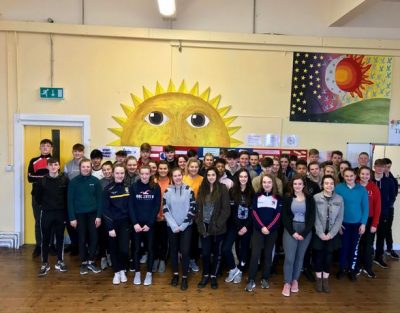 Mount Saint Michael Transition Year students who will perform their musical Take A Chance on Me all this week.
Green Schools Committee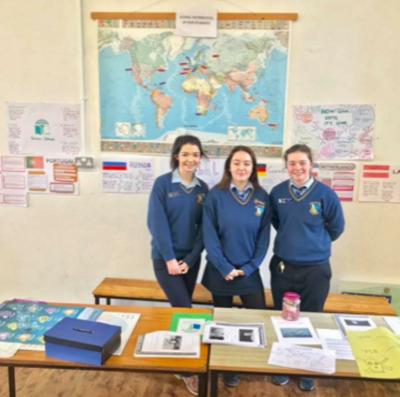 Members of Mount Saint Michael Green Schools Committee who were instrumental in the school being awarded its 6th Green Flag for Global Citizenship