Meadhbh Broderick, Presentation College takes First Place in the National German Olympiad Final and will represent Ireland in Germany this July.
The International German Olympiad (IDO – Internationale Deutscholympiade) is the largest German language contest in the world.  Every two years, students from between fifty and sixty countries around the world come together to demonstrate their German knowledge.  Above all, they have fun, make new friends, and get to know one another in and through the German language.
Each country selects two students to participate. To select the two students to represent Ireland all pupils in Transition Year in Ireland were invited to enter a competition. They had to prepare a written presentation or a short video in German on the topic:  Meine Traumreise nach Deutschland" ("My Dream Trip to Germany").  The deadline was December 2017.
A Jury considered each presentation according to content, originality, creativity and language expression, and chose up to twenty of the most outstanding presentations. Both Meadhbh Broderick and Fiona Butler from Presentation College were among that group. They were then invited to the Goethe Institute in Dublin to take part in the National German Language Olympics Final on Friday, March 16th to compete with the other finalists.
Two participants were to be chosen at that stage to represent Ireland in the Internationale Deutscholympiade 2018 in Freiburg!  The day in Dublin was very sociable, well-organised and great fun.  We started with lunch in the Goethe Institute on Fitzwilliam Square (the German learning Headquarters in Ireland).  Students were then put into pairs and given topics and tasks to prepare.  They then presented them to the adjudicators, organisers and teachers present in German. While they were preparing the presentations, the teachers chatted to each other and had a workshop on the use of short films in the language classroom. The standard of presentations from the students was excellent. Meadhbh Broderick came 1st in the competition and, along with Laura Cosgrove from Middleton College, Cork who came 2nd, will be representing Ireland in Freiburg in the south of Germany this July.
This is the third time that Ireland will send two Transition Year pupils with an accompanying German Teacher (who will be chosen separately) to compete in the Internationale Deutscholympiade (IDO). The event will take place from July 15-28, 2018 in Freiburg, where nearly sixty countries from all over the world will compete.
The competition is not just about competing for the title. More important is the cultural exchange between students of German from all around the world. Contacts and friendships that develop will form a lifelong international network.  We are delighted for Meadhbh that she will have this fantastic opportunity and look forward to hearing how she gets on in the future.
Basketball Champions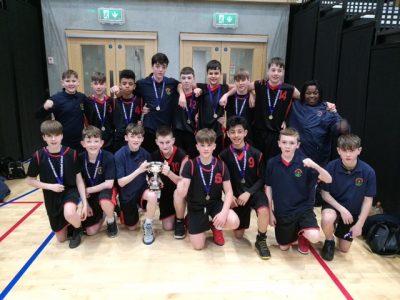 Congratulations to the First Year Boys Basketball team who recently won the Southeast League Final and are now participating in the playoffs for the All-Ireland Final. Well done also to their coach, Mr Vinnie Homan, for all of his hard work!
Mission Possible!
On Friday, 20th April, Presentation College were delighted to be awarded second place in the secondary schools category of the Mission Possible: School Achievement Awards; an initiative dedicated to celebrating and acknowledging the work being carried out by schools to promote positive mental health.
The awards recognise schools from all over the country for their efforts in tackling mental health stigma, both in the classroom and in the wider community, celebrating primary and secondary schools from all over Ireland for their contributions in educating, empowering and promoting positive mental health to their students.
"Children spend on average six hours per day in school and so it is important that schools embrace their vital role in encouraging students to have open discussions and conversations around mental health". St. Patrick's CEO, Paul Gilligan, continued by saying, "Schools can be a great setting for building life skills and resilience. Teachers can provide a supportive environment where educating our young people on mental health is a priority."
The prize of €500 will be invested into the Growing Positivity Project, focused on creating garden spaces around the school where the whole school community can benefit.
Green Schools Committee
We, along with many other schools, have received news from Green Schools that we have been successful in the process of receiving the Green Flag and that we will be receiving the flag in May at an award ceremony held in Kilkenny.
The committee members would sincerely like to thank anyone who helped us along the way on our journey to receiving this Green Flag.
If you would like to keep up-to-date with everything our committee is doing, you can follow us on Twitter @PresGreenSchool (www.twitter.com/PresGreenSchool).
Pound!
Lesley Dempsey introduced "Pound" (fitness using drumsticks!) to Transition Year students in Presentation College recently. The students enjoyed a 'Pound' fitness class with Lesley Dempsey of Fusion Fitness during their Physical Education classes. We have been very lucky to have Lesley in with us on several occasions this year and the students have had the chance to experience Zumba and various other types of fitness style classes. Thank you, Lesley!
Fifth Year Retreat
Fifth Year students recently enjoyed their in-house retreat by the team, "Mustard Seed". The day was full of fun, games, team bonding and self-reflection along with some necessary meditation and mindfulness. The students enjoyed a wonderful day, and a well-deserved break from their daily studies!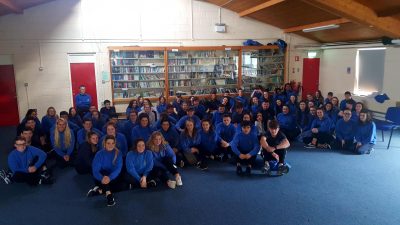 "Mustard Seed" Retreats –   www.mustard-seed.net
Teagasc Talk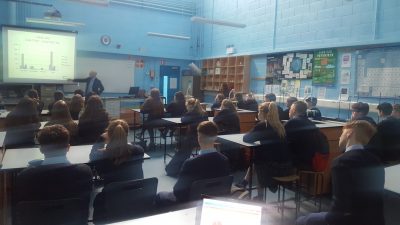 Transition Year Biology and Agricultural Science students had a very interesting talk on the work that goes on in the Teagasc, Oak Park, research centre. John Spink, Head of Department – Crops and Fiona Hutton, technologist, spoke about ongoing research projects and the science behind these. As a reward for their enthusiasm, all students were given a pack including seed Rooster potatoes to grow.