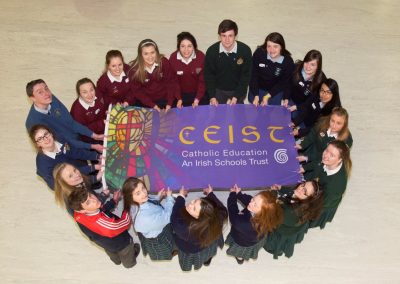 The Department of Education and Skills has announced that a new second level school will open in the Citywest/Saggart in 2020.
CEIST (Catholic Education – an Irish Schools Trust) is applying for patronage of this new school. CEIST is a Catholic patron of 107 schools ( 46 co-educational) all around Ireland. This vast experience in patronage will serve well in a new school for CityWest/Saggart. Nearby CEIST schools in the general area include Coláiste Bhride in Clondalkin, Scoil Dara in Kilcock, St. Mary's College in Naas.
A CEIST Catholic co-educational secondary school would provide a real choice for parents in the Ciitywest/Saggart area. There are currently no Catholic voluntary secondary schools in all of the Tallaght/Citywest/ Saggart area.
CEIST will be beginning an information campaign to ensure that all parents and guardians are fully informed about this choice that is open to them when they are asked by the Department of Education and Skills to make expressions of interest in who should be Patron of the new school.
A CEIST school is available to everyone, and endeavours to offer the widest possible educational experience to all the children of an area. CEIST Schools, of course, as in most post-primary schools in Ireland, have Boards of Management including parents, teachers and patron nominees. They are inclusive schools, and cater for students of all faiths and none.
CEIST looks forward to engaging with parents and guardians from CityWest/Saggart at this very important moment in the development of educational provision in the area. A meeting will be held in September to give further information and answer any queries that may arise. In the meantime if you have any questions or would like to register your interest in this new school please contact us on info@ceist.ie.