The Fourteenth Annual CEIST Education Conference was held in the Hodson Bay Hotel, Athlone, Co. Westmeath on Thursday 26th and Friday 27th September 2019. The theme for this year's conference was "CEIST: Intentional Catholic Schools".
We were really delighted with the number of School Principals, Deputy Principals, Chairpersons of our Boards of Management and other school staff who attended this year's conference. There was a great sense of family and community at the conference and everyone availed of the opportunity to network and share ideas with one another.
The conference began with a gathering prayer led by Presentation Secondary School Thurles Principal Marie Collins, Deputy Principal Trish O'Callaghan and RE Teacher Trisha McElgunn. We were then treated to some wonderful music by the Presentation Thurles Choir.
Dr Marie Griffin CEIST CEO welcomed everyone to the conference and thanked them for being present. She then introduced our new incoming CEO Clare Ryan. Clare is currently the Principal of CEIST school St. Leo's Carlow and Lecturer with National University of Ireland Maynooth for the Post-Graduate Diploma in Educational Leadership and Management. Clare addressed the audience, speaking of her time with St. Leo's and her career in education and how excited she is to be moving into the CEO role with CEIST next January 2020.
Our keynote speaker at the conference was Dr John Lydon, Director of the MA in Catholic School Leadership Programme and Associate Director of the Centre for Research and Development in Catholic Education in St. Mary's University London. In keeping with the conference theme Dr Lydon's presentation was entitled "Leadership Ideals in a Catholic School in the 21st Century". In this address he discussed changing demographics, the principles of Catholic distinctiveness, mission integrity and mission statements with regards to second level Catholic schools in England and Wales. It was very interesting to hear this insight into how our neighbouring schools across the water are functioning and dealing with current challenges.
CEIST Chairperson Bernard Keeley thanked Dr Lydon for his address and also welcomed Clare Ryan to the CEIST team. Three short presentations were then given by John Simms of Mary Immaculate School Lisdoonvarna, Principal Patricia Higgins of Our Lady's Secondary School Templemore and Principal Rita McCabe of St. Mary's Naas. This section was labelled "Ideas for share" and gave the school representatives a chance to discuss the different initiatives they are currently running in their schools and the impact they have on their students. John Simms discussed his continual involvement with the BT Young Scientists Awards, Principal Patricia Higgins spoke about her school's project to create a new school logo and mission statement, and Principal Rita McCabe discussed her approach to developing a student prayer group. Each of these initiatives was very enjoyable to hear and gave a lovely insight into the atmosphere of these schools.
Attendees were encouraged to visit our many exhibitors during the coffee break before attending the workshops scheduled for the day.
Friday began with morning mass celebrated by Fr Joe Condren, OFM. An extra bonus for all mass goers was the wonderful music performed by the very talented choir of Presentation College Headford.
We then welcomed Dr Lorna Gold, Head of Policy and Advocacy in Trócaire. Dr Gold gave a wonderful speech entitled "The Care of our Common Home: Laudato Si". In this address she spoke of the impact that Climate Change is having on all of us and how she sees this first-hand through her work with Trócaire. Dr Gold spoke of how the teaching from our holy father Pope Francis' encyclical on the environment and human ecology Laudato Si can be incorporated to help us deal with the ever-growing problem of climate change. Dr Gold also thanked the staff and students of Mary Immaculate School Lisdoonvarna for inviting her to officially launch their Wellbeing Garden space and to partake in the Climate Action March earlier this year.
To conclude the conference a scattering prayer was led by Tom Gunning, Principal Gwen Brennen and Sr Gemma McKevitt. Tom presented all attendees with acorns from the Parable Garden with strict instructions that all acorns be planted before the weekend. In this way the CEIST conference could give back to the environment by new trees sprouting throughout Ireland in years to come.
Conference Photo Gallery
A great number of photos was taking over the duration of the conference. Please click on the image below to view all photos.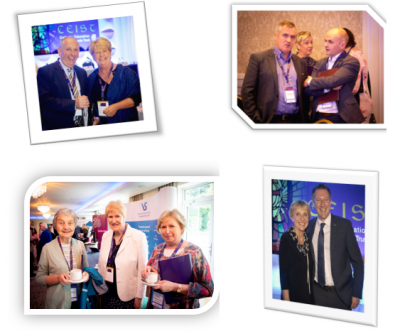 Sponsor
CEIST would like to take this opportunity to say a huge thank you to our sponsor Allianz. Their continued support leading up to and throughout the conference was very much appreciated.
Golf Classic
Big thanks to Johnny McCormack Principal of Árdscoil na Tríonoide, Athy, Kildare for organising the CEIST Golf Classic. There was great enjoyment for all early risers who took part and some nice prizes sponsored by Allianz for the winners on the day.
Presentations to Retiring Deputy Principals and Principals
Presentations were made to retired Principals and Deputy Principals from CEIST schools.
Principals:
Donal O'Brien, Coláiste Muire Realt na Mara, Crosshaven, Co. Cork
Dr Treasa Leahy, Mercy Inchicore, Dublin 8
John O'Loughlin, Mary Immaculate Secondary School, Lisdoonvarna, Co. Clare
Josephine Moran, Our Lady's Secondary School, Belmullet, Co. Mayo
Mary Keane, Christ King Girls School, Cork
Mary Sweeney, Presentation College, Headford, Co. Galway
Deputy Principals:
Billy Delaney, Presenation College Askea, Carlow
Finbarr Brohan, Our Lady's Secondary School, Castleblayney, Co. Monaghan
Ger Dowling, Presentation Ballingary, Thurles, Co. Tipperary
Paul Collins, Mercy College Woodford, Loughrea, Co. Galway
Presentations to new Deputy Principals and Principals of CEIST Schools
Candles were presented to Deputy Principals and Principals new to CEIST schools to welcome them to the CEIST family.
Principals / Acting Principals:
Aisling McAlpine (A), Presentation College, Headford, Co. Galway
Edmund Holmes, Our Lady's Secondary School, Belmullet, Co. Mayo
Michael O'Loughlin, Presentation Secondary School, Clonmel, Co. Tipperary
Michelle McDermott (A), Coláiste Muire, Ballymote, Co. Sligo
Mona Hynes, Mary Immaculate Secondary School, Lisdoonvarna, Co. Clare
Orla Bolger, Presentation Secondary School, Waterford
Paul Reidy, St. Joseph's Secondary School, Spanish Point, Co. Clare
Richel Long, Christ King Girls School, Cork
Deputy Principals / Acting Deputy Principals:
Darren Bishop, Our Lady's Secondary School, Castleblayney, Co. Monaghan
Geraldine Harkin (A), Calasanctius College, Oranmore, Co. Galway
Geraldine Walsh (A), Our Lady's Secondary School, Belmullet, Co. Mayo
Martha Kent, Presentation Secondary School, Mitchlestown, Co. Cork
Orla Jackson (A), Presentation College, Headford, Co. Galway
Roisin Hennessy, Presentation Secondary School, Clonmel, Co. Tipperary
A candle was also presented to Principal Dermot Lavin of Gormanston College, Co. Meath in celebration of Gormanston hoping to join CEIST in the near future.
Conference Working Sessions and Speakers
Below is a brief summary of the talks and working sessions which took place over the course of the two days of the conference.
Dr John Lydon, KC*HS, SFHEA, BA, PGCE, MA, PhD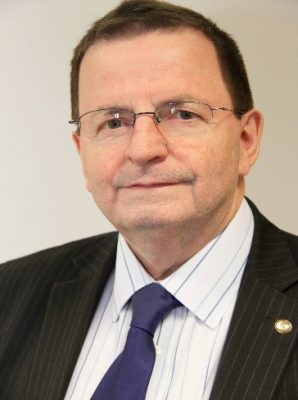 Dr John Lydon holds degrees from the Universities of Durham, Liverpool and Surrey.  His doctorate focused on teaching as a vocation in a contemporary context. He is a Senior Fellow of the Higher Education Academy. He is the Director of the MA in Catholic School Leadership Programme and Associate Director of the Centre for Research and Development in Catholic Education, St Mary's University London. He is a member of the Executives of the World Union of Catholic Teachers and the Catholic Association of Teachers, Schools and Colleges of England & Wales. He is also an Adjunct Associate Professor and Co-Director of an undergraduate programme of the University of Notre Dame in London.
Lydon was appointed Multidisciplinary Expert of the Catholic-Inspired NGO Forum for education working in partnership with the Vatican Secretariat of State. He regularly gives lectures in the United States, especially at NCEA, but also Europe, Africa, Asia and Australia.  Most recently he gave a keynote addresses on Christian Humanism at the University of Jaffna, Sri Lanka and on The English Education System: An Overview, at the St Louis University.  Lydon's research interests focus on spiritual capital, Catholic school leadership and the maintenance of distinctive religious charisms. Some notable publications include Transmission of a Charism (2009) and The Contemporary Catholic Teacher: A Reappraisal of the Concept of Teaching as a Vocation (2011).  His latest book just published by Gracewing is an edited volume entitled Contemporary Perspectives on Catholic Education (2018).
Dr. John Lydon was the Keynote speaker at Thursday's session of the CEIST Conference. He gave an address entitled "Leadership Ideals in a Catholic School in the 21st Century".
Dr Lorna Gold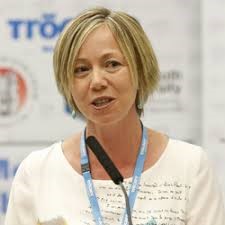 Dr Lorna Gold is Head of Policy and Advocacy in Trócaire. She has worked in international development in an academic and NGO policy context for almost 20 years. She currently manages a team of policy specialists pursuing Trócaire's advocacy agenda on climate justice, business and human rights and development finance. She has a particular interest in the relationship between Catholic Social Thought and public policy development. She has written and spoken extensively on Pope Francis' teaching in Laudato Sí. She holds a PhD in Geography from Glasgow University and is a former holder of ESRC and Joseph Rowntree fellowships. She regularly contributes to public debates on climate justice issues and has a blog about development perspectives – www.charityandjustice.net – which she produces in a personal capacity. She is originally from Scotland and is married with two children.
Dr Gold is the author of Climate Generation: Awakening to Our Children's Future, published by Veritas.
Dr. Lorna Gold was the Keynote speaker at Friday's session of the CEIST Conference. She gave an address entitled "The Care of our Common Home: Laudato Si".
'Presenting the Christian message to a Secularised Age: The Search for a New Language', Tom Gunning

Tom Gunning  is currently on secondment to Veritas from Loreto Secondary School, Wexford to work on the Soul Seekers series. He is the author of the Senior Cycle textbooks The Inner Place and Into the Deep, along with being a contributing author to the Faith Seeking Understanding series. Tom studied at the Gregorian University in Rome and received his Masters in Religious Education from the Pontifical University of Maynooth. He is the co-author of A Sacramental People, Vols I & 2 published by Columba Press, and has lectured at the Mater Dei institute of Education on sacramental theology. Tom is the co-founder with Fr Michael Drumm of the Parable Garden Education Project.
'Building an Intentional Catholic School Culture: A Framework.', Jonathan Tiernan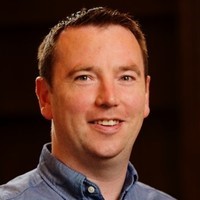 Director, ACE Ireland at University of Notre Dame
Jonathan Tiernan leads the efforts of the University of Notre Dame's Alliance for Catholic Education (ACE) in Ireland. The core focus of ACE in Ireland is to be of service to Catholic schools by identifying and developing leaders, working with schools to enrich school culture, and contributing to the research and policy debates around Irish Catholic education. As part of his role he partners with CEIST schools on the School Culture Initiative, a project that is now in its third year. Jonathan is a former primary school teacher and holds a B.A. in Humanities from St. Patrick's College, and a Masters in Education from Notre Dame.
This workshop will highlight the important role of school culture, as it pertains to a Catholic School. A framework for attending to school culture at a local level, currently being implemented in 6 CEIST schools, will be showcased and a number of tools from the framework will be modelled.
'The Role of Chair', Robert McCarthy

Interactive session facilitated by Robert McCarthy. Robert was  Principal of both Mount Sion C.B.S, Waterford  and Stella Maris Tramore. He was then appointed as Chairperson of the BOM in Scoil Mhuire, Carrick on Suir and is now Chairperson of the BOM in Ard Scoil na nDeise, Dungarvan. Robert also facilitated the Year Head Training Programme for the JMB for a number of years.
'Using Office 365: To Support Digital Learning and Assessment in the New Junior Cycle.', Seamus Ryan and Richard Galvin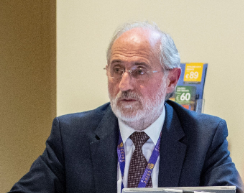 Seamus is a founding Director of "Tara 365 Learning Ltd." which provides specialised ICT services and training for school leaders and teachers. The company specialises in the use of cloud computing in education for both teaching and learning and school administration (GDPR). Seamus and his colleagues (all experienced teachers and school leaders) work in over 150 Post Primary schools across Ireland. Previously a Post Primary Teacher of Geography, English and ICT he later worked in the private sector in the computer industry and on return to school has worked as Deputy Principal, Principal at Dunshaughlin CC and later as Education Officer for Meath VEC.  In 2007 the Minister for Education appointed him to the National Strategy Group for ICT In Education which reported in 2008.  The same year Dunshaughlin Community College was chosen as one of 12 Microsoft "Worldwide Innovative Schools". Since that time Seamus has  visited schools in many parts of the world and taken part in international conferences with world renowned educational leaders.  Since 2012, Seamus with his team have focused on the application of cloud based technologies to reduce the costs of local ICT infrastructure and to applying cloud services to support teaching and learning. Seamus will co-present with Richard Galvin.
'Current Research on Catholic Schools'
The Gift of Life and the Gift of Learning: How Christian Anthropology could inform a Church of Ireland Theological Vision of Education. Linda Rainsberry.
Dr Gillian Sullivan is a teacher working in Our Lady's College, Greenhills, Drogheda. Gillian recently completed research on RE and Inclusion in a Catholic School in DCU.
The Lighthouse Leadership Programme. Dr Orla Walsh.
Dr Orla Walsh is Deputy Principal of Mount Sackville Secondary School, Sisters of St. Joseph of Cluny, Chapelizod and formerly Deputy Principal of St Vincent's Secondary School, Dundalk, Co. Louth.
Religious Education and Inclusion in a Catholic School. Dr Gillian O'Sullivan.
Linda Rainsberry is a solicitor by training and a full-time mother for the last twenty years. Linda chairs the Board of Governors of Kilkenny College, a co-educational, voluntary day and boarding school, with a Church of Ireland ethos. Linda has just completed the Masters in Christian Leadership in Education in Mary Immaculate College.
Presentations
The below presentations were shared with us.
Presenters Name
Title
Presentation
Dr. Lorna Gold:
"Catholic Schools and Care for our Common Home
– Rising to the Challenge of Laudato Si"
View
Dr. Gillian Sullivan:
"How does religious education contribute to
inclusion in a Catholic post-primary school?"
View
Linda Rainsberry:
"The Gift of Life and the Gift of Learning:
How Christian Anthropology could inform a Church of Ireland Theological Vision for Education."
View
Exhibitors
CEIST are also very grateful to the exhibitors that displayed their products. Below is a list of the Exhibitors who were present at the conference and brief summary of the services they have to offer.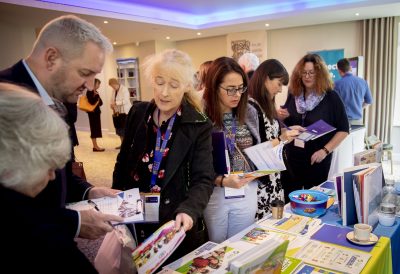 Allianz
A simple promise, built on TRUST is at the core of Allianz's business. Allianz staff are committed to helping our policyholders and meeting their needs quickly and sensitively at a time of crisis. Operating in the Republic and Northern Ireland for many years, Allianz is one of Ireland's largest multi-line general insurance companies with an annual turnover in excess of €450m. Allianz Group in Ireland employs over 1,450 people and is trusted by close to a million customers as their business or personal insurer. Allianz is also part of the Allianz SE Group – one of the world's leading integrated financial services providers, which employs over 148,000 people in more than 70 countries serving the needs of 83 million customers worldwide.
Full information can be found at https://www.allianz.ie/
iClassCMS
iClass is the most complete Content Management System for schools. With iClass your school will have a beautiful best in class website which engages students and includes a fully integrated mobile app for parents.
Full information can be found at http://iclasscms.com/
Examcraft
Junior and Leaving Certificate mock examination papers with correction service for schools. With over 25 years of experience in providing mock examination papers to Irish schools, Examcraft has now become the leading provider of mock examination papers in Ireland.
Full information can be found at http://www.examcraft.ie
Three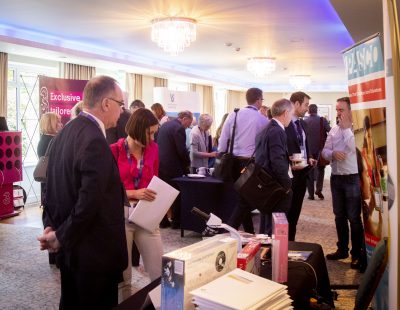 Three is one of Ireland's leading mobile operators with 35% market share and 2.2 million customers (as of March 2019). Our network is built for data; with 98% 4G coverage, we are the only operator to offer All You Can Eat data and carry over 60% of all mobile data on our network, that's more than all other operators combined. Three has over 1400 employees throughout Ireland, with our head office in Dublin, our award-winning contact centre in Limerick where our 450-strong team manages 1.4 million calls every year, and 63 retail stores nationwide.
Full information can be found at https://www.three.ie
Lennox
Lennox Educational is a division of Lennox, an Irish company that specialises in supplying Scientific, Laboratory and Industrial goods into a market that demands consistently high standards of quality and reliability. We are leaders in our industry, both in size and reputation, with a heritage that goes back to 1923 when our company was first established. Our customer base includes Education, Pharmaceutical, Bioprocessing, Food and Beverage, Medical Devices, Life Science and Healthcare sectors – and this continues to diversify with scientific and technological advancement. Our key focus is to work in partnership with our customers to add value through our expertise.
Full information can be found at https://www.lennoxeducational.ie/
Unique Publishing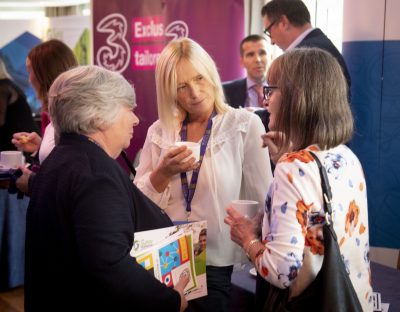 Irish company based in Glasnevin, Dublin. Our diaries, planners, journals and mobile Apps engage and communicate to students, teachers and parents. They serve as a journal for recording homework and as a communication tool between the school and home. Our Apps bring school and college life into the hands of all no matter when or where.
Full information can be found at http://www.uniquepublishing.ie
Visa
We are a global payments technology company working to enable consumers, businesses, banks and governments to use digital currency. We connect consumers, businesses, banks and governments in more than 200 countries and territories worldwide.
Full information can be found at https://www.visa.ie
VSware
VSware is a design led, cloud and mobile based school administration platform – which handles all core school data from attendance, assessments, and behaviour to the mandatory September and P-POD returns.  VSware provides collaborative data management and innovative reporting tools giving school management, administration, teachers and parents the ability to monitor and improve the progress of their students and a real-time view of school activity.
Full information can be found at https://vsware.ie/