Sixth Year Geography Fieldtrip to The Burren
On Thursday 7th December, our Sixth Year geography class travelled to the Burren, Co.Clare as part of their fieldwork project which is worth twenty percent of their Leaving Certificate exam.
We gathered at the bus bright and early at 7am, it was lovely to see so many jolly faces at that hour of the morning. We left for our three hour bus journey. Upon arrival, we had a short introduction class and met with the leader, Jess from the Burren Outdoor Education Centre. She demonstrated the effect hydrochloric acid had on various rock types.
After this, we then made our way up to the karst landscape of the Burren and nearly got blown away by the strong wind. Luckily we had checked the weather forecast before leaving and were dressed appropriately. During the frequent bouts of heavy rain and hail, we took shelter behind the erratic rocks dotted around the landscape. It was difficult at first to adapt to the harsh Burren weather but we had to find a method which didn't let the weather hinder our investigation.
Our smartphones came in handy as we took many photographs of the landscape. Seeing the Burren in real life enhanced our understanding of a karst area and was more effective than just reading about it in our textbooks. We divided into groups and used various equipment to measure gryke width, gryke depth and gryke direction. We proved that there was a significant pattern and correlation between the grykes which was the main aim of our investigation.
After a long and tiring day, our overall understanding of the Burren had greatly improved and will stand to us in the Leaving Cert. A léithéid de lá !
Written by Denise Murray and Siobhán de Paor
Gaeilge 24!
Ar an 14ú Samhain 2017, ghlac níos mó ná céad dalta ó Árd Scoil na nDéise páirt i nGaeilge 24. Ar dtús, bhí orainn airgead a bhailiú do Chonradh na Gaeilge (a d'eagraigh an lá) chun t-léine a fháil. Léirigh an t-léine na daoine a bhí ag glacadh páirte agus thaispeáin sé do dhaoine eile cad a bhí á dhéanamh againn.
Ar an lá chaitheamar na t-léinte don lá ar fad agus bhí orainn labhairt as Gaeilge an t-am ar fad, sa scoil agus sa bhaile. Bhí a lán spraoi againn agus rinne gach duine, fiú na múinteoirí, iarracht speisialta.
Bhí sé go hálainn ár dteanga dhúchas a labhairt mar de ghnáth labhraímid as Béarla. Ar deireadh bhailíomar €1345 do Chonradh na Gaeilge.
On the 14th of November 2017, more than one hundred students from Árd Scoil na nDéise took part in Gaeilge 24. First, we had to raise money for Conradh na Gaeilge (who organised the day) to get a t-shirt. The t-shirt showed who was taking part and it showed other people what we were doing.
On the day we wore the t-shirts all day and we had to speak Irish the whole time, in school and at home. We had great fun and everyone, even the teachers, made a special effort.
It was lovely to speak our native language because normally we speak in English. In the end we raised €1345 for Conradh na Gaeilge.
Le Míde Delaney, 3A
TY Trip to the Chocolate Garden 2017
On the 25th of October 2017, the Transition Years travelled to the Chocolate Garden of Ireland with Ms. Foley and Ms. Kiely. It is situated in Tullow, Co. Carlow on the Wicklow/Carlow border. When we arrived, we sat down for a workshop in chocolate-making with Gary, our instructor. He told us about the history of the business, with its owners, Jim and Mary Healy setting it up in 2001. We learned about the history of chocolate and the process through which it is made.
Afterwards, we all got an opportunity to make our own chocolate frog or cat. We painted designs with white chocolate onto the moulds and then Gary poured milk chocolate into them. They were put into the freezer to set and the most creative ones got a prize. Everyone thoroughly enjoyed the day and we certainly enjoyed sampling the delicious chocolate! After the workshop, some of us relaxed in the garden area outside while others bought chocolate in the shop. It was a great day, and thanks to Ms. Foley and Ms. Kiely for bringing us.
Written by Robyn Power, TY
Library Halloween Competition
Members of the Ard Scoil na nDéise library club Rebecca Hanna, Shona O'Neill, Clodagh Tutty and Katelyn Flynn worked with Special Needs Assistant, Ms. Curran to organise a spooky short story/poem competition. With over fifty entries, our adjudicator had a tough decision to make. There were so many talented writers among the First and Second Year students who entered. Robyn Power was the overall winner and our runners up were Bronagh Lonergan and Eve Dwyer. Well done to all involved!
Christmas Shoebox Appeal
Well done to Mr. Collins and Ms. Scully who coordinated the Team Hope Christmas Shoebox appeal in Ard Scoil na nDéise this year. Ard Scoil staff and students donated fifty two shoeboxes filled with Christmas gifts that will be sent to vulnerable children in Africa and Eastern Europe. We hope that the Christmas gifts will bring much joy to the recipients!
UCD Entrance Scholars Award for Ard Scoil Past Pupil
Congratulations to Kate McGrath who has been awarded a UCD Entrance Scholars Award at a ceremony in UCD on Thursday, 16th November. Kate did her Leaving Certificate in June 2017 and is currently studying engineering in UCD. She has been recognised by her university as being an academic high achiever because she obtained in excess of five hundred and sixty points in her Leaving Certificate examinations. The staff of Ard Scoil na nDéise are immensely proud of Kate's wonderful achievement and wish her every success in her future studies.
Ard Scoil na nDéise students volunteering in Lourdes
On the 6th of June 2017, seven students and a teacher from Árd Scoil na nDéise travelled to Lourdes with the Waterford and Lismore Diocese on the annual pilgrimage. Other students from the school were travelling to Lourdes through their parish. Before the trip, we were feeling nervous and scared, thinking of ways to raise money. Fortunately, we managed to fund a large portion of our costs through the generous support of our sponsors. Our ways of fundraising were raffles, a Vintage Rally, organised so generously by Eamonn Foley and his wife Nora, and also cake sales. We are so grateful for all of the support we received from the local community.
We arrived in Lourdes Airport bright and early ready to start this great adventure. We were put into four different teams mixing with other students from the diocese. Our team leaders were very helpful and reassured us when we were nervous. When we reached the hotel, we unpacked quickly and went straight to the hospital. We met the malades (the pilgrims) at the hospital and we felt an instant connection thanks to their kindness and gratefulness. We spent the next few days with the malades bringing them to Mass in the Grotto and to the Baths. We also got the opportunity to experience the Baths ourselves and it was certainly an unforgettable experience. We made great connections with the malades and the other youth. Our time at Lourdes was incredible and we definitely made friends for life!
We would like to thank all of our generous sponsors for without them we would not have been able to experience the eye opening journey in Lourdes. Our sponsors include: The Mercy Sisters, Eamonn and Nora Foley and Suir Valley Vintage Club, Jitter Beans, Eunice Power, Murrays Pharmacy, SuperValu, Lynch's Greengrocers, The Country Store, Ciaran O'Flynn's, The Beauty Place and Jodi Roche, among many others.
Written by Róisín Hughes & Lara Power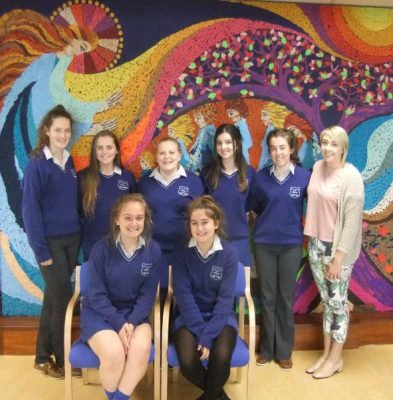 TY Trip to the Ploughing 2017
On Tuesday, 19th September our Transition Year Students attended the National Ploughing Championships in Screggan, Co. Offaly. Two of our students, Robyn Power and Cifa Clancy Davies wrote their accounts of the day:
On the 19th of September 2017, we took the long trip up to Screggan, Co. Offaly for the National Ploughing Championships. It was an early start, with many students getting up before five o' clock in the morning to make the journey. After two hours in the bus, a stop in Paulstown was a welcome break and we were refreshed and ready for the next leg of the journey. We arrived and split into various groups with some going straight to visit the stands while others headed straight for the food. There were many things to do, such as the amusements and even a wellie throwing competition!
Some of us were even lucky enough to meet celebrities!! Highlights from a lot of people were the amusements, the food samples and getting hurleys signed. The O' Neill's tent was very popular with a very long waiting time to enter. The time came to leave again quickly with us having to make our way back to the bus at half past two. We made another stop in Carlow on the way home and we arrived home tired but really glad to have gone! Thanks especially to Mr Collins for organising the trip.
Written by Robyn Power, TYB
My class and I attended the National Ploughing Championships in Screggan, Co. Offaly. We arrived at ten o'clock in the morning and left five hours later at three o'clock in the afternoon. We had a great day but five hours wasn't nearly enough time to visit all of the various exciting stalls that were there.
There was a huge variety of stalls, shops and tents, ranging from O'Neills sports shop to the Herdwatch stall. My favourite stall was the Ford car stall because there were so many wonderful cars to be seen. I also really enjoyed the variety of foods on sale at the food stalls.
I was very fortunate to meet some famous people such as our President, Michael D. Higgins and Galway hurler, Joe Canning. With over 100,000 people attending the Ploughing Championships, it was very busy and there was a wonderful atmosphere. I really enjoyed the day.
Written by Cifa Clancy Davies, TYA
Sixth Year Students Visit Fota on an Ecology Fieldtrip
On Thursday, 28th September, our Leaving Certificate Biology Students visited Fota Wildlife Park to do their ecology fieldwork. The students, accompanied by their teachers Mr. Veale, Ms. Hally, and Ms. Hennegan, completed the practical fieldwork component of their Leaving Certificate course and afterwards had time to explore the wildlife park. The girls had a great day and it was wonderful to see them engaging in such active learning. We are sure it will stand to them for their Leaving Certificate examinations!!
Student Leaders at Ard Scoil na nDéise
Here in Ard Scoil na nDéise we feel very strongly that it is important to share leadership throughout the school community. With that in mind, every year we appoint a team of Fifth Year students to act as mentors to our new First Year students. We call these student mentors our Cáirde Girls.
The Cáirde Girls go through a rigorous selection process. This begins with them attending an information session in school before the application process begins. This information session is given by the Cáirde girls who are coming to the end of their term of office and at this point they share their experiences of the role with the girls who are considering applying for the role. Following this, prospective Cáirde girls must fill in a written application and attend an interview with the Principal, Ms. O'Keeffe and Ms. Gleeson who is responsible for training and mentoring the Cáirde Girls when they have been appointed.
Following the interview process, a team of Cáirde Girls is appointed and sent for a full day of professional leadership training in Cork in May of the year before they take up their duties. The hard work begins in earnest in August when the Cáirde Girls return to school before the rest of the student body to do some further training and to prepare for the First Year Induction Day.
The Cáirde Girls are the first people to greet our new First Years when they start school in September. They play a huge part in the induction of our new students and are involved in everything from tours of the school, to ice-breaker games, to table quizzes to help the girls get to know each other. They even give up their lunch breaks to help organise lunchtime clubs and activities for the First Years.
We are hugely grateful to our Cáirde girls for all that they do for our new students. They give so much of their time to their duties and can frequently be found visiting the First Year classrooms and checking in on the First Year students to ensure that they are settling in well. Many of our First Year students see the Cáirde Girls as big sisters that they can call on if they need help or advice. Our new First Years always comment on how helpful it is to have someone other than a staff member to call on if they have a question about the practicalities of day to day life as a First Year student. The relationship between the Cáirde Girls and the First Years evolves and develops over the course of the year and in some cases the bond is further developed through involvement in sporting and co-curricular activities.
The Cáirde Girls truly embody our Mission Statement of 'Reaching our potential with respect, care and friendship' and they act as wonderful role models for our younger students. We are truly blessed to have so many students who are so eager to take on the role of Cáirde Girl and we thank them for all that they do for our school community.