John Sims, Deputy Principal, Mary Immaculate Secondary School Lisdoonvarna has kindly shared the following school news
Certified Irish Angus Beef School Competition Finals
The Irish Angus Producer Group runs a school's competition for Transition Year students who will study Agricultural Science for their Leaving Certificate. After the entries are received students are interviewed by a panel of judges and 30 projects are selected to go forward to the finals in Croke Park.
This year Mary Immaculate Secondary School entered the competition for the first time and were successful in making it to the finals.
On March 15th 2017 five students from the school presented their project to a panel of judges in this years Certified Irish Angus Beef School Competition.
The students were interviewed by judges from the Farmers Journal, Kepak, ABP and Tesco. From this shortlist of entrants, five schools will be chosen to receive the 5 Angus cross calves. The successful students raise the calves for two years and record their progress over that period.
The 5 students involved are Killian Blood, Dara Kenneally, Niall Sweeney, Thomas Griffey and Thomas Hartigan. They are being mentored by their agricultural science teacher, John Sims. They were accompanied to the final by the Principal, Mr. O'Loughlin, and their teacher.
The five successful finalists will be announced in early April. We wish then the best of luck as they await the outcome of the judging.
ECO-UNESCO Young Environmentalist Awards
Two teams of young environmentalists were successful at making it into the semi-finals of the competition. This was held at NUI Galway on the 21st March. Representatives from both project groups had to present their project to a panel of judges who then questioned them on the project.
The first group presenting their project were second year students. Their project developed as a result of the school's participation in a BT Young Scientist project on microplastics. The group decided to make people more aware of what happens to plastic once it gets into the environment. Their aim is to get people to cut down on the use of plastic, especially plastic bottles.
They highlighted their message by addressing a Clean Coast Ireland roadshow in Miltown Malbay, having a poster campaign in the school and getting involved in two St. Patrick's Day parades.
The second group presenting their project were Transition Year students who have worked for the past six months with Grainne Barron, a researcher from NUI Galway. It is called Uisce Aille – Lisdoonvarna Integrated Catchment Management Project. It is described in a separate article below.
Uisce Aille – Lisdoonvarna Integrated Catchment Management Project
In Ireland many of our rivers, lakes and groundwater systems are in good shape but quite a substantial amount are still at risk of pollution both now and in the future. It is very important to encourage local communities to participate in protecting and managing our water sources.
TY students have taken part in a water resource awareness program supported by Burren GeoparkLIFE and coordinated by Grainne Barron, a researcher from NUIG. The students have named the program Uisce Aille and have explored and mapped the natural and built environment underlying the Aille Catchment, using GIS (geographical information systems).
In simple terms, a catchment is the area of land contributing to a river, lake or other waterbody. Water is vital not just for our health, but for the health of our ecosystems, the community and local economies and so it is so essential to our wellbeing to know how it moves through the landscape, from the highest point and all along its route to the sea, be that through the ground or on land.
The students have entered their project – Uisce Aille – into the ECO-UNESCO Young Environmentalist Awards (YEA).
On Tuesday 21st March the students faced the judges at the semi-final ECO-Den in NUIG, and performed really well.
Results of the semi-finals will be out in the next few weeks! On Saturday 25th March the students presented their project to managers of Geoparks across Europe in the Pavilion in Lisdoonvarna unveiled their infographic poster showing the maps they have made of the Aille Catchment
The finals of the competition will be held in Dublin in May with approximately 80 projects making it to the finals. The finalists will be announced in April. Best of luck to both groups.
St. Patrick's Day Parades
Mary Immaculate Secondary School had floats in 4 local parades over the last two weeks. The transition year students who were taking part in the Certified Irish Angus Beef School Competition had a float at the Fanore parade.
For the Kilfenora parade there were two floats: one from the second year Young Environmentalists and a second one based on Dylan Egan's young scientists project on producing fuel from rushes.
The young environmentalists also had a float in the Lisdoonvarna parade where they were awarded the runners-up prize.
Finally, the "rushes 2 fuel" float took part in the Doolin parade. A big thank you to all who helped with the different floats by providing trailers, calves and driving the floats.
Well done to all the students involved for their great efforts despite the bad weather.
Success in Feile na hInse Art competition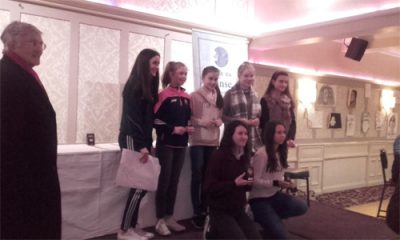 There was success for the following art students in the recent Feile na hInse Art competition. From first year Wiktoria Wzoblewska and Grace Howard won prizes and then at senior level, six fifth year students won awards.
They are Megan Moraghan, Richie Johnson, Ellen Dobbin Catto, Shauna Fanagan, Cait Ni Bhrain and Olivia McGann.
All winning students attended a prize giving ceremony on Wednesday 8th March in the Auburn Lodge Hotel. Congratulations to all.
Feile na hInse
Comhgairdeas do na daltaí ó Scoil Mhuire gan Smál i Lios Dúin Bhearna a ghlac páirt i bhFéile na hInse in Inis le déanaí.
Bhuaigh an grúpa ceoil a gcomórtas ar an 4ú Márta. Bhí an moltóir an sásta leo agus dúradh go raibh draíocht ag baint lena gcuid ceoil!
B'iad na daltaí a bhí i gceist ná Keith Dowling, Jane O'Loughlin, Laura Haugh, Aimeé Burke, Emma Kelly, Sally King, Aoife McNamara, Róisín McNamara, Órlaith Petty, Emma Healy, Laura Griffey, Bláithnaid Marsh, Caoimhe Burke, Lucy King.
Comhgairdeas leo ar fad!
Wheelchair Basketball
Transition Years took part in Wheelchair Basketball introduction training on Thursday 23rd March in Ennistymon Community Centre.
There will be a second day to follow competing against other schools in a Clare Schools League.
Certificate of Achievement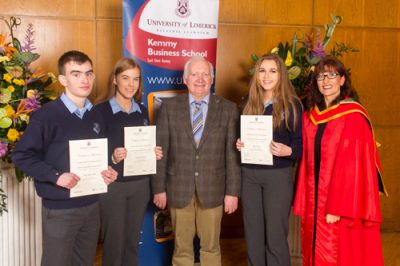 Congratulations to Isabelle Walsh, Ellen King and Dara Kenneally on receiving a Certificate of Achievement for their excellent results in Business Studies Junior Certificate 2016 from The Kemmy Business School, University Limerick in conjunction with the Business Studies Teachers' Association of Ireland.
CEIST – Student Leadership Conference 2017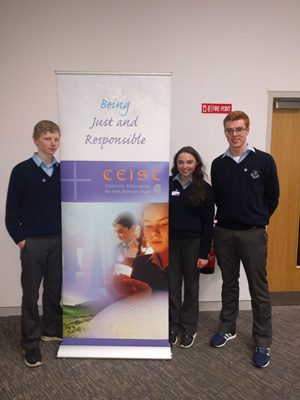 Archbishop Diarmuid Martin opened the third annual Student Leadership Conference on Tuesday, March 14th in St Patricks College DCU.
Archbishop Martin addressed the students and blessed the gathering. Students who attended representing Mary Immaculate Secondary School were fifth years Róisín O'Donoghue, Niall McNamara and Tomás McCormack.
The Minister for Education and Skills, Richard Bruton TD, was the keynote speaker in the afternoon.
It is a great affirmation for students that the Minister talked to them.
As always, though, the main work of the day took place in the workshops where students got an opportunity to interact and share ideas and activities.
The Student Leadership Conference – it is a highlight for all in CEIST.
IASTA Agricultural Science Quiz
A team of four students took part in the Irish Agricultural Science Teachers Association quiz on the 23rd March.
This was an all-Ireland quiz which was held in Abbeyleix.
The students were Scion Flanagan, Amy Costello, Róisín O'Donoghue and Niall McNamara.
Well done to the students who did very well in the quiz.
Garda Transition Year Talk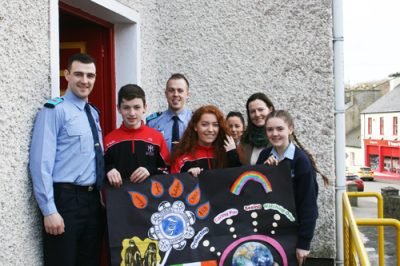 Our Transition Year students attended a Garda Talk in the Community Centre Ennistymon recently. Gardaí and detectives from the local area spoke to Transition Years of North and West Clare about Drugs, Road Traffic Offences, Underage Drinking and their lives on the force.
The Juvenile Liaison Officer was also present along with Deirdre Scanlon, our community Garda who coordinated events.
Trainee Gardaí were also present and spoke to students about the possibility of the Gardaí being a career option for students.
Our students also gave a short presentation on the day outlining the importance of the Gardaí in our community.
It was a very worthwhile event and showcased the positive aspects of the Gardaí in our community to our young people and future generation.
Fergus Crowe, a past pupil of Mary Immaculate, was one of the trainee Gardaí present who is pictured here with our students at the event.