Thursday 15th December 2011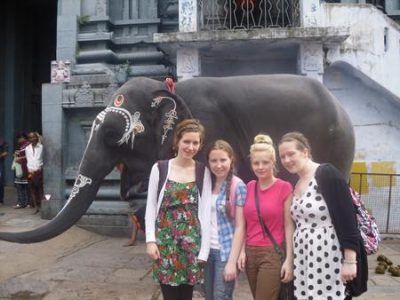 During the October mid-term break, three of my classmates Niamh, Jessica and Haley and I travelled to Chennai, India to visit our partner Presentation School, Sacred Heart Higher Matriculation Secondary School, Church Park as part of a GEE/Worldwise Project.
We were accompanied by three of our teachers Mr. Buckley, Ms. O'Shea and Ms. Lyons.
On arrival, we were warmly greeted by two teachers Gita and Fatima who welcomed us to their chaotic city. When we exited the airport we were shocked to see hundreds of people outside, horns bellowing and cars everywhere, especially as it was close to 4am when we got there.
Throughout our week in Chennai we made many new friends and met some really nice people. They had no hesitation in allowing us into their personal lives and answered all our questions about their lifestyle in India. They made us feel completely welcome and ensured that no moment was wasted.
We travelled to see many ancient Hindu Temples during our stay. Each one was more amazing than the next. Although at first we weren't too enthusiastic about going barefoot into the temples, the experience inside the temple made it all worthwhile.
During our stay, we sampled a great variety of Indian food. It was very spicy and sometimes we found it difficult to handle. We missed our spuds and stews!
Also during our stay we were guests of honour at a whole school assembly in Sacred Heart. This involved the Indian students in displaying their wonderful traditional dances, customs and colour.
The girls were exceptionally talented and very eager to display their traditional dances and teach us about their many celebrations throughout the year.
They had just celebrated Diwali the Festival of Lights before we arrived in Chennai. Although the school is a Presentation school most of the students are Hindu and all their festivals are celebrated in the school.
Overall it was an amazing week, I personally would have no hesitation in returning as I found the people there were very friendly and welcoming.
I thoroughly enjoyed my stay and am truly grateful for having been chosen to go on this trip of a lifetime.
Thank you to all the people who made this trip possible especially Worldwise who funded the trip and to Ms. O'Shea who did all the preparatory work with us. Go raibh mile maith agaibh.
Lisa Corkery Sixth Year Student, North Presentation Secondary School, Farranree, Cork.