The Centenary celebration of Ardscoil Mhuire began in very creative fashion on Tuesday 5th February in the Chapel Gallery in Ballinasloe Library. "Ardscoil Mhuire 100" is a collection of artistic work from past and present staff and students of the school and will be on display in the Chapel Gallery until February 14th.  Valerie Hughes, well-known radio presenter on Galway Bay FM and past pupil of our school, very kindly took time out from her busy schedule to officially open the exhibition. The Principal Ms Patricia Kilgallen, welcomed the large crowd to the opening and acknowledged the presence of many Sisters of Mercy and past staff members whose connections span the 100 year history of our school.  The building we gathered in was very appropriately chosen and is hugely significant, as this was part of the original convent of the Sisters of Mercy. It was in fact the convent chapel which was the heart of liturgical celebrations in Scoil Mhuire over many, many years.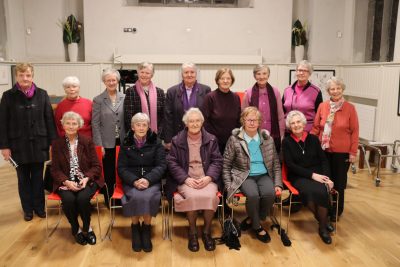 We were delighted to have present past pupils who were actually taught by the very first Principal and foundress of the school, Sr. Emanuelle Tracy.  Present also was the oldest living former Principal of the school, Sr. Aidan Killeen, who was Principal from 1971 to 1975.  Among the crowd present were many former lay teachers, including our first lay Principal, Mary Molloy, and many of our present teachers. Together they have contributed and continue to contribute so much to the rich tapestry of Irish social, economic and cultural life. 
The present Art students in Ardscoil Mhuire contributed several art pieces to the exhibition under the guidance and direction of our wonderful Art teacher, Ms Elva Conole. Many past students and staff members also contributed their work to the exhibition. Joyce Little kindly gave of her time to act as Curator and her husband Tom, Fiona Glynn and Elva Conole helped set it up in the Gallery. Our school choir and Trad group, under the direction of Ms Caroline Jackson and Ms Lisa Loughnane entertained the crowd and greatly added to a wonderful evening.  

Principal Ms Kilgallen thanked all those who have contributed to make this event possible.