Our Lady's Students Mesmerize Audiences with Musical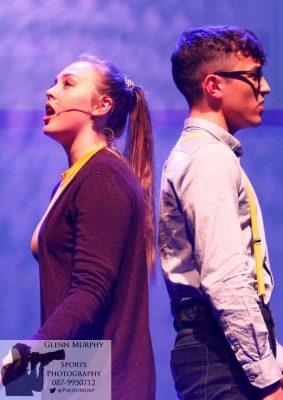 The much anticipated Our Lady's bi-annual school musical, 'Loserville' staged in Iontas from October 16th to 18th left the packed audiences enthralled. The 95 strong group of TY and 5th Year students showcased all of their exceptional talents and received standing ovations on the three consecutive nights befitting of a West End Production.
This is the story of Michael Dork (Cormac McCusker), a misfit computer geek who is about to change the world, he just doesn't know it yet. Michael and his sci-fi obsessed fellow nerds Frances (Daniel Madden), Lucas (Nathaniel McEntee), Marvin (Niall Lee), Sheldon (David McGinn) dream of trying to find a way to make computers talk to each other. Socially marginalised by the entire school and constantly picked on by Eddie (James Campbell), the coolest boy in school, and his loyal sidekicks Huey (Philip McNally), Wayne (Dylan Gleeson) and Chad (Senan O'Brien), Michael is desperate to find his ticket out of Loserville. But when new girl Holly (Taryn Clarke) arrives, Michael is introduced to a whole new world of cool. Loserville is a show which gives high energy dance routines interspersed with romance and competition between different high school students. As the story unfolds we are introduced to the other leading roles such as Leia (Shona Brady), Elaine (Emer Ruddin), Samantha (Clodagh Doran) and Chelsea (Emma Hanratty).
No show can go on stage without their Musical director who was Music teacher, Ms Cara Murray with Ms Liza Hughes as Producer, Ms. Roisin Mason Assistant Producer, Colm Murray Assistant Musical director and Sinead Courtney Chief Choreographer. The extremely talented in-house band was led by past pupils Colm Murray and Ryan Matthews, accompanied by Laurina Cooney on drums and superbly led by teachers, Ms Murray, Ms Marron and Mr. McNally. Set design was by Ms Lynch, set painting by Katie Cumiskey and special thanks to Hugh Carragher, Stephen Smith, Mr. Mooney and Mr. Graham for construction of the props.
It was all hands on deck as student leaders ran the raffle each night, the back stage crew and set design team were extremely efficient and professional in their stage management and in helping with sound, lighting & make up. Well done to everyone.
Speaking at the school during the week, Principal Mr Eddie Kelly congratulated everyone involved in the production of the musical which was an outstanding success. 'What the audience witnessed over the course of three nights was a culmination of a tremendous amount of sacrifice and dedication by staff and students. It was a great testimony to the talent and commitment of staff and students that in the space of seven weeks they managed to produce and perfect a series of outstanding performances characterised by huge energy, enthusiasm and an incredible amount of talent. We are extremely proud of the students involved in the musical and they are excellent ambassadors for our school and I've no doubt that the characteristics they have developed and the values they have learned this past few weeks will be put to good use over the course of their remaining time at Our Lady's. On behalf of management, parents and students I would like to thank all staff involved in the production of the musical at so many different levels but in particular to acknowledge the vision, guidance, commitment and dedication of Ms. Murray, Ms. Hughes and Ms. Mason. The fact that the musical was produced and directed exclusively by the staff of Our Lady's and the attention to detail, level of professionalism and quality of performance was second to none. As a school we are indebted to Ms. Murray, Ms. Hughes and Ms. Mason for their incredible generosity of time and their continued hard work and dedication to our school and students'.
Just can't wait until the next one!!!
Ryan to attend National Olympiad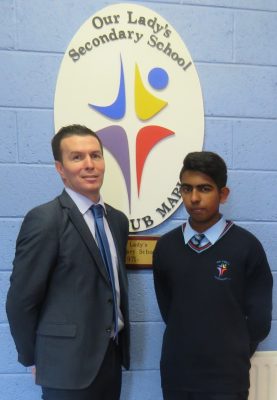 Congratulations to Ryan George, Transition Year student at Our Lady's Secondary School Castleblayney who has been invited to attend the National Junior Olympiad Competition in DCU on November 2nd. Ryan was identified by the State Examinations Commission after his excellent Junior Cycle results in Maths and Science.
This is a wonderful opportunity for Ryan who will work alongside other high achievers from schools around the country. After weeks of training and preparation, a number of students will be selected from the National Olympiad to represent Ireland in the International Junior Science Olympiad and the European Science Olympiad.
The entire school community in Our Lady's wishes Ryan the very best of luck.
Pictured in Our Lady's Secondary School is TY student, Ryan George being congratulated by School Principal, Mr Eddie Kelly. Ryan has been selected to attend the National Olympiad in DCU based on his excellent Junior Cycle results in Maths and Science.