Scholarship
Congratulations to Joseph Boyle who received his entrance Scholarship Award in UCD on Wednesday 14th November. Joseph, pictured here Ms Patricia Higgins (principal of Our Lady's), is now studying Politics and Law in UCD.
Inclusion Week
Inclusion week ran from 12th-16th November. The aim of the week was to increase awareness of the difficulties experienced by individuals and to encourage inclusion and participation for all. As part of the week's events many presentations were given by variety of speakers.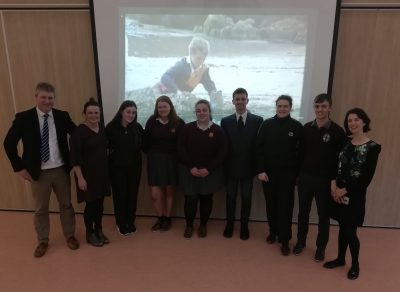 We were delighted to welcome documentary maker Nicolas Ryan-Purcell to the school on Monday afternoon. Sixth year students got the chance to watch his wonderful documentary 'This is Nicolas – Living with Autism'. You could have heard a pin drop in the social area!!!! It is an amazing piece of work!! The documentary focuses on himself and his life with Autism. A huge thank you to Ms Aoife Campion and Ms Siobhan Crowe who organised the event.
If you are interested in seeing it, the next screening of it will be in the Nenagh Ormond cinema on the ‪26th November. It is well worth viewing.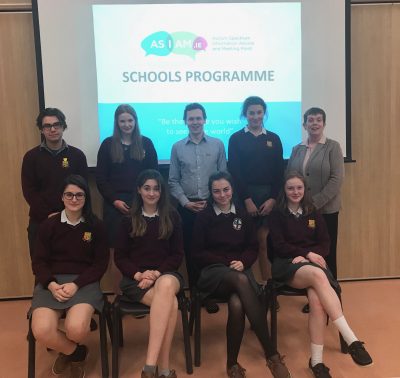 We also welcomed Adam Harris, the founder and CEO of 'AS I Am' to Our Lady's on Wednesday where he spoke to 2nd, 3rd, TY & 5th years on autism awareness. It was an a very enlightening talk which gave our students a greater awareness on autism.
On Thursday 15th of November both 3rd and 6th year students from Our Lady's were very fortunate to hear Peter Ryan's story. His visit to the school was part of 'Inclusion Week'. He described his incredible story about going blind, losing everything and finding another great life. He told the students about his journey from a Tipperary minor to a blind Paralympian cyclist. His message was simple
No human being is perfect, everybody has challenges and it is how we overcome these challenges that teach us to deal with life's problems.
A big thank you to Ms Anne Marie Johnston, a Drumbane native herself, for organising the talk.
Pope John Paul Ⅱ Awards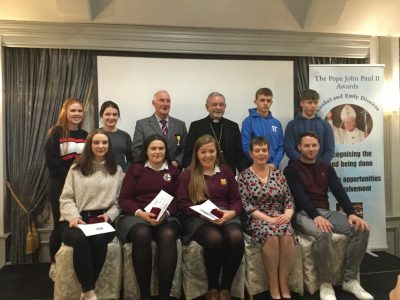 Students from Our Lady's who received the Pope John Paul Ⅱ Awards on Thursday 8th November in The Anner Hotel Thurles. Nicola Buggy, Brona Bergin, Shane Lowe, James McDonald and Claire Maher represented their parish Moyne Templetouhy. While Niamh Hogan and Marie Kennedy represented Our Lady's Secondary School. Well done to you all, a wonderful achievement.
Zeminar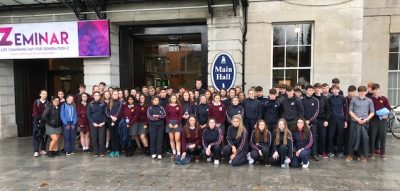 Transition year students enjoyed a great day out at Zeminar in the RDS on Wednesday 14th of November.
Zeminar helps to introduce young people to some of the best and most innovative organisations in Ireland. Throughout the day students can take part in workshops and get the opportunity to listen to influential speakers who are interested in the development and well-being of our young people. The motto for the day was…..
"Be yourself..everyone else is already taken"- Oscar Wilde
A chief speaker at the event was Jack Kavanagh. He told students to be themselves and not try to be someone else. He is confined to a wheelchair from a swimming accident.