Monday 6th March 2017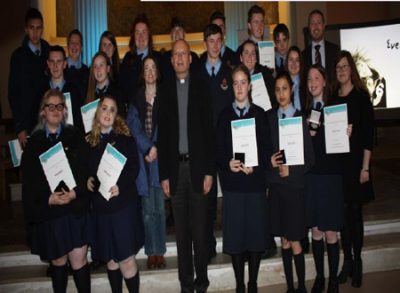 Since last year Our Lady of Mercy Secondary School, Drimnagh through the RE team of Mr. Jenkins and Ms. Irwin, have had over 80 of its present 4th and 5th year students participating in the Dublin Dioceses' Pope John Paul II Awards.
Our TY's are currently working towards their bronze and silver awards while our fifth years have already achieved bronze and silver. Two of our fifth years are now going for the Gold Award (Aaron Rock and Leah Maher) and you may see them around the church in the next little while.
The award was set up to give young adults a deeper understanding of their faith and that it requires an active response of caring and compassion for others, building the kingdom of God in their community.
They have to complete a number of hours volunteering in their parish and community along with some written reflections on the teachings of Jesus and what it means to be a baptised member of the Church.
We are delighted to say it has been a huge success for our school and lots of brilliant initiatives and charitable deeds have been undertaken by our students. We hope it will help shape their lives and that they feel a connection to their faith.
Some examples of works they have done include the Faith Friends programme where they act as mentors to the 6th class primary school kids in preparation for their confirmation.
They play games, read bible stories and teach the pupils about their faith. They have also taken on many charitable deeds including the Simon Fun Run, Concern 24 hour fast, Inner City Helping Homeless Clothes appeal. Next month we will have our annual pilgrimages with our TY's going to Glendalough and our 5th Years going to Knock.
We pray our students will find a place in their lives for the message of Jesus and that they can be a source of Salt & Light to others as they go forward.
We would like to thank Father Dave who has worked closely with us in guiding our students. We couldn't do it without him.
Michael Jenkins & Elizabeth Irwin.