Bingo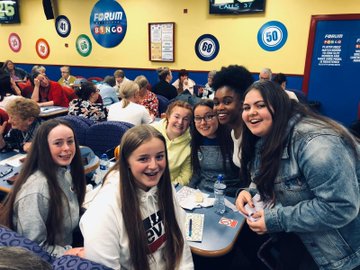 It was eyes down at Bingo on Wednesday 6th November for our first ever Annual Bingo Night at the Forum organised by Ms. O' Sullivan and Ms. Matthey, to fundraise for this year's TY musical 'Hairspray'. Staff at the Forum were so overwhelmed by the number of people attending that they had to hire extra personnel for the night! It seems that our TYs have broken all their box office records. We are very lucky to have so much support from our very wide school community and to have such a wonderful and hardworking group of TY students.
First Year Coffee Morning
First Year students and their year head, Mrs Beglin hosted a hugely enjoyable coffee morning for their parents and guardians on the 26th November. The lucky guests not only got to enjoy tea, coffee, and cakes (made by the girls), but they also got to witness the many talents of the group in the form of the beautiful project work which was on display. They were also entertained with performances of songs, poetry, mime, and most notably a beautiful rendition of 'Silent Night' in English, Irish, French, German, and Polish. What a talented bunch they are!
STEM
Second year Higher Level Maths students enjoyed a visit to Calmast (Waterford Institute of Technology's STEM Engagement Centre) as part of Maths week in November. These lucky girls were delighted to get the opportunity to exercise their problem-solving skills by participating in an activity using sets and cards. Who knew that Maths could be so much fun?!
Our third year Science students were also very excited when they got the opportunity to attend a DNA workshop, also facilitated by Calmast of WIT. This interactive and fun workshop, where the girls got to learn a great deal about genetic variation, was conducted by Dr Cas Kramer of Leicester University.
Young SVP
Presentation Secondary School has such a close alliance with the St. Vincent de Paul organisation that we have our own group of voluntary students, who form 'Young SVP'.
This industrious group of TY and 5th year students, who actively work to improve their school and local community alike, have meticulously planned a range of activities to happen throughout the year. They have already held a highly successful lunchtime disco and have presented Powerpoints to 1st year students, highlighting the needs of the poor in our community.
As Christmas, their busiest time approached, the girls worked as hard as Santa's elves, encouraging their fellow students to dig deep into their pockets so that they could buy hats, scarves, and toiletries to donate to the local men's and women's hostels, along with toys that would bring a smile to the faces of less well-off children at Christmas.
They were delighted when the members of the Student Council got behind them, and presented them with two huge boxes of toiletries to add to their collection. The staff were also inspired to support the WLR 'Red to Work' initiative and were visible all around the school in various, though in some cases dubious, shades of red on Friday 13th December.
We were particularly proud of SVP members Shauna Hennessy and Ebere Edeh who spoke to Damien Tiernan live on WLR on the same day, outlining the work done by the group here at school, and encouraging people to support this worthy cause.
In 2020, these inspirational girls are determined to continue to show their support to those who work hard in our society. They aim to make nurses and river rescue volunteers feel acknowledged and appreciated by giving them small gifts and cookies. They will also take a look at stereotypes surrounding minorities and help spread awareness about the various minority groups that make up our diverse school community.
Youth Ambassadors
Well done to our five fifth year students who participated in the city final of the Lions Club Youth Ambassador interviews in November. They were judged on the contribution they make to their local community and attended the Lions Club lunch in the Tower Hotel, where the overall winner was announced. We are all very proud of them.
Well done also to 6th year student, Grace Malone, who represented the school at the city final of the Rotary Youth Leadership Development interviews on Monday 12th November, having come through the school heat. Although Grace was unfortunately pipped at the post, she did both herself and her school proud as she was judged on the leadership qualities displayed through involvement in extra-curricular activities.
Spotlight on the Student Council
The Student Council in our school provides a 'student voice' to over 40 students across the student body, who meet on a monthly basis to discuss a wide range of current issues and initiatives. These representatives hold office for one academic year and are elected by their peers, with two reps nominated and elected from every class in the school. This year's chairperson is Amanda Goma, and the secretary is Debbie Ogayemi.
The student council is a very active group and has engaged in a wide range of projects last year, such as conducting research into the installation of student water fountains, the introduction of a new PE uniform, the reduction of single use plastics, the introduction of a sports day and the organisation of a cultural day. They also conducted an extensive review of the menu provided in the students' canteen and were central to the organisation of the Nano Nagle Tercentenary celebration in our school.
This year's student council were delighted to welcome Gerry Watchorn from Ceist who provided them with training to meet the challenges of their new role.
Jerry imparted valuable advice and words of wisdom as he educated the girls on the qualities needed for a student council to be successful, encouraging them to be active and different in their approach.
On 5th November, three student council members, Shauna Hennessy, Niamh O' Sullivan, and Ebere Edeh represented the school at the Irish Second Level Student Union regional conference, held in City Hall.
As well as immersing themselves in the educational activities based around student life the girls also enjoyed the valuable experience of being able to voice their opinions as they debated a wider variety of topics such as Climate Change, Direct Provision Centres, and Asylum Seekers.
Nano Nagle Public Speaking Competition
On Thursday, 14th November we hosted the second annual Nano Nagle Public Speaking Competition with students participating from four Presentation schools- Clonmel, Kilkenny, Wexford and Waterford. This was a wonderful opportunity for our Pres girls to get to know other Pres girls and it was a fantastic display of talent and confidence.
Past -pupils Liz Reddy, Head of News at WLR, and Sinéad Dunphy, Director of Cork Jazz Festival, along with local poet Frank Farrelly from Mount Sion had the difficult job of adjudicating the competition.
The speeches, which addressed a range of topics were delivered with excellence and the standard was very high. Well done to Latiesha Redmond from Presentation Kilkenny who delivered a powerful speech based on the Iris Murdoch quote, 'I think being a woman is a bit like being Irish. Everyone says you're important and nice, but you take second best all the same'. Congratulations also to runner-up Charlotte Glynn from Presentation Wexford. Both girls received beautiful glass pieces from the Irish Handmade Glass Company as their prizes.
Presentation Day Celebrations
Students from the Presentation Primary and Secondary school braved the elements and came together in St Paul's church on Thursday 21st November for a special mass, with teachers, retired teachers and friends to celebrate the birth of our foundress Nano Nagle. The choir mesmerised the congregation with a medley of hymns and songs from the musical 'Woman of Welcoming Heart', written in honour of the foundress of the Presentation sisters.
This lovely occasion was a most beautiful collaboration as both schools came together to express their thanks to the Presentation sisters through mime, prayers, reflections and readings.
Integrated PE Christmas Party
The sound of Christmas music and the smell of chocolate wafting from the gym building heralded the beginning of Christmas in the Pres. In keeping with tradition, Transition Year students hosted their annual Christmas party where they danced and enjoyed food and games with the services users from the Brothers of Charity Services, START, Blue Door, and Spring Garden Services, who co-participate in the TY integrated PE programme. The highlight of the party was the highly anticipated arrival of Santa, who popped in to make sure everyone was having a wonderful time!
Busy LCA Students
Also busy over the past couple of weeks were our Leaving Cert Applied students, who were out and about gathering information to help them complete their Key Assignments. Sixth Year LCA students visited Beat 102 103 as part of English and Communications, where they were fascinated to learn all about mass media and radio production. Meanwhile, Fifth Year LCA students headed to the Local History Room at Waterford Central Library to engage in research for a Social Education Key Assignment. After the hard work on a cold, dull Friday, these eager students were treated to a nice hot cup of hot chocolate at Fresh Food Hall before walking back up to the school to document their findings.
Trade Fair
Another sign in our school that Christmas is in sight is the annual TY Trade Fair, which showcases the entrepreneurial and innovation skills of our transition year students, who work hard in their Enterprise class costing, conducting market research, financing, promoting, and launching products and services for sale. This year's fair took place on Thursday 12th December, and the general purpose area was a hive of activity as staff and students shopped and bargained for the various products and services.
Best of luck to 'The Bakehouse', 'Mind Yourself', 'Aromara' and 'Pack to Basics' who were selected by SEP Co-ordinator Mr Johnathan Earle to represent our school in the city final of the Schools Enterprise Competition on 3rd March.