Meet your MEP – Climate Change Competition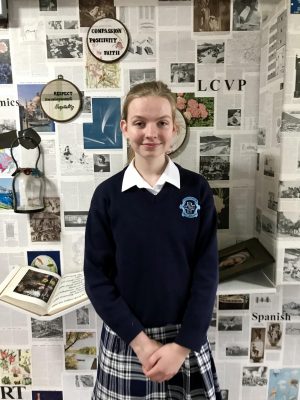 Presentation Secondary School, Castleisland Transition Year student, Siobhán Brosnan, is heading off to Brussels on 18th November to meet local MEP Seán Kelly. As part of Seán's Meet Your MEP Programme 2018, Siobhán submitted an entry in a Climate Change essay competition and she was one of the lucky few students to be selected for this trip of a lifetime.
During the 3 day trip to Brussels, Seán will show Siobhán the workings of the EU and explain about his work as an MEP. The agenda also includes meetings and tours in the European Parliament and the European Commission, free time in Brussels, and several climate change related activities.
Sean congratulated Siobhán on being selected and said it was a delight to read her essay and that he was looking forward to meeting her in Brussels in a few weeks time.
First Years Visit Nano Nagle Place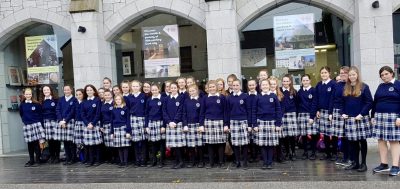 On the 8th of November our First Year students travelled to Cork to visit Nano Nagle Place. This centre is dedicated to the history and ethos of the Presentation Order and it's founder Nano Nagle.
It is always a wonderful experience for the girls to visit this centre. The friendly atmosphere of learning , along with the way in which they bring to life the roots on which our school is founded means our new First Years appreciate the tradition on which our school is based.
The girl's visited the museum, the gardens, Nano Nagle's tomb and explored the history of the time through history boxes. They thoroughly enjoyed their day and saw for themselves the roots and beginnings of the community to which they now belong.
Last year we had the great honour of celebrating the 90th Anniversary of  the foundation of our school. We celebrated the Presentation Sister's long standing tradition of offering quality in education in Castleisland. We continue to celebrate this tradition through various projects, most notably our involvement with Notre Dame University's  ACE programme. This project has allowed us to explore our roots and traditions and encouraged us to look at fresh ways of celebrating the ethos of the Presentation Order within our school.
This year we celebrate the tercentenary of the birth of Nano Nagle and throughout Presentation Week we have various activities planned in school to help bring to life Nano's founding vision. We will mark the beginning of the week by celebrating mass in St. Stephen's and John's Church at 6.15pm on Saturday the 17th of November. We will celebrate with the Sisters in the local convent and remind ourselves of the legacy of Nano Nagle and her vision, bravery, daring and the hope of an education for all people.