Medieval Carols
Christmas was officially been launched at Presentation Clonmel on Friday Dec 7th. We would like to thank Eamon and Roisin of Tonos who came to do a workshop and concert with our very talented 5th year music students . This was supported by Tipperary Arts Office.
The lunchtime concert "Wintersong" took place in our Basement theatre and was a great success. The 5th years sang a number of Medieval Carols during the performance. Thank you also to the 2nd and 3rd students and JCSP students for their beautiful festive decoration of the performing space.
RE Department Presentation Day / Nano 300
It's been a busy 1st term this year beginning with our 6th years  planning and delivering a very successful Nano 300 Peer Retreat with our 1st years.
Next came an opportunity for the 6th years to take a time-out for themselves as they enjoyed their own retreat in Raheen House. This was closely followed by the 3rd years organizing a prayer service for the Presentation Sisters for Presentation  day on the 21st November. They were joined on the day by the 5th year music class, President and joint Vice-Presidents of our Student Council  as well as the 1st years. We also got an opportunity to take a "Selfie with the Sisters."
Our 6th years visited the Presentation Sisters in the convent for afternoon tea. Every year, Presentation Sisters adopt one of the 6th years and prays for them on a daily basis.
On the 7th December we were joined by Catriona Delaney, who has co-written "Nano Nagle, The Life and Legacy" and Anne Dwyer, our retired Deputy-Principal, in her new role in the organization "Friends of Nano" and they presented their interesting work to a variety of classes across the school body. We celebrated a very special Presentation Day this year to mark the Tercentenary Celebrations for Nano 300.
Information Night for 1st Years September 2019
Thanks to our second year girls, sixth year leaders and parents who helped with the organisation of our "Information Evening for First Years September 2019". The evening was a huge success where prospective students got an opportunity to see our excellent facilities. Below are some photos taken on the night.
Retirement Function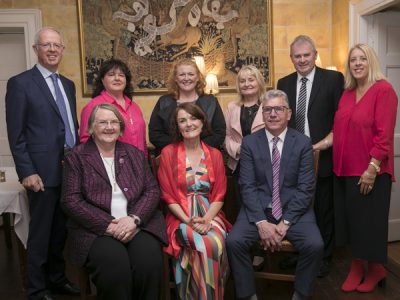 A very enjoyable retirement function was held recently in Raheen House Hotel for Kathriona Murphy and Frank Scully. We congratulate our retirees for their excellent dedication and commitment to the Presentation Secondary School Clonmel and we wish them many years of happiness in their retirement.
TY Museum Exhibition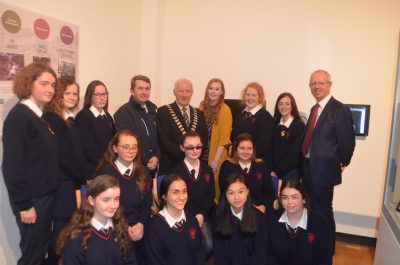 Congrats to our Ty students and their History teachers Ms.O'Carroll & Ms.Cashman whom successfully opened their museum exhibition based around the theme of our grandparent's past last Friday in the Tipperary Museum. The exhibition was called 'Passing on the Past'. For the past three months, the three transition year classes worked with the museum to develop a full- scale exhibition. The finished product consisted of large panels, artefacts and listening pieces, all completed by the students with the help of Jayne Sutcliffe,Tipperary County Museum. There was quite a large turn out with many students, parents, grandparents and teachers. Cllr. Mattie Ryan Cathaoirleach Tipperary County Council officially opened Exhibition. The Exhibition is open until January 2019.
Report 
By Maha Aziz Ty student Pres Clonmel
Business Awards
Nine of our girls who received an A grade in Junior Certificate Honours Business Studies this year were recognised by the Waterford Institute of Technology (WIT) and the Business Studies Teachers Association of Ireland (BSTAI) for their achievement.  The ceremony celebrates and recognises excellence in Junior Certificate Business Studies. Congrats to and who attended the ceremony with Mrs Anne Casey & Mr. Frank Scully (Business Teacher).
Art Department News
Our Art Department have been very busy lately with success in the Credit Union Art Competition, performing at Emma Lacey Fundraiser in Hotel Minella and also our 5th years were busy painting windows in Abbott in preparation for Christmas. Well done to everyone.
Second Year Art Exhibition
Well done to our second years and Ms. Walsh, Art Teacher who are holding a Portraits Exhibition in South Tipp Arts Centre. "My Spaces" Exhibition is running until Friday 23rd.This project is based around the pupils "safe" and "happy" places. The pupils had to decide where they feel most comfortable and safe. An area that is most important to them where they can go if they are stressed, worried or anxious. It is important to find these areas for ourselves so we can go there to help relieve our stress and worry and feel comforted and safe. The recognition of these spaces is important for these second-year pupils so as they grow within their school years, they can feel secure in a certain space. They have worked really hard at deciding where these "safe" space is for them. The pupils were also inspired by Vincent Van Gogh's painting technique through using a lost of colour, palette knives and heavy acrylic paint to express colour and texture in their final piece.
Congratulations to Ms. Walsh & Second year students on their excellent work. Below are some photos taken from the exhibition.
Conradh na Gaeilge Competition
Tháinig Orlaith Nic Gearailt , Bainisteoir Fheachtais le foireann Bhliain na Gaeilge agus cúpla duine ón gcraobh áitiúil do Chonradh na Gaeilge isteach agus bhronn said seic orainn. Ghlacamar páirt sa chomórtas 'Gaelfhíseán na Bliana agus bhuamar! Bhí caighdeán na n-iarrthóirí an ard sa chomórtas seo ar fud na hÉireann. Táimid an bhródúil as an éacht atá bainte amach ag na cailíní- buaiteoirí an chomórtais i dTiobraid Árann.
Congrats to our 5th years and teachers from our Gaeilge/music departments who won the Tipperary section in a recent competition organised by Conradh na Gaeilge. Comhgairdeas do gach duine.
Sports News
Basketball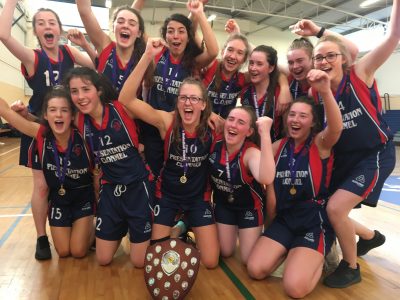 We had great news from Waterford in November  as our Senior Basketballers  beat Ardscoil na Mara Tramore in the South East Regional final on a scoreline of 36-33…Well done to the girls and Ms O'Connor. Champions!! The panel now qualifies for the All Ireland playoffs in January 19.
Nano 300 Celebrations. Thanks to Pres Kilkenny for organising a Second year Basketball competition with our fellow Pres Schools. A great day of fun was had by all.It was a great day for all Pres Schools.
Soccer Munster Junior Cup
In the last week of November,our Junior Soccer team ended a great week with a 3-2 win over Villiers Limerick in the Munster Junior Soccer. Well done to the squad and their coaches Mr. Browne & Mr. Wallace
Soccer Munster Minor Cup
Well done to our First year Soccer team who had a 4-0 win today against Pres Thurles in Holycross. Our scorers were Emma Berrill, Saoirse McKeown, Caoimhe Keeley and Lily Browne.Well done to their coaches Mr Wallace & Mr Browne.
Athletics
What a fantastic day for our school on the sporting fields on Tuesday November 22nd 2018..In Thurles,at the Tipperary Cross Country Championships,Hazel Brennan,1st year,won Gold in the Junior.Laura Cooney,2nd year,won Silver in the Intermediate event and to round off a superb day, Caoimhe Keeley, Annabell O'Reilly combined with Hazel Brennan to win a Bronze medal in the team event.
Ladies GAA
Our First Ladies GAA team continued our winning streak by winning the First Year Ladies Nano 300 Blitz today in Clonmel. Pres Ballingarry & Pres Kilkenny joined us today.We had two teams entered in the competition.We won the final by a point against Pres Kilkenny in a thrilling contest.Thanks to Ms. Millea for organising the day and to our coaches Ms. O'Connor & Ms. Delahunty. Well done to all.