Credit Union Art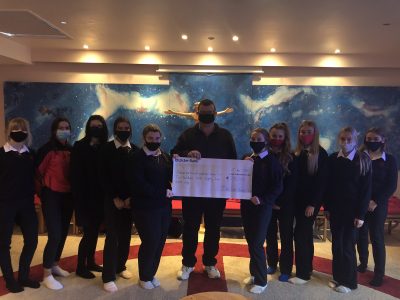 Irish League of Credit Union Art Competition Winners 2020.
5th Year – Yasmin Woodlock
6th Year – Shauna O' Neill
Overall winner – Ellie Toomey
2nd Year Coding
Ms. Hogan's second year Coding class recently finished their micro:bit projects. The task was to create a useful device that can measure temperature. Projects included an alarm for blind or deaf people whenever the room temperature reaches uncomfortable levels, and a device teaching kids to wear the right clothes based on outside temperature. Well done, girls!
Positive Mental Health Calendar 2021 Competition
Art students took part in the "Positive Mental Health Calendar 2021" competition and submitted some incredible work! Well done everyone! Please click the links below to view.
Positive Mental Health Artwork 1
Positive Mental Health Artwork 2
Lunch Time Activities
Lunchtime activities started for 1st & 2nd years this month. Students participated in Basketball Dance Ladies GAA River Walk Athletics
On Thursday there are more activities with Camogie, Hockey, Spikeball.
Great to see high numbers participating!
Garden of Remembrance
The Garden of Remembrance is present in the front hall of the school for the month of November. The Presentation community remember all of our loved ones who are now at rest with God.
LCVP News
5th Year LCVP presenting cheque of €285 to Clonmel and District Wheelchair Society after the class fundraised by holding a Movie Afternoon for 1st years.  A special thanks to Philip Meaney for coming in to talk to us.
Stand Up to LGBTI+ Bullying Week
16th to 20th November.
As a part of our Stand Up Against LGBTI+ Bullying Week our students chose to #ComeIn in on Friday 20th in the colours of the rainbow so that LGBTI+ students don't have to come out! #BelongTo #LGBTIWeek #StandUp20
Kilimanjaro Direct
Our students raised a huge €1,426 in aid of Kilimanjaro Direct, a charity run by a retired Pres teacher. This will go towards helping a family get a house before Christmas. Every human is sacred and deserves a home & education. Our students are keeping Nano Nagle's spirit alive.
Presentation Day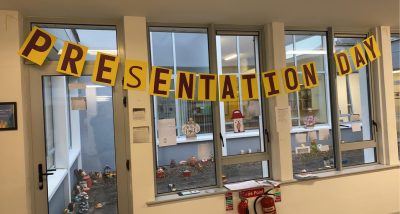 HAPPY PRESENTATION DAY
Wishing all the Presentation students, teachers and staff a happy Presentation day and especially our Presentation Sisters who have instilled the Spirit of Nano Nagle in our community @ceist1 @Pres_Sisters @PresWaterford @presprimthurles @PresKilkenny @presclonmel
Science Week
Great fun around the school during Science Week! The Science department did a fantastic job in decorating the school and holding a "Daily Science Question" competition.
TY Christmas Market Day