WWGS Citizen's Passport Award
We are delighted that the World Wide Global School (WWGS) Citizen's Passport Award has been awarded to Presentation College for our school's engagement with Global Citizenship Education (GCE).  The Global Passport Award is an acknowledgement and recognition of our school's contribution, dedication and diligence in implementing Global Citizenship Education into all aspects of teaching and learning.
Our school has played and continues to play a key role in promoting quality values and principles that reflect a very positive GCE practice and we are extremely proud of this achievement. It honours our contributions and commitment to exploring GCE.
The award was due to be presented at the Annual Student Conference on April 2nd in Cork. This has now unfortunately been cancelled due to Covid-19. We will now be presented with our award on November 11th in Iveagh House, Dublin. Thanks in particular to Ms Kelly and Ms Nagle.
SciFest
Ms Bradley has three groups of students who are taking part in SciFest competition from the Science club. This competition is being held on-line this year in light of the Cvid-19 restrictions. The students involved are: Asia Aloi, Karen Bradley, Maeve Dempsey, Chang Egan, Matthew Hosey and Niamh Nolan. The students are busy working on the projects in advance of the judging in May.
German Olympiad
Congratulations to Eva Kavanagh who reached the Final of the Bi-annual German Olympiad. Eva was the only student from Carlow in the Final. Ms Byrne was justifiably proud of her having had two students – Fiona Butler and Meadhbh Broderick in the Final in 2018. That year Meadhbh Broderick was the Winner and went on to represent Ireland against the rest of the world in Freiburg that Summer. This year it is very different. Rather than meeting the other 14 Finalists – Eva took part in an online discussion and interview. She met the competitors and judges remotely all through German.
Below is a piece written by Eva regarding her experience in the competition.
A German Zoom Final for Eva Kavanagh
Recently I took part in the German Olympiad. It is a language competition for Fourth and Fifth year students. It was a great experience for me. I learned so much about the time and effort it takes to come up with an original speech and I also learned so much about Germany as a country! On the day of the competition I zoom called the judges. There were two other students my age wishing to get to go to Germany just like myself! The judges began by asking us questions individually in German about ourselves and our hobbies etc. We then individually read out or speeches while the others listened to what we had to say. They ended the call by telling us that they would email back the following week to let us know the results. Unfortunately I did not win and get to represent Ireland in Germany, but I myself feel I have achieved something so amazing! I'm so glad that I got to experience this and honestly had so much fun writing it up and I can't thank my teacher Ms Byrne enough for putting me forward to take part in this event and supporting me all the way. I enjoyed the whole experience so much and would definitely recommend it to Transition Year and Fifth Year students to take part in as it is a great learning experience with a great reward. The competition takes place every two years.
Aoife Moody is Page 2 News in the Carlow Nationalist
Aoife Moody is becoming well known for her excellent baking skills. A member of the Green School committee, she can be relied on to make wonderful green themed cakes and buns. During the current crisis Aoife reached out and baked for some of the front-line staff. A lovely article was printed in the local paper.
Home Economics Challenge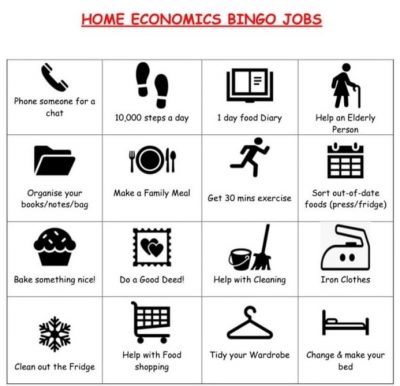 The First Year Home Economics Classes are  sending great evidence of cooking fab produce such as Apple Tarts, Oreo Cheesecakes and Brownies to name but a few – all of which have looked delicious. The Home Economics Department sent out a 'Take 5' challenge encouraging the students to take five of fifteen challenges. Examples were: to tidy a wardrobe, clean out fridge etc. One delighted parent said that her daughter has done all but two of the challenges. We are delighted that so many students have engaged so well and that they have developed new skills. Thanks to Ms Barret, Ms Nagle and Ms Quinn. Attached are a sample of entries.
Mein Hund
Walter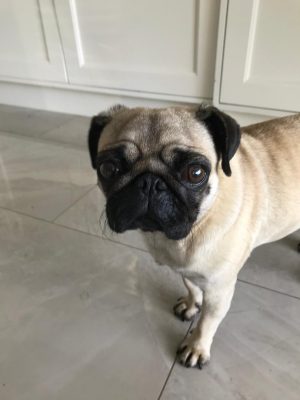 Ich heiẞe Seán Breen. Ich habe ein Haustier zu Hause. Ich habe einen Hund. Er heiβt Walter. Er ist elf Jahre alt. Walter ist klein aber er bellt sehr laut. Er schläft bei meinen Groβeltern. Er frisst Hundefutter. Ich liebe meinen Hund.
Roxy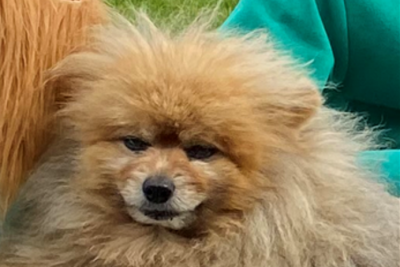 Ich heiẞe Gary O'Toole. Ich habe eine Hündin. Meine Hündin heiẞt Roxy. Meine Hündin ist ein Mops. Roxy hat ein schwarzes Gesicht und einen hellbraunen Körper. Roxy ist fett und blod. Sie ist schnell für ihr gewicht. Sie ist sehr verspielt, aber auch sehr faul. Meine Hündin mag das Trampolin, aber sie geht lieber spazeiren und rennt im Garten herum.
Meitheal Team 2020 / 2021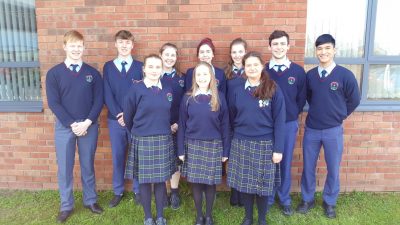 Our incoming First Years will be well looked after by the incoming team of: Conor Duffy, Leisa Iacob, Rebecca McMahon, Conor Murphy French, Niamh Nolan, Ellen O'Neill, Brian O'Sullivan, Kate O'Sullivan, Conor Whelan and Katie Williams.
Darkness into Light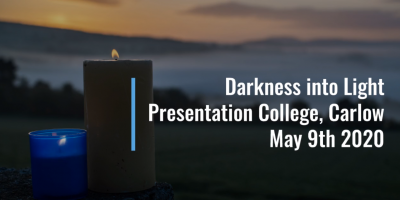 A huge thank you to everyone who took part in our Darkness into Light event on May 9 in aid of Pieta House. We are delighted to say that €1,685 has been raised for Pieta House by our school. A short video of the images sent in from staff and students to mark our school community's response was uploaded to the school website. It is a lovely reflection of the event. It is moments like these that draw our school together. Please click here to view Presentation College Carlow Darkness into Light 2020 video.
Irish Workshop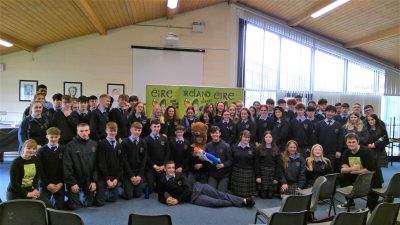 Transition Year students at Presentation College Carlow took part in an Irish workshop in March with High Rock Productions. The workshop is called "Éire conas teacht slán". The workshop was an interactive show that spoke about our traditions and cultures in Ireland including 'an aimsir', 'spórt' agus 'cánúintí'. Some of the Transition Year students got the opportunity to get up on stage, speak some Irish and do a bit of acting. The teachers and students thoroughly enjoyed the show.
Drumming Workshop
During February, when school was still 'normal' our Transition Year students took part in a Drumming Workshop. The workshop was a great way for students and teachers to learn how to play a variety of rhythms and arrangements on several drumming instruments together and create music. Students and teachers also had the opportunity to learn about Africa, its geography, heritage and culture. The wonderful beat and sounds were enjoyed by those who passed the library during the break of class. The workshop was a great day filled with energy, music and a chance for every student to express his or her creativity.
Green Flag Awarded
We are delighted to inform you that our application for the renewal of our Green Flag has been successful. Unfortunately, due the current situation, there will be no Green-Schools Awards Ceremonies this year. As soon the school re-opens we will celebrate with a flag raising in Presentation College. Congratulations to the committee, and all members of our school community on this achievement.
Work Experience with the Guards 
By: Ciara O'Neill TY
During Transition Year myself and other Transition Year students from other schools in county Carlow went to the Carlow Council Office for a week-long course with the Guards. The two Guards that were over the course were Esme and Conor. On the first day, we were introduced to the Guards and to each other. We had to pair-up with a student from a different school and learn three things about them and then share with everyone else. After this the Guards told us they were taking us to the midlands prison in Portlaoise and that one of the prison officers there was going to give up a tour of the prison. We went and got our lunch then got on the bus there were two buses one for boys and one for girls. Conor drove the boys and Esme drove the girls. When we got to the Midlands Prison the officer told us a bit of history about the prison and also told us the rules about the tour. We were allowed to see many different parts of the prison and we were told how it works and also how the prisoners see their families and how often.
We got back to Carlow at about half three and went home. On the second day we met up at the council office again but shortly afterwards we got on the bus and headed to Dublin as we were going to the Criminal Court of Justice and Garda Headquarters in Dublin. First, we went to the Criminal Court of Justice. When we went in we had to get scanned to make sure we were not bringing anything in that was not allowed. Afterwards we went into different court rooms to give us an example of how the court system works in Ireland. After we went into two courts rooms to watch live cases we then had a talk with a Sergeant who worked in Dublin he told us more about how the court system works in Ireland and about a few cases. After this, we had our lunch in the restaurant in the court and then headed to Garda Headquarters. When we got to Garda Headquarters we got to see the Garda band and the instrument room we also went into the offices that deal with the press and with the social media side of things. On the third day we went to the courthouse and had a number of talks with different people that do different jobs for the guards some speakers that came in was for forensics and juvenile liaison Officer Elaine Roe came in to talk to us also and so did Ian Roche who works with the drug side of the Guards. They told us about their jobs and what they do. My favorite talk was the one given by Garda Roche. I thought the drug aspect of the guards sounded very interesting. After these talks we had lunch and after lunch we met up in the Garda station and we met the guard dog, which was very interesting. A man from Cork came down with his two dogs that are used to find drugs guns and bodies and told us about them and told us that he owns the dogs. We got to meet the dogs and pet them and we noticed how obedient they are. After this we were given a tour of our own Garda station here in Carlow, which I really enjoyed. It is much bigger than I thought it would be. We went into the cells there and the interview rooms and got to see the cameras all over Carlow town. We got to see the cars motorbikes jeeps vans and push bikes. On the fourth and final day we had another Guard come into us and tell us about how long it takes to become one and about Templemore and the training that is involved and the pay. She recommends getting a degree before joining as this can increase your pay. A detective came in and spoke about being a detective and we were also spoken to by a guard about road traffic.
After this, we met superintendent Aidan Brennan. We were given certificates because we completed the week long course which the superintendent gave us and we had a single photo each with him and our certificate.
I really enjoyed the course and can definitely see the Guards as a possible career choice for me. I would definitely recommend this course to next year's Transition Years.