May Altars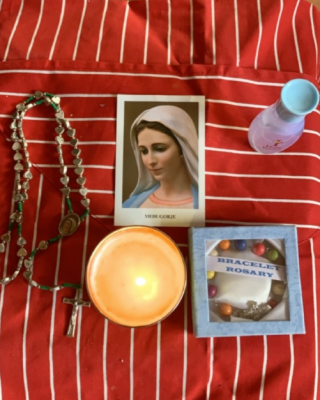 To say that this last term has been a bit peculiar, would be a bit of an understatement. While online teaching has brought with it many challenges, it has been a fantastic way to remain in contact with our students. Their enthusiasm to engage and communicate, throughout what is undoubtedly a troubling time for them, has been a constant surprise and delight. Normally in May, in RE class, we would focus on Mary. Our Pope John Paul II award students were encouraged to create their own May altars at home. It was such a pleasure to receive photos of their efforts. We can't underestimate the need for rituals at this time, even for a demographic we feel may ignore the traditions of the past. They gathered up their rosary beads, statues, flowers, holy water bottles, pictures of Mary and other icons. I would like to think this generated conversation around where all of these items came from and why they were deemed important enough to keep in the house. These students then produced a PowerPoint presentation on the Marian apparitions and wrote of their own experiences of pilgrimages to any of the sites. Naturally Knock featured heavily in their accounts. Hopefully Mary, 'Our Queen of Peace', can help to quieten our minds and bring some respite as we journey on in these uncertain times.
| | |
| --- | --- |
| | |
Sacred Heart School Westport Virtual Assembly
Although the school may be closed our school assembly still continues, all be it though a virtual sense. Online assemblies have been held in our school as a way to bring our community together again through the Covid-19 closure. Thank you so much to Fr. Charlie for this thoughtful message that he sent to our Leaving Certificate students during our 6th year online assembly. It was greatly appreciated by all.
Thank you so much to Fr. Charlie for this thoughtful message that he sent to our Leaving Cert students today during online assembly. It was greatly appreciated by all.

Posted by Sacred Heart School Westport on Wednesday, May 6, 2020