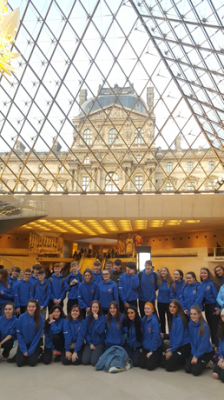 Paris Tour 2018
Second and Third Year French students begin 2019 with fond memories of their recent trip to Paris.  In December, 40 students accompanied by their teachers Ms. Cadinot, Ms. Nagle, Mr. Kelly and Mr. Murphy, set off on a four-day trip to discover the marvels the vibrant French capital has to offer. Their French teacher Ms. Cadinot organised an action-packed trip, which gave students the opportunity to enjoy a trip on the Bateaux Mouches and enjoy the Parisian sites surrounding the river Seine. For some students the highlight of the trip was finally getting to see the world-renowned Mona Lisa in the Louvre museum.  Many students braved it to the top of the Eiffel Tower to admire the wonderful panoramic view of the city below. Students also spent time in the historic area of Montmartre and the Sacré Coeur before admiring the Arc de Triomphe and the Champs Elysées. The trip culminated in a full day spent in Disneyland Paris where students were able to experience the rides and parades at a magical time of year.  Students are now putting their "Français" into practice and reminiscing on the fun they had in Paris.
| | |
| --- | --- |
| | |
Student Council
With a view to promoting our Student Voice in Presentation College Carlow, students enjoyed an hour-long meeting with Fr. Conn, Chairperson of our Board of Management. During this time, students discussed the various roles occupied by the Student Council, when meetings take place, progress made and most importantly, their hopes and future goals. More detail on these on our website. Among the items discussed were our current "I Fit" project. This project will involve every student in thinking about where he/she fits in, in our school community. Following on from this the Student Council will create a jigsaw, helping to draw students' attention to the important and central role they play in the everyday life of our school.
Make-A-Wish
T.Y. students recently had a visit from Tricia on behalf of Make-A-Wish Ireland. This is a  children's charity. Make-A-Wish grants the wishes of children with life-threatening medical conditions, to bring hope, strength and happiness.
Previously Presentation College has fundraised for the charity by hosting a "Wear What You Wish" no uniform day. Currently our T.Y. students are researching new fundraising ideas and hope to raise some funds again this year for this extremely worthy charity.
Ré Ó Laighléis gives a workshop on his novel 'Gafa'
Ms. Ryan's Sixth Year Higher level Irish class recently had a visit from Irish writer, Ré Ó Laighléis. The students have recently read his novel 'Gafa' as part of their Leaving Certificate course. During the workshop, Ré gave an insight into his background. He read several extracts and gave students in depth and thorough information on the themes and characters in the novel. The students really enjoyed Ré's enthusiasm and humour during the workshop. The students benefited greatly and the information gained will help them in their upcoming Mock examinations and Leaving Certificate.
Tháinig an scríbhneoir, Ré Ó Laighléis chuig an scoil chun cuairt a thabhairt ar rang séú bliain Ardleibhéal Ms. Ryan le déanaí. Léigh na daltaí an t-úrsceal Gafa mar pháirt den chúrsa Ardteiste. Le linn na ceardlainne, thug Ré léargas ar chúlra, léigh sé cúpla sliocht as an úrscéal agus thug sé eolas iontach do na daltaí ar na téamaí agus na carachtair san úrscéal. Bhain na daltaí go léir an-taitneamh as díograis agus greann Ré le linn na ceardlainne. Fuair na daltaí tairbhe agus eolas a chabhróidh leo sna scrúdaithe amach anseo.
A Busy Week for Ladies Soccer
A strong first half display by our Minor girls saw them entering the second half 1-0 to a very strong St. Josephs Rochfortbridge team. The girls held a lot of possession in the first half but found it hard to break down the opponent's defence. Our defence of Lauren Kenny, Sinéad Thompson, Clare Miller and Erin McElligott maintained their focus and determination for the first half. Unfortunately, in the second half, three more goals followed and the girls lost 4-0. Aoife Kelly and Orla Woods were unlucky to have shots saved in the second half. However, the team worked hard for the entire ninety minutes and will have gained a lot of experience from the game. Players who stood out on the day were Lauren Kenny and Tegan O'Sullivan.
Presentation College vs St. Josephs Rochfortbridge  Final score: 0-4
A five goal thriller saw the Presentation girls overcome a strong Scoil Chríost Rís team. A fumble on the goal line saw Katie Ingram slot away the first goal for the girls. Soon afterwards a well-executed free kick taken by Orla Woods found the top corner of the goal leaving the girls 2-0 up at half time. A penalty shot taken by Scoil Chríost Rís was slotted past Ciara Kelly, despite her best attempts to reach the ball in time. Presentation girls quickly made it back up the field and a lovely run by Aoife Kelly, Orla Woods and a pass in by Niamh Murphy led Emer O'Hanlon in on goal and she slotted the ball past the keeper to make it 3-1. Scoil Chríost Rí refused to lie down and scored ten minutes before the end which made it 3-2. The Presentation girls defended well and came out 3-2 winners in the end. Players that stood out on the day were Aoife Kelly, Chloe Rice and Emer O'Hanlon.
Presentation College vs Scoil Chríost Rís      Final score: 3-2
STEAMing ahead in Presentation College
Presentation College students have had a busy week in STEM.
Seán O'Driscoll represented the school in the B.T. Young Scientist and Technology Exhibition, Gavin Bradley received Safer Internet Day ambassador training in Google's European Headquarters in Dublin and Damian Korus was in the final of the Irish European Science Olympiad in Dublin College University on Thursday 17th January and Friday 18th January.
The school continues to promote women in technology. Abbie Nolan, Rebecca McMahon and Cathy Tai are organising a trip to the iWish Women in Technology Conference in February where 50 girls from First to Fifth Year will learn about careers in Technology from highly qualified women in Ireland.
The school also continues to promote the positive use of ICT in Teaching and Learning. The newly refurbished computer room and upgraded 200Mb fibre broadband from NCTE improves IT access and the new Apple School Manager on iPads insures students have safe access to internet on iPads in classrooms.
Six teachers are following the Digital Leaders Programme 2018/19 and Presentation College has been selected for The Digital Excellence Programme 2018/19, where 25 schools from Ireland collaborate to emphasise the use of ICT in different areas of the curriculum.
Volunteering and Fundraising for Haiti
We were thrilled to have past pupil Anna McHugh visit some of our classes today to speak about her upcoming voluntary trip to Haiti this summer. She is travelling with 20 other volunteers who are part of the Soley charity and will spend 4 weeks working with young children between 6-12 years of age. Anna is currently fundraising for the trip and is planning a Non Uniform Day Friday 18th January along with a table quiz on Thursday 7th February in the Glenside, so all support is greatly appreciated. We wish Anna the very best and look forward to her return visit in September to share her experience.
German Tour
First and Second Years were very excited last week when the details for the trip to Germany in December this year were released. We will be staying in Koblenz and visiting the Rheinland region. Among the highlights will be a day in Phantasialand Theme Park, experiencing the Christmas Markets, and visiting Cologne. Many students have pen-pals in the Anne-Frank school in Ahaus and we are looking forward to meeting them on the trip.
Mental Health Talk for Transition Years
Transition Years recently enjoyed a very informative talk given by Niall O Muiri a retired mental health nurse. Niall spoke about his experiences in the job. He also emphasised how he has seen physical activity have a positive impact on people and their mental health. Niall encouraged all the students to work on both their mental and physical health. Wellness is more than the absence of illness.
Table Quiz
Please keep Thursday 28 February free for our Table Quiz organised by the Parent's Council. We look forward to seeing present and former members of our school community in the Irishman's on the night. All teams and individuals to join teams will be very welcome.
Music Classes visit the NCH
The Junior and Leaving Certificate Music classes visited the National Concert Hall last week to see the RTÉ National Symphony Orchestra, under the direction of conductor Gavin Maloney, perform their prescribed works. They took part in a one-hour workshop and heard music by Tchaikovsky, Vivaldi, Mozart, Grieg, John Williams and many more composers.
CSPE / History Class visit Dáil Eireann and The National Museum
Last week Mr. McDermot and Ms. Gillespie brought a group to Dublin to visit Dáil Eireann. The group of Third Years were treated to a historical tour of the city and also visited the National Museum where they were amazed to see the pre-historic Bog Bodies.
Catholic Schools Week
A board was located in the Askea parish Church to raise awareness about celebrating Catholic schools week for the Presentation College. The theme for this year is: "Celebrating the work of local Catholic Schools". The board highlights the great work Presentation College is doing throughout the year.
One Carlow Student Competes in Round Two of The IrEUSO
On the 17th and 18th of January 2019 the second round on the Irish European Science Olympiad (IrEUSO) took place in Dublin City University. The top twelve students from Science in Ireland (four from Physics, four from Chemistry and four from Biology) took part in this competition.  Each of these students had won a medal in the first round of the competition held earlier this year. One student from Carlow was among the group. Damian Korus from Presentation College Carlow who got a bronze medal in round one proudly represented the school in physics.
On the first day of round two, each group of students had laboratory activities. The physicists worked with an oscilloscope and a signal generator as well as other electronic equipment. At the end of the day, they had to graph the fraction of the total voltage that was across a capacitor as a function of frequency.
On the morning of the second day, the physicists had a tour around the laboratories of the DCU. They made plastic chips to investigate capillary action. They used a laser cutter to manufacture these chips. This was a very interesting and exciting experience. After lunch, everyone had a practical examination. The physicists had to do two experiments. One to calculate the young's modulus of the material of a meter-stick and the other to graph the resistance of a filament bulb as a function of voltage.
Damian received great support from his Physics teacher Ms. Claire McHugh, who covered all the necessary material including the experiments mentioned above. Unfortunately, Damian did not get through to the next round. He enjoyed the experience. Damian is very grateful to both the Principal Mr. Murray and his teacher Ms. McHugh for all their help and support.
(Written by Damian Korus)
All Ireland Linguistics Olympiad
On Monday 28 January, thirty-five students from Presentation College spent two hours working through five complex puzzles involving unknown languages in a bid to get to the final of the competition in Dublin in March. This is the second year that students from Presentation College have entered this prestigious competition. The competition hones students' problem-solving skills and fosters the next generation of multilingual technology specialists for Ireland. A 2016 survey showed that ninety-five percent of participants consider AILO to have enhanced their problem-solving ability. Many past participants have gone on to pursue careers in Computer Science, Maths and Linguistics (or a combination thereof) at third level.
AILO sharpens student's problem-solving skills. This will be of benefit whatever career path one takes, but it will be particularly useful for careers in computing, linguistics, languages, engineering, maths or science or – better still – a combination of these disciplines. Job prospects in these areas are among the strongest of all industries. Participating in AILO is an excellent extra-curricular experience to add to your CV or university application form. It shows that one has a logical mind and an ability to think outside the box.
Should students wish to practice for next year, more information can be found by speaking to Ms. U. Byrne or looking up: https://ailo.adaptcentre.ie