Presentation College Girls reach the Leinster Quarter Finals
The girls soccer team at Presentation College, Carlow, following on from their recent league success travelled to Curracloe in Wexford to play against Presentation, Wexford in the Leinster Quarter finals. The first half was very enjoyable and Carlow's defence did well to field off the Wexford side. Ciara Kelly pulled off some great saves. Carlow's forwards Danielle O'Driscoll and Lucy Gibson battled hard to get in on the Wexford keeper and Lucy was unlucky to not score within 5 minutes of half time. The girls saw some injuries in the second half with Maja Brennan and Beckie-Lou White having to be substituted. The Wexford side broke through the Carlow defence to score two goals in the second half to finally go through to the Leinster Semi-Final. Teachers Ms. Kinsella and Ms. Ryan are very proud of the girls' efforts this year and they have no doubts that there are big things in store for this group in the coming years.
First Years Head to Leisuremax for a day of Fun and Bonding
Our First Years enjoyed a brilliant day out in Leisure Max organised by our superb Meitheal Team. The students enjoyed bowling, laser tag, absailing and climbing. They took part in sumo wrestling, goggle soccer, zorbing, pool and basketball shooting. A fantastic day was had by all. Huge thanks to our Meitheal Leaders who put in a big effort in planning and organising the day from booking the venue to organising the buses. Lots of fun had by everyone.
Music Classes Visit The National Concert Hall
Music students recently enjoyed an educational trip organised by Music teacher Ms Lyons to Dublin. The Third Year Music class enjoyed a workshop given by the RTÉ National Symphony Orchestra called 'Music in the Classroom' in the National Concert Hall. Their prescribed music for the Junior Certificate was performed and workshopped in an hour long presentation.
The Senior Music classes attended a performance of their set works: 'Symphonie Fantastique' by Berlioz and 'Piano Concerto in A Major, K488' by Mozart. The RTÉ Symphony Orchestra performed under the direction of David Brophy.
I'll have photos of the Fifth and Sixth Year classes at another workshop tomorrow.
Eva Kavanagh qualifies for the Final of the German Olympiad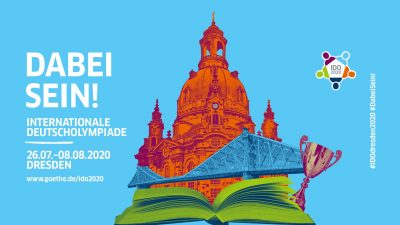 Congratulations to Eva and her teacher Ms Byrne on her recent qualification for the National Final of this prestigious competition. This competition takes place every two years and seventy-six countries select two candidates to represent them. This year students used their creativity and language skills on the topic "My favourite town / city in Germany is…" Eva encouraged by her teacher chose to make a video, which also incorporated her singing part of a Marlene Dietrich song. Eva has now been invited to the Final in University Limerick, on Saturday April 25 2020. There she will compete with other students for a place at the Internationale Deutscholympiade in Dresden from 26.07- 08.08.2020. The planned competition programme runs from 10:30-17:00 and is all through German. There are two competitive rounds and students will be judged on their introductions, interviews, presentations and group work. The Jury looks forward to creative and innovative ideas. The day concludes with Prize-giving and the announcement of the two students chosen to represent Ireland at the Internationale Deutscholympiade in Dresden. We wish her the best of luck.
Meitheal
Our outgoing and incoming Meitheal Teams met for lunch recently to exchange advice and helpful tips. A huge thanks to our Sixth year Meitheal Team for the amazing work they put in this year looking after our First Years. Congratulations to our new Meitheal Team who will be guided by Ms Maher. The team for 2020 – 2021 is as follows: Conor Duffy, Leisa Iacob, Rebecca McMahon, Conor Murphy Ffrench, Niamh Nolan, Ellen O'Neill, Brian O'Sullivan, Kate O'Sullivan, Conor Whelan and Katie Williams. We wish them all the very best in their new role in the coming year. Our incoming First Years will be well looked after and cared for when they join us in late August.
Semaine Française: Mme Jully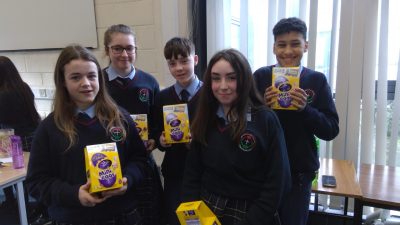 Bonjour! Our annual 'Semaine Française' kicked off on the 2 March in Presentation College, Carlow. The week was filled with French culture, cuisine and tradition across every year group. There were various activities organised by Teachers Mme Jully and Mme Owens. There was an art competition which many students entered during the course of the week with wonderful displays of art. The first prize was given to one of our First Year students Aoife Moody, who baked macaroons which were beautifully presented with a little piece of writing on their history in France.
All students enjoyed the activities organised throughout the week. There was face painting as well as a photo booth at Break time by our Transition Year students who took great pride in painting the French flag on many smiley faces. A traditional French breakfast was enjoyed by our Sixth Year students. Bon appétit.
Fifth and Sixth Year students visited the GBS theatre to watch the film ' Une Colonie'. Thir Year students watched a French play' Magnus Magnifique' on Monday 2nd March in the school library which was performed by 'French Theatre for Schools'. The students loved watching the play and some of our students participated in the Play. BRAVO.
First Year students enjoyed a French trivia Quiz in our library which was organised by Mme Jully and Transition Year students.
Mme Malone, One of our German teachers, taught one lesson of French to her Transition Year and First Year students. Students were excited to learn the basics of another language.
There were daily quotes called out over the intercom 'en français' by Monsieur Murray also during the course of the week.
'La Semaine Française' was a great success. Staff and students were greatly immersed in the French way of life throughout the week.
Darts Champion
Congratulations to David Lynch from First Year who recently won the Junior Darts Youths Doubles All Ireland on Friday 6 March in Ennis. David plays darts with Carlow Darts Club. We are very proud of his achievement which will inspire our many regular darts players in our school darts club.
Covid-19
In the period leading up to the announcement that schools would be closed due to Covid-19, a number of measures to protect students, staff and the wider community had been taken. All students received twenty minute health and safety training workshops given by Mr O'Neill and Ms O'Connor. These were highly informative and engaging. They included video clips, demonstrations and students saw very clearly the importance of using the correct hand washing technique and the importance of sneezing correctly.
Hand sanitisers have always been available and used in school, however following the workshops there was a noticeable increase in usage and they were extended to all classrooms. Daily monitoring by Mr O'Neill showed that the message was getting through and both staff and students became more aware of the importance of each person behaving responsibly for the benefit of all.
Classroom layouts reverted to the traditional rows to ensure the danger of a sneeze would be minimised. Students who for one reason or another had lost their password or were not familiar with working online met up with Ms McHugh who got them set up in anticipation of online learning.
Teachers have already been using SchoolWise – our online learning platform. SchoolWise synchronises with our schools MIS/SIS system to sync staff, students, classes, departments, attendance and timetable information. If anything changes in our MIS/SIS it changes in SchoolWise. It also plugs into our Office 365 Suite so everyone can use their school email address to access SchoolWise and get access to their apps.
Now that the schools have actually closed, the use of SchoolWise will ensure that teaching and learning continue for the staff and students of Presentation College.
We wish everyone good health in these challenging times.