AILO Workshop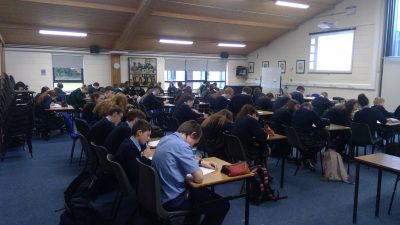 On Thursday, November 8th Presentation College was delighted to host a workshop organised by the ADAPT Centre of the School of Computing in Dublin City University. Eva Vassenhova facilitated the two-hour workshop in problem solving. During the workshop, thirty-nine Presentation College students learned techniques used in decoding languages and worked on languages including Lalana and Japanese braille. This advanced problem-solving workshop was thoroughly enjoyed by our students, most of whom will participate in the All Ireland Linguistics Olympiad (AILO) in February.
Science Olympiad Medal Winner
On Saturday, 3rd November the Irish European Science Olympiad, which was organised by the Centre for the Advancement of STEM Technology and Learning, took place in Dublin City University. Of the 4,224 students in Ireland who achieved an A at Higher Level in both Science and Maths in the 2018 Junior Certificate Examination, the top 400 where chosen to take part in the Olympiad.
Out of these 400 students chosen, only two represented Carlow, one of which was Damian Korus in Transition Year. They all had to choose one subject from Biology, Chemistry and Physics in which to sit the test. There were twelve winners, of which four students in each subject won either a gold, a silver or one of the two bronze medals. Damian was one of the recipients of the bronze medal in Physics.
Of the aforementioned, twelve winners, six will be chosen during round two in January, to represent Ireland in the European Olympiad in Portugal in May 2019. We wish Damian every success in the next round!
Athletics
Well done to all students who participated in the first round of the Three Counties League in Stradbally recently. The conditions were good and even considering a steady incline towards the finish, the Presentation College students did extremely well.
The Minor Girls team consisting of Orla Woods, Aoife Kelly, Maya Brennan and Ellie Dowling had excellent runs, all placing in the top fifteen. Our Minor Boys also ran very well.
The Junior Girls did extremely well and the Intermediate Boys team consisting of Alex Kelliher, Darragh Kelly, Nurlan Kennedy and Shane Gordon ran a very good race too. Our Intermediate Girls team which comprised Lynsey Ward, Zoe Garrigan, Aibha Kiernan and Sinéad Thompson ran with ease throughout the race, with Lynsey Ward winning the first place miles ahead of her competitors! Maith sibh!
London Music Trip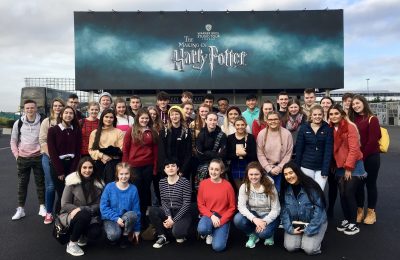 Thirty-eight Fifth and Sixth Year Music students travelled to London for three days. Students visited the Natural History Museum, the Science Museum and the Victoria and Albert Museum. They also did a walking tour of the city centre sights, including Buckingham Palace, Trafalgar Square and Westminster. The highlight of the tour was seeing Les Misérables in Queen's Theatre. Students were also very excited to take part in the Harry Potter Studio Tour in the Warner Brothers Studios.
First Year Geography Projects
A creative, dazzling and educational display of First Year Geography Projects was held recently in the school hall and attended by large numbers of First Year parents, students and staff. The initiative was a great success and it is hoped to keep it running as an annual project.
First place was awarded to Sarah Delaney for her creation of the Giants Causeway out of clay. Second place was awarded to Michael Keane for his explanation and display of 'Where water comes from' and third place was awarded to Gellert Moravcsik for his Eiffel Tower model. Well done to all the First Year students and their Geography teachers!
Carlow Careers Seminar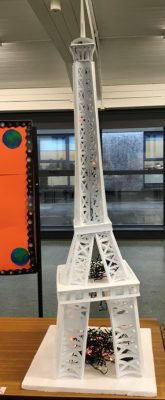 All Fifth and Sixth Year students recently attended the Carlow Careers Seminar in the Dolmen Hotel, Carlow, which was organised by the local Guidance Counsellors, with our own Ms O'Looney as Chairperson, for all the schools in the county and beyond. Over fifteen schools attended this careers seminar, which consisted of over 1,200 students attending.
This was a very collaborative, cross-schools community event organised by all the schools' Guidance Counsellors to promote future planning, careers, colleges, courses, apprenticeships, PLCs and information gathering.
The exhibitors at the Careers Seminar included TCD, UCD, DCU, NUIG, UCC, Maynooth University, UL, IT Carlow, WIT, LIT, DIT, Dundalk IT, Athlone IT, Dunlaoghaire IADT, Cork IT, Carlow Institute of Further Education, Ormonde College, Duiske College, City of Dublin PLCs, ETBs, American College, Dublin Business School, Griffith College, Pulse Sound Engineering, NCI, NCAD, Carlow College, Mary Immaculate College, Pontifical University of Maynooth, St. Angela's College, SUSI Grants, Qualifax, Careers Portal, EUNICAS, UK Colleges, An Garda Síochána, Irish Defence Forces, Kildalton Agricultural College and Shannon College of Hotel Management.
The students really enjoyed this very informative and educational seminar and would like to thank Ms O'Looney and her colleagues for all of their hard work and organisation.
Pope John Paul II Awards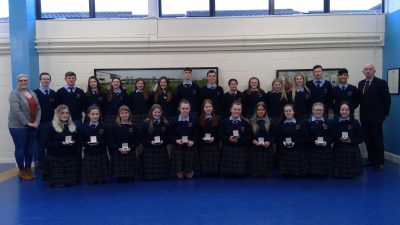 Congratulations to the Presentation College students who recently received their JPII Awards. Twenty-five students in total received the award. Twenty-three students received the Gold Award and two students received the Papal Cross Award. The students are pictured here with Award Leader and teacher, Georgina Maher, along with Principal, Ray Murray.
The Pope John Paul II Award was created to commemorate the late Pope John Paul II who was so committed to young people and who had such belief and confidence in them.
The Award is a faith achievement award for young people between the ages of sixteen and eighteen. It is non-competitive, inclusive, flexible and voluntary.The Awards available are Bronze, Silver, Gold and the Papal Cross.
The Award is committed to helping young people enhance their spiritual, physical, social and emotional development through participation in school, parish and community activities. As well as the feeling of personal achievement that a participation will gain from taking part in the Award, participation will also help demonstrate the young person's commitment to a task and goal.
Blessing Kingsley – Player of the Year Award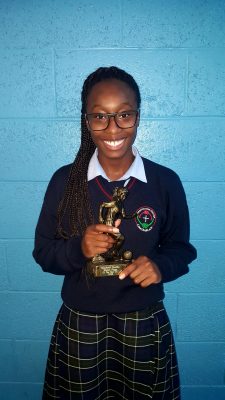 Congratulations to Fifth Year student, Blessing Kingsley, who won the Wexford Youths Women's U-17 Player of the Year Award 2018. Blessing was selected by an anonymous vote among her teammates. She and the team had a great start to the Continental Tyres Women's U-17 league last summer, unbeaten in their first four games. They were unlucky to not advance to the semi-finals. Blessing was delighted to have been nominated and would have gladly have been just as happy to see the other nominees win the award….A true characteristic of exceptional sportsmanship!
Blessing was a member of the Ireland Women's U-17 squad who competed in the Euro Women's U-17 Qualifiers from the 17th October – 29th October 2018. While there, they qualified to the elite phase, which will take place in Spring 2019.
Blessing is truly grateful for the amazing opportunities that she has experienced this year. No doubt she is very excited to see what is in store for her next year!
From all in Presentation College, we would like to wish Blessing continued success in the future. She is definitely a star in our eyes and one to keep an eye out for, so watch this space!