CREDIT UNION COMPETITION WINNERS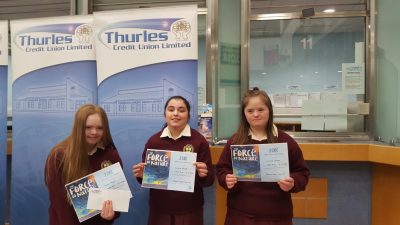 Well done to our competition winners Sinead Maher, Glorija Pincuka and Caoimhe Campion. The girls placed 1st, 2nd and 3rd in their category and are pictured at the awards ceremony held in Thurles Credit Union recently. Congratulations!
BASKETBALL NEWS
Our Senior Basketball team have qualified for the Midlands semifinal and will face close rivals Scoil Ruain, Killenaule as they look to book their place in the final. Presentation had a comprehensive home win over Mullingar this week but they know a much stiffer opposition awaits them in the form of Killenaule.  Then these two teams faced each other in the cup competition only a week ago the Presentation girls sealed a narrow victory. Without doubt Killenaule will be gunning for revenge in the hope of keeping their season alive.
However, it was mixed fortunes this week as our cadette team crashed out of the Midlands competition. They lost to a good Tullamore side on the day. Well done to all the girls for getting this far in the competition.
Congratulations to our two 2nd year basketball teams who travelled to Kilkenny to take part in a Basketball Fest organized to commemorate the Tercentenary of Nano Nagle. A really enjoyable day was had and our teams played matches against Presentation teams from Kilkenny, Ballingarry, Waterford and Clonmel. There was great excitement at the break when a shooting competition took place. We were represented by Julie Butler who displayed some great shooting skills. Everyone who took part really enjoyed the day and it was all about participation, meeting new friends and enjoying the sport of Basketball.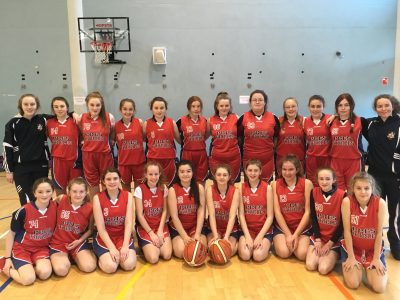 CIVIC RECEPTION
Presentation Thurles was awarded a civic reception by the Tipperary County Council in recognition of its outstanding sporting success in 2018. This saw the school create history in becoming the first girls school to capture Camogie, Football and Soccer titles in the one year. A civic reception is the highest accolade the Council can bestow and the school was justifiably proud of this honour. Captains Katie Ryan, Niamh Ryan and Anna Gavin collected the award on behalf of the victorious teams. Principal Marie Collins spoke of the importance of both sport and academia in our school.
SCIENCE WEEK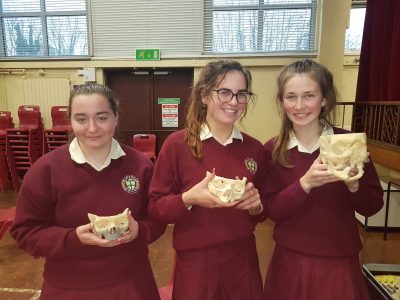 To celebrate Science week, our first year students learned about the formation of the universe and our solar system in the Exploration Dome, a mobile planetarium. Colm Mc Aognhusa, an engineer spoke to a first year class about the role of an engineer and their role in product development. Junior students also took part in a poster competition depicting an invention or famous scientific discovery.
Liam Brennan from NUIG, gave an interesting and engaging presentation to senior students about Biomedical Engineering and Biomedical Technology. He demonstrated how the technology developed in these areas saves lives through the use of stents and carbon printing to recreate the human face.
Aimee Stapleton from the University of Limerick gave a workshop on Gross Germs and Bizarre Bacteria. The 5th years learned about bacteria and antibiotic resistance. They also prepared their own hand-sanitizer gel. Transition years watched the movie "Hidden figures" which depicts the true life stories of three women, known as "human computers" with NASA.
Fiona Hennessy, Neve Ryan and Siobhan Hennessy also represented our school at the ISTA Science Quiz for Leaving Cert students in Limerick Institute of Technology.
MINOR SOCCER NEWS
Presentation Thurles 5 Presentation Waterford 0
Presentation Thurles travelled to Waterford for the opening round of the Minor 'A' Munster cup, a trophy that the school had captured last year. The girls raced into a two goal lead in the opening minutes thanks to Cally Dooley and Chloe Shorley. Before the Waterford girls got a chance to settle the scoreboard, the game was effectively over when Missy Condon fired home two goals from outside the box. Emma Kelly added a fifth goal in the second half to cap off a really good day for the Presentation girls.
SENIOR SOCCER NEWS
Presentation Thurles 6 St Mary's Nenagh 0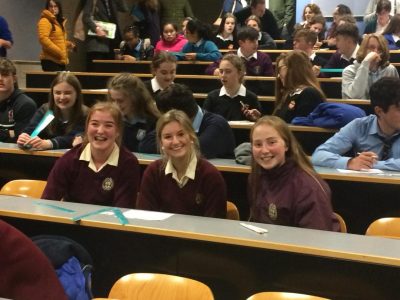 The All Ireland Senior 'A' champions maintained their interest in this year's competition thanks to a comprehensive victory over near neighbours St. Mary's Nenagh. Lauren McCormack opened the scoring in the fifth minute and this set the tone for the first half with Casey Hennessy adding two quick-fire goals. A fourth goal from Missy Condon secured the lead on the stroke of halftime. The second half continued in a similar fashion with goals from Emma O'Sullivan and Cally Dooley. The Thurles girls now advance to the Munster semi-final where they will face Ursuline Waterford.
Jnr. FOOTBALL NEWS
Presentation Thurles 5-8 St. Mary's Mallow 1-4
Our junior footballers had a fantastic win over St. Mary's Secondary School Mallow last week. Our girls went in at half time two points ahead on a miserable day in St. Patrick's College. Despite the conditions we had some heroic performances especially from first year Henrietta Kiernan playing at centre back. Rachel Moore led the charge up front scoring 4-2 on the day. Captain Caroline Shanahan led by example at wing forward and there was also outstanding performances from Chloe Cummins, Helen Cleere, Kate Kavanagh and Kaitlyn Callinan. Our girls are now through to the quarter final against Coláiste Dun Iascaigh of Cahir.
Snr. FOOTBALL NEWS
Presentation Thurles exited this years Munster 'A' championship at the quarter final stage on Wednesday last against an impressive Loreto Fermoy. In an enthralling game the lead changed hands several times and Loreto found themselves one point to the good at the interval. Within minutes of the restart Presentation Thurles kicked two unanswered points. However these games tend to be decided on small margins and a harshly penalised short kick out resulted in Loreto raising a green flag. This proved to be a real turning point as the Cork girls opened up a lead and Presentation found themselves chasing the game. The Thurles girls never stopped battling to try and claw back the deficit but it wasn't to be. This group of players can look back on the previous campaigns that have yielded Munster and All Ireland medals and be very proud of their achievements. We thank captain Niamh Ryan and the team members for all the great days they have given us and there is still a county championship to come and an opportunity to finish on a high.
MODEL UNITED NATIONS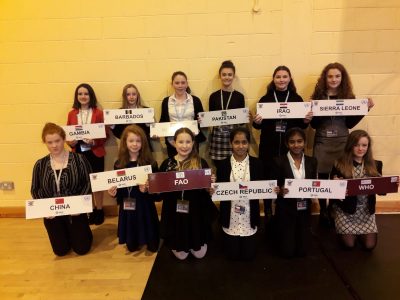 Well done to our 1st and 2nd year delegates who represented our school at this years Model United Nations in Loreto Clonmel.. A special mention to Emma Buggy who received a certificate for her honourable contribution to the conference. Back row: Jennifer Hughes, Jane Brereton, Aimee Fogarty Ryan, Grainne Joyce, Cleo Mina Ronayne, Saoirse Maher. Front Row: Emma Buggy, Dervla Howley, Aoibheann O'Connell, Ria Rose Sam, Anon Maria Saju, Caoimhe O'Gorman.
Jnr EQUESTRIAN TEAM
Congratulations to our 1st year Equestrian team who placed 6th in Warrington Equestrian Centre recently. Included in the photo are Katie Healy, Rachel Ralph and Sophie Maher.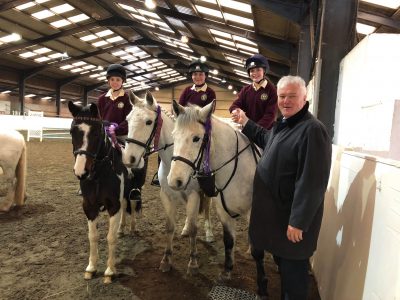 GERMAN EXCHANGE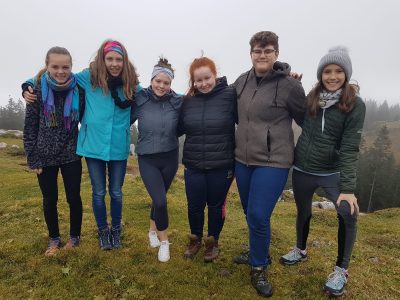 Well done to the twenty 5th year students who recently returned from their German Exchange to Ignaz Günther Gymnasium Secondary School in Rosenheim, Bavaria. During their ten day school exchange, the girls were treated to the best of German life, food and culture. After their arrival in Munich Airport the students were greeted by their German partners and travelled by train to the city of Rosenheim, which lies in the south east of Germany, not far from the Austrian border. The students attended school during the week and visited German and English classes and also experienced life in a mixed, non-uniform school. Afternoons and evenings were spent tasting local cuisine and visiting local attractions. The girls enjoyed group trips to Munich and Chinese Lake where they visited the famous King Ludwig II palace. A highlight for many of the students was the visit to the oldest active salt mine in Germany, situated in Berchtesgaden, Bavaria. During the guided tour the students had the opportunity to descend into the caverns of the mine to view the different chambers, the salt cathedral and the grotto built in honour of King Ludwig.
This was an unforgettable experience for the students who have now returned to school with an increased awareness and appreciation of German life, language and culture. They look forward to their partners return next April, when they will extend the Irish 'Céad Míle Fáilte'. Many thanks to the German teachers and to the community in Rosenheim who facilitated this fantastic learning opportunity.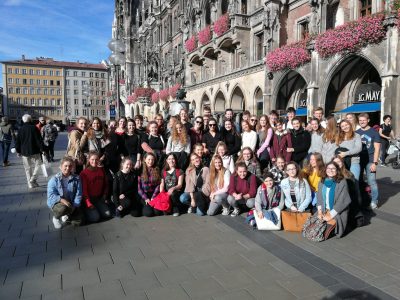 EMERGING STAR AWARD NOMINATION FOR 6th YEAR STUDENT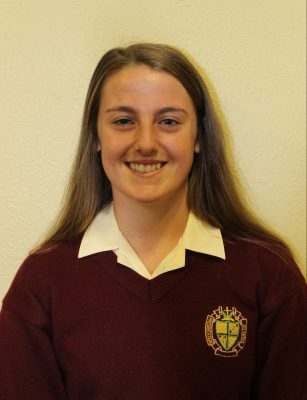 Presentation sixth year student Casey Hennessy has been nominated by Tipp Fm for an Emerging Star award for her outstanding sporting success in 2018. Casey was an integral part of the historic treble success by Presentation Secondary School Thurles capturing Munster titles in Camogie, Football and Soccer. Casey was a member of the Tipperary Senior Camogie team who contested the All Ireland semi-final in 2018, losing out to eventual champions Cork. Casey was also a member of the Tipperary Minor Camogie team which reached an All Ireland semi-final. We wish Casey the best of luck!
DECISIVE WIN OVER DOON FOR PRESENTATION CAMOGIE STARS
Presentation Thurles 3-7 Scoil Na Tríonóide Naofa Doon 0-9
Presentation Thurles qualified for the Munster 'A' Camogie Quarter Final thanks to a seven point victory over a star studded team from Scoil Na Tríonóide Naofa, Doon. Presentation enjoyed an early lead with points from Sarah Doheny and Casey Hennessy. However, Doon stormed back into the game and were soon ahead after a flurry of quick-fire points. The Presentation girls were aware that they needed to establish a lead playing with the aid of a strong breeze in the first half and thanks to a three goal blitz in five minutes they were back in the game.
Goals from captain Casey Hennessy and Sarah Doheny sent the Presentation girls into the interval with a commanding lead. Doon pinned the Presentation girls in their own half for much of the second period but a superb defensive performance from Molly O'Connor and her colleagues kept the Limerick ladies at bay. Goalkeeper Aoife Butler was a calming influence throughout. The girls will look forward to the quarter final draw and the opportunity to continue the defence of their Munster crown.
SCHOLARSHIP RECIPIENTS
Huge congratulations to our past 6th year students Kate Leahy, Kate Wardick, Moira McLoughlin and Zoe McGrath who  received their Entrance Scholarships recently. Kate Leahy, Kate Wardick and Moira McLoughlin were awarded Entrance Scholarships to Mary Immaculate College Limerick while Zoe received the Trinity College Entrance Exhibition Award. We are very proud of you girls!