Soccer Champions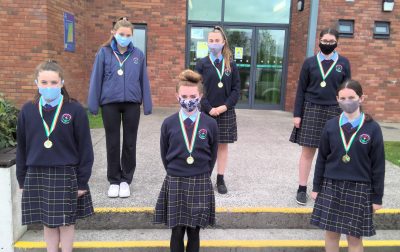 Congratulations to Presentation College Carlow's minor girls' soccer team who were crowned Region 3 Minor Schools Soccer League champions last year. The team overcome teams such as Borris Vocational school, Scoil Chríost Rís and local rivals St. Leo's college. The girls had a fantastic season and their teachers Ms. Ryan and Ms. Kinsella are very proud of their achievements this year.
Members of the squad include: Ciara and Aoife Kelly (joint Captains), Sinéad and Gráinne Thompson, Lucy Gibson, Karen Bradley, Clodagh Hendy, Clíodhna Hayden, Maya Brennan, Marie Cranny, Beckie-Lou White, Róisín Kennedy, Orla Woods, Sarah Nolan, Matilda and Isabella Kendellen, Believe Ogbomo, Danielle O'Driscoll, Jasmine McGuire McCormack, Nina Uwagbi.
Presentation College Student named one of Ireland's Inspirational Heros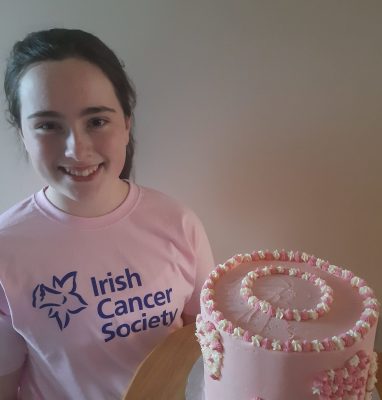 The following is an abbreviation of an article written by Elizabeth Lee in Carlow Nationalist. Following a nationwide search to uncover Ireland's most inspirational people, Aoife Moody from Tullow is celebrating after being named an Inspirational hero in the Gala Retail and Virgin Media Inspiration Awards. Aoife madeeand gave nd give treat boxes for frontline workers in nearby Castledermot, Aoife then went on to make boxes of cupcakes for elderly people cocooning in the Tullow area. She also raised an impressive €300 for Breast Cancer Ireland by organising a cake sale from her home. Aoife was keen to help out the charity after her granny Kay Healy from Castledermot was diagnosed with the disease. Her granny and grandad Seán are immensely proud of her, as are her mother Jennie, dad John Moody and little sister Ciara.
Aoife's kind and thoughtful nature flagged her to the judges of the Gala young heroes competition and, as a result, she's won a €750 Blue Book voucher. The family hope to enjoy a stay in one of Ireland's beautiful boutique hotels that are covered by the voucher, particularly one that has a cookery school attached!
She began baking at the age of 11 years' old, but during the lockdown, she really concentrated on her skills and made buns and cakes to cheer up frontline workers. She also registered with the HSE and has completed her HACCIP training so that all of her products are to regulation standard.
Aoife has set up an Instagram account, where she posts images of her gorgeous treats, and last week, celebrity chef Neven Maguire contacted her with words of encouragement. He also promised to send the talented young baker his latest recipe book.
Now that she's back in school at Presentation College, Carlow, the enthusiastic second-year student has concentrated her baking at weekends and has even begun taking commissions!
Aoife was one of 26 people from across Ireland who won the Gala Retail and Virgin Media Inspiration Awards, with influential county heroes being named from the hundreds of entries received. Each of the 26 award-winning heroes demonstrated how they have made Ireland a better place with their selfless acts and inspirational deeds during the Covid-19 crisis and how they have gone above and beyond for others in their local community. For further information, see www.gala.ie.
Letters to Nursing Home Residents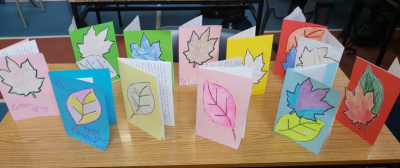 Ms Tunstead recently finished a project that she began with all her English, Health Education and SPHE classes. Students wrote letters, decorated a quote or draw a picture to send to Brookhaven Nursing Home in Ballyragget, Kilkenny. This project was to lift the spirits for both residents and staff as residents are not permitted to have any visitors due to Covid-19. All students were very happy to complete this and wrote some beautiful letters and quotes. This project was completed in conjunction with the activities coordinator in the nursing home, Aileen Cass.
Ms Maher, Ms Fogarty and Ms Watchorn were delighted with their TY Religion classes, who also made autumn cards and wrote letters for the residents of St. Fiacc's House, Graiguecullen. We hope they bring some joy and laughter during these difficult times. Thanks to An Post for the initiative which has introduced so many students to the idea and pleasure of letter writing.
Michael Wins Short Story Competition
Congratulations to all First Years who entered the short story competition. It was won by Michael from 1AT who received his award from Mr Doyle.
Sci Fest
Well done to those who received their certificates for the Sci Fest competition recently. They are all members of the school science club and were mentored by Ms Bradley. Special congratulations to Asia who won the Teachers Award for her project.
New Prefect Team Elected
Congratulations to Conor Whelan and Niamh Nolan who were elected Head Boy and Head Girl for the year 2020 – 2021. The Deputy Head Prefects are: Neecole Hennessy, Andrew Murphy, Ellen O'Neill, Claire Taylor and Katie Williams. Our Prefects are: Ben Delaney, Jodie Dooley-Salter, Conor Duffy, Ambur-Rose Durran, Alex Fennell, Rachel Holden, Leisa Iacob, Rebecca McMahon, Rebecca Mitchell, Aoife Moran, Conor Murphy Ffrench, Abbie Nolan, Skyla Nolan, Jordan O'Brien, Kate O'Sullivan, Kylie Walsh and Emily Whelan. We wish them the best as they undertake their duties.
Pope John Paul II Awards
Congratulations to the students who received their Awards recently. The following students were awarded with their Awards at a ceremony in Graiguecullen: Katie Bannan – Gold, Seán O'Driscoll – Gold, Ben Hovenden – Papal Cross, Jodie Dooley Salter – Papal Cross, Amelia Chodorska – Papal Cross and Damian Korus – Papal Cross. In addition, the following students received Awards from their parishes:   Doireann Broderick – Gold, Sarah Doyle – Gold, Emer Flynn – Gold, Pádraic Kelly – Gold, Oisín Shannon – Gold, Nessa Whelan – Gold, Chloe Watchorn – Gold.
Transition Year
Transition Years have been busy settling into their new facilities in St Laurence O'Tooles – or SLOT as it is referred to. Recent activities have been an adventure trip to Wicklow, a three-day Leadership training course and two days of Sedgeway excitement. Transition Years and Ms Cumiskey organised 'Bingo' for the whole school. This was very popular and enjoyed by all.
Polish, Spanish and Russian Books for the School Library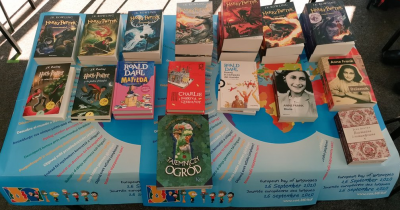 During lockdown Ms U. Byrne and Ms R. Murphy applied for funding from the PPLI (Post Primary Languages Initiative) to purchase books in other languages to expand our school library. Both teachers recognise the value for students who speak other languages at home to improve on their literacy by reading books in their native language. We are delighted that already some students are availing of the books and look forward to a time when Covid-19restrictions will make this easier. Please contact either teacher if you would like to borrow a book.
Meitheal Activities
Our First Years enjoyed a 'Spooktacular' Halloween Cinematic Afternoon with lots of treats including a surprise visit from the ice-cream man. Thanks to the Prefects and Meitheal Leaders for decorating the area and looking after the First Years. Well done to Gavin Bradley TY who was on sound along with Mr Ryan.
Halloween Fundraiser for Martin Dunphy
Transition Years organised a very enjoyable and successful non-uniform day on the Friday before mid-term in aid of local man Martin Dunphy, who was injured in an accident earlier this year. The staff really got into the spirit of the day dressing up in all sorts of costumes to the delight of students. There was a great excitement figuring out who was who and some could have been on the stage. Mr Murray and two representatives of the TY group presented a cheque for €1,100 to Martins wife Deirdre. We wish Martin, Deirdre and family all the best for the future.